It's always so exciting to move into a new space and decorate it so that it is truly your own. Whether your DIY your decor yourself or find some at a favorite store, these decorating tips for the home will have your space looking absolutely amazing.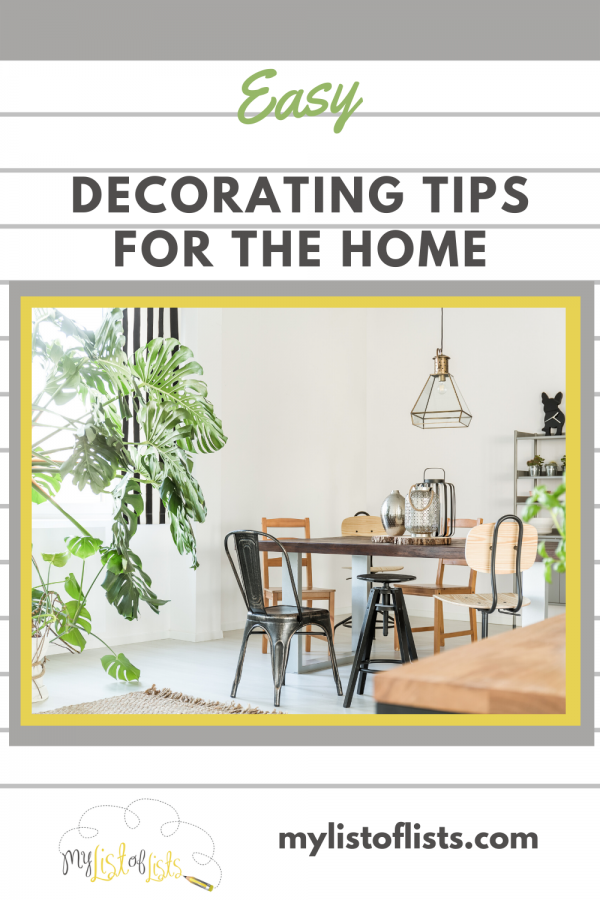 How will you decorate your home? Comment below and tell me what your favorite ideas were.
Decorating Tips For The Home: Small Space Living
Fluff Your Pillows
Make sure the pillows on your couch and on your bed are always fluffed! Disheveled pillows make space look MUCH smaller and messier than it really might be. But that's not the only decorating mistake that will make your house look messy. Check out this post of mine for a list of 11 Decorating Mistakes That Make Your House Look Messy.
Use Tiered Organizers
Keep kitchen countertops clean when decorating a small space, as even the slightest clutter can make a space look messy. Keep your necessities organized with tiered kitchen organizers instead. Find this tip (and much more) in my post about flawlessly decorating small spaces.
Decorating Tips For The Home: Budget
Revamp Some Old Furniture
If you have a piece of furniture that has seen better days, bring it back to life with a few bright coats of spray paint. Once the paint has dried, place it in a drab room for a totally bold look. Find more budget home decor ideas on this post of mine.
Hang Vintage Plates
Looking for edgy wall decor? Look no further than the goodies that you have in your kitchen cabinet. Decorate with variously shaped plates. You can assemble them on your wall in a funky pattern.
Decorating Tips For The Home: DIY Easy
Utilize Large Plants
Looking to fill your empty corners in an easy way? Use large plants like rubber trees, fiddle leaf figs, or dwarf lemon trees to fill in the holes.
Make A Narrow Room Bigger
Make a narrow room look larger by installing a large shelf across the center of the room. This creates the illusion of space while giving you an extra place to store things.
Decorating Tips For The Home: Interior Design
Shop At The Right Stores
If you are decorating your own home, it's important that you shop at all of the best stores! Check out this post of mine for a list of eleven stores that you don't want to miss.
Paint Colors Matter
Seriously. Paint colors matter. Make sure that yours are speaking (and saying the right words) by finding the right shade for your space. This tutorial from YouTube has more.
Decorating Tips For The Home: Dollar Store
Soap Bottles
Make your bathroom look chic and totally organized with DIY soap bottles. You just need to find a matching set that you like and then outfit them with the proper label. Find more by checking out this post about 10 $1 DIY Projects for the Home.
Homemade Trash Can
Pick up a cheap trash can at the dollar store and wrap twine around it, securing it along the way for a rustic trash can.