Nowadays it seems like one thing goes wrong with a piece of clothing and we think we have to throw it away and buy a whole new wardrobe. Well, if you aren't rolling in money, then that's probably not an option for you. Plus, it always stinks to throw away things you really like. So, here are a few clothing hacks that can help you out!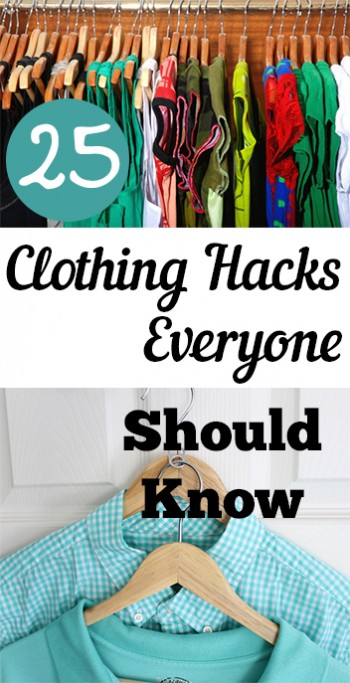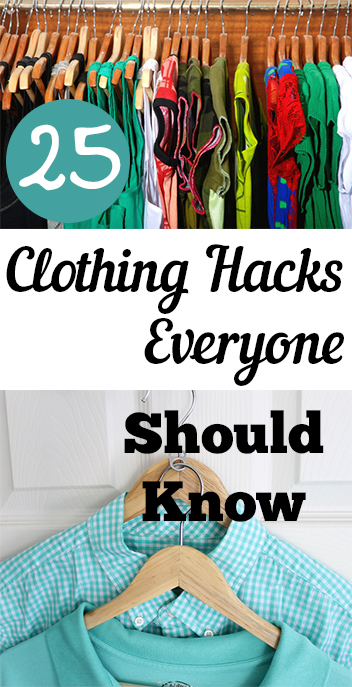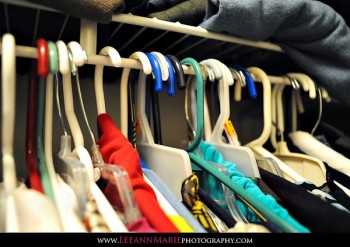 In order to figure out which clothes you actually wear or not, you can try this trick. Put all your hangers in backwards in the closet. Then, whenever you pull something out to wear it, put the hanger back facing the right way. After a while, any of the clothes with their hangers facing back are the ones you don't really wear anymore.
Stop runs from spreading in your nylons or tights by covering them in clear nail polish. The nail polish will dry out and harden around the run so it doesn't spread, but you won't be able to see it at all. It's like magic!
No need to throw away your favorite pair of flip-flops just because the strap broke out of the bottom. Instead, slip a bread clip on the bottom part of the strap. This will prevent it from breaking through the flip-flop again, and your sandal will be like normal!
I'm not sure why all of us don't do this, but there is a much better way to store your shirts. Instead of stacking them on top of each other, store them horizontally. That way you can see each shirt and know exactly how many are left.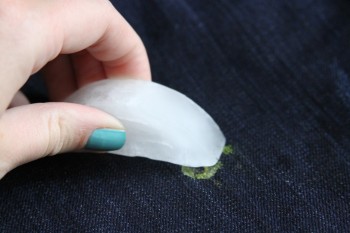 Get gum out of your clothes by putting ice on the gum as soon as possible. The ice will freeze the gum, making it  a lot easier to scrape off without pieces staying on your clothes.
To stop those pesky sweat stains around the collar of your shirt, apply some talcum powder to your neck and the shirt collar before you put it on. This will block some of the sweat, preventing stains from appearing as quickly.
Break in your shoes and make them a bit bigger with this easy trick! Take bags, fill them partway with water, squeeze out the air, and put them in your shoes. Then, put the shoes in the freezer. The water will expand as it freezes, expanding the shoe as well.
Stop your zipper from falling down all the time by attaching a small ring to the zipper. Then, when you've zipped up your pants, wrap the ring around the button of your jeans. This will keep the zipper in place.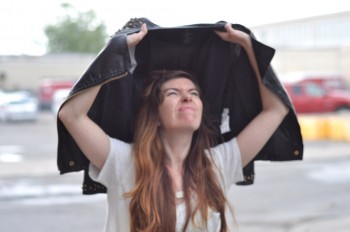 Get that worn leather jacket look without spending all the money on a distressed jacket by wearing a normal one in the rain. After a while, your jacket will begin to get that great distressed that you were looking for without spending all the extra money. Just make sure you're careful or else it can damage the material.
Stop your clothes from pilling by using a disposable razor and gently going over the clothing. Lightly scrape the pilling part, taking care to not put too much pressure. Then, use a lint roller or tape to pick up the loose pieces of fabric.
If you don't have a razor, then you can also use a pumice stone. Rub the pumice stone on the parts that are pilling and then pick up the loose parts with tape or a lint roller.
For those pants that you love are starting to rip and tear, don't worry. Instead of throwing them out, just put some cute fabric under the rip and then make an adorable patchwork job underneath it! It'll be maybe even cuter than before.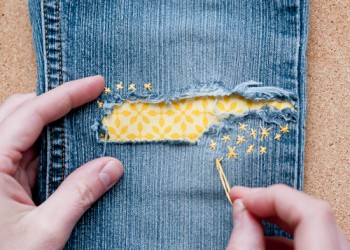 If you don't want to put the work into sewing patches onto your clothes, then just wear tights underneath your pants! It's a super easy fix, and it doesn't really require anything else for you to do.
For those articles of clothing that have makeup stains on them, try using shaving foam. Gently rub it in the clothes and let it sit for a bit and then wash it out. Repeat until the stain is gone or completely faded.
If you're in a hurry and don't have time to iron your collar, here's a great hack. Take the straightener and use it to press your collar firm.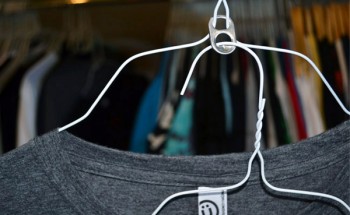 Double the amount of storage space by using pop tabs on your hangers. Just slide the tab over the top of the hanger and now you can hang another hanger from the tab!
Don't keep your canvas shoes locked away in the closet during raining season just because they might get ruined. Instead, waterproof them with a store-bought spray, beeswax, or something similar. That way, you'll be able to wear your favorites shoes whenever you want!
Make your own pair of toecap shoes with this great hack! Just use tape to block the rest of the shoe, and then paint or spray paint the tip of your shoes! Let them dry and remove the tape and you've got a whole new pair of shoes!
If you get a red wine stain, as soon as you can, pour white wine on it. I know it sounds bad, but the white wine will actually slow down the red wine from setting in. Then, wash the piece of clothing as directed as soon as possible.
If you want to get your cotton shirts as soft as possible, here's a great idea. However, it does take a while, so you'll need patience. Soak the shirt in a salt solution for three days, wash it normally, and then it will be soft and cozy!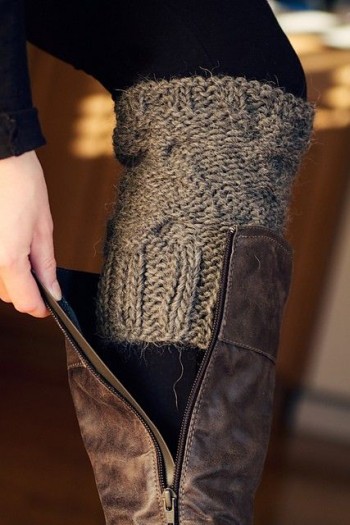 No need to go out and buy expensive boot socks or boot warmers. Instead, use your old sweater sleeves! Just cut them off and slide them onto your legs (with the cut side tucked inside your boot), and you're good to go!
Remove annoying sweat stains with this great tip. Spray the stained part of your clothes with lemon juice and then wash them like normal. It's a super easy fix and helps keep your clothes clean and fresh.
If you need to remove deodorant stains, it can be a little tricky. However, this little tip should help you out. Use a baby wipe to clean up the stain; the chemicals should break down the stain pretty fast and remove the stain. Wash normally.
If the string to your hoodie or basketball shorts has come out, have no fear! You can stick the string into a straw and then worm the straw back through the clothing. Then, once the string is back out, just remove the straw and you're good!
It's a shame to throw a whole shirt away just because of a small bleach stain. If the stain is on a solid colored part of the clothing, then try to find a sharpie that matches the color. Then, just sharpie the stain away! It may not be the most conventional method, but it definitely works!