Furniture flipping can be a really fun way to be creative and recycle at the same time! I love finding pieces of furniture from garage sales and thrift stores, and then turning them into something new and totally fabulous! Here are some of the coolest flips I've seen, hopefully they'll inspire you to do some of your own!

Lindsey at The Curly Diaries tried painting her fabric chair and it turned out amazing. Instead of a gross and ugly velvet fabric, with the paint it because a fresh & colorful canvas-like material. This is such an easy way to update an old piece of furniture! For the full tutorial, check out Lindsey's blog.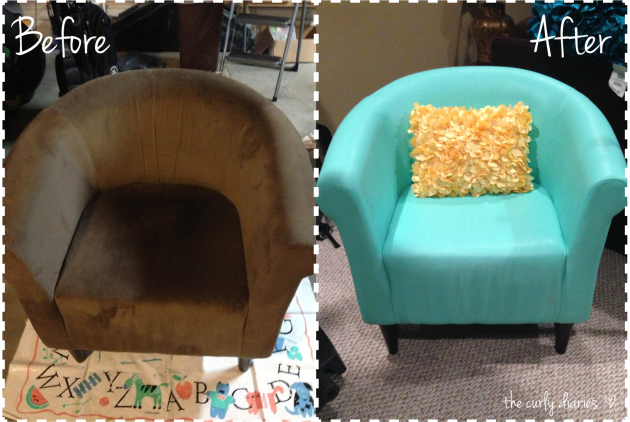 Amanda from Pinterest & the Pauper remade this boring bookcase into a beautiful storage unit! With just a little paint and some darling wallpaper, and after removing the dated doors, the bookcase took on a glamorous new life. You've got to try this flip yourself–you'll be amazed at the results.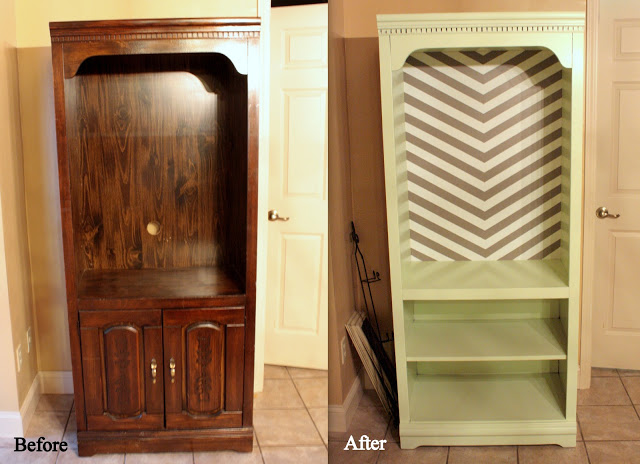 Mandy from Sugar Bee Crafts changed a dated desk into a fresh and modern nightstand. It may take a little looking-outside-the-box, but transforming a piece of furniture this way is so fun! Once the furniture is the shape you want, you can customize it with paint and new hardware. What a difference!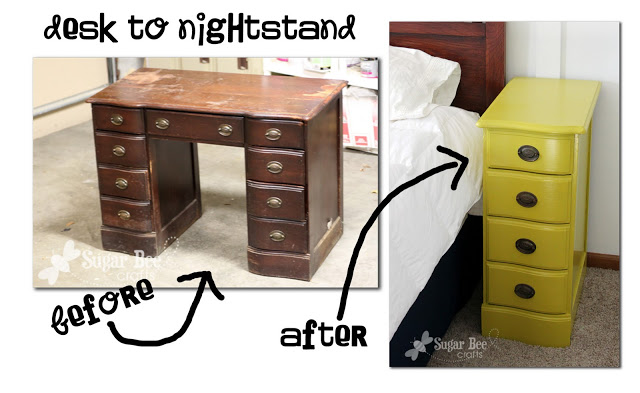 Better Homes & Gardens suggests flipping old chairs by painting them and reupholstering them. This may take a little time and effort at first, but once you've got the hang of it, you won't be able to stop! Adding a monogram is another great way to personalize furniture, with just a little paint and a stencil, the chair becomes totally customized!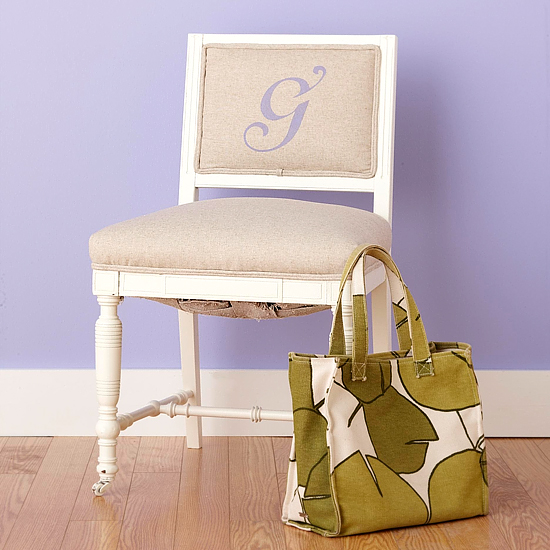 The Crafting Chicks suggests painting a metal trashcan to coordinate with your decorations, and then flipping it over to create a lovely nightstand. This is such a genius idea; I wish I'd thought of it first! I love the look of colored metal, and this example contrasts so beautifully with the wall color. You've definitely got to try this easy project!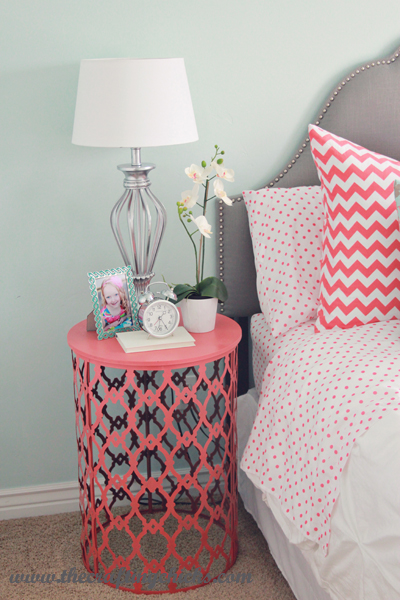 Rashon from Mr. Goodwill Hunting up-cycled this old side table into a super fun Lego station. This would be an awesome addition to any playroom, and you could modify it to work with different kinds of toys besides Legos. The point is that furniture can be more functional than you might realize. Be creative!

Andrea from Our Blue Front Door repurposed a chest of drawers into a chic TV stand. She pulled out the top drawers to make room for equipment and storage, and painted the whole thing a refreshing blue. If you're looking for a TV stand, don't forget to consider a dresser–it could be just what you need!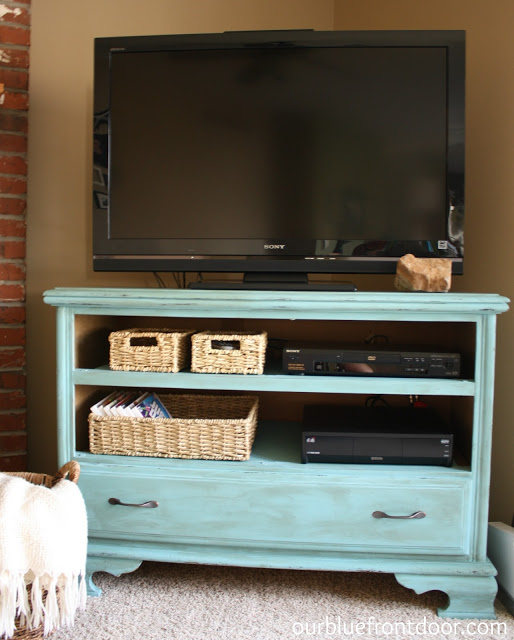 Gina from CampClem totally remodeled this ancient dresser, and I think it looks fabulous! Even though the dresser was in bad shape, she recognized how lovely the woodwork was. To update it, she sanded and repainted the whole thing and added some crystal knobs. I'd love to make a project that is this beautiful!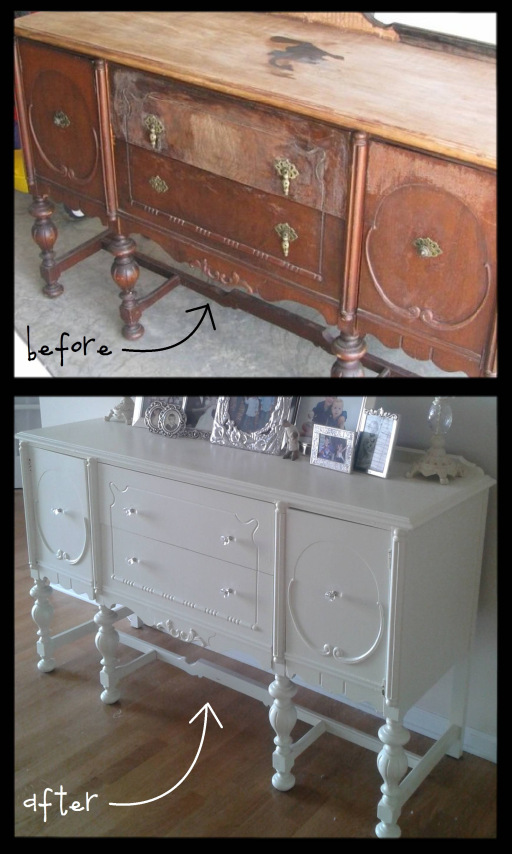 Centsational Girl repainted an old dresser and then added beautiful gold accents to really make this piece of furniture stand out. I love the way the tones soothe the bright pink walls, and I think the gold is the perfect accent for classy and sophisticated rooms. I'll have to try it!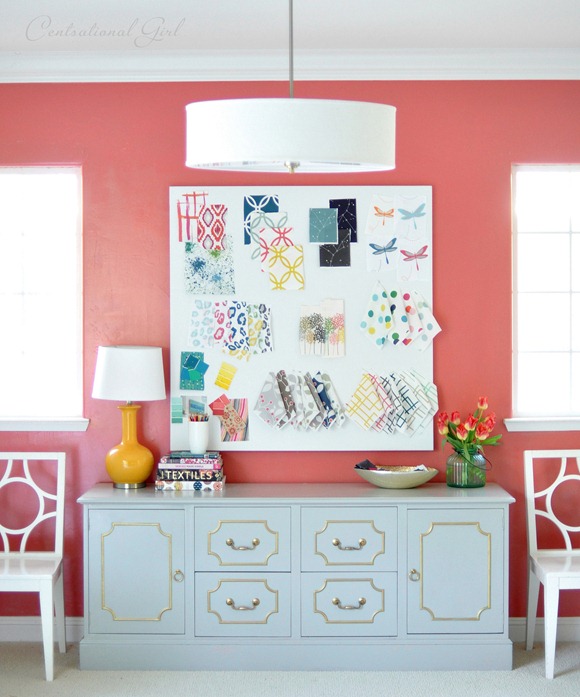 Not So Newlywed McGees posted a furniture flip of this oak coffee table. With some batting and fabric, the coffee table became a comfy ottoman; and with some paint and hardware, it truly became a classy piece of furniture. This just goes to show how easily you can glam up rustic furniture!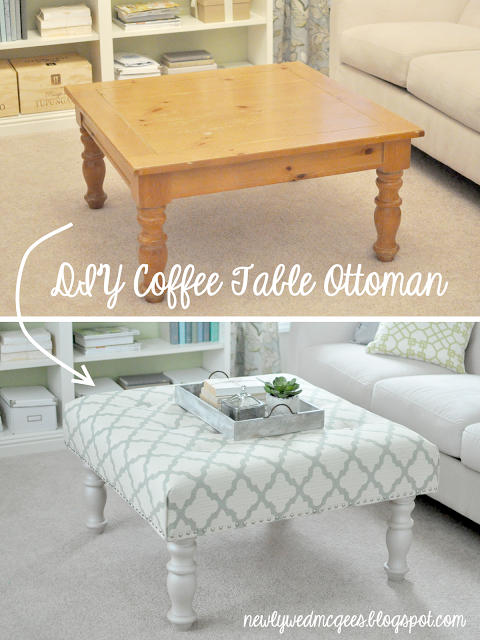 Achados de Decoração had the brilliant idea to turn an old crib into a fully functional desk. When your baby outgrows their bed, don't throw it away! Upcycle it into this masterpiece of functionality and design. I love how the glass top complements the white wood. And the shelf is ingenious!