Halloween is long gone and Thanksgiving and Christmas will be here before you know it! This time of the year tends to get a little stressful for most (myself included) so I find it helpful to have a holiday planning guide. There is SO much to do in the months of November and December and this month-by-month holiday planning guide helps me stay on top of things, so the important stuff doesn't fall through the cracks. Staying organized saves my sanity during the holiday season!
Holiday Planning Guide
Do this in Early November
Are you planning on traveling this holiday season? Make sure you book it towards the beginning of November, at the very latest. Booking early will save you some money on travel costs and you won't stress because your travel arrangements have already been made. Also, now is a good time to make reservations at any restaurant if you plan on dining during a holiday. The early bird ALWAYS gets the worm in these kinds of cases, so always plan ahead!
Wait! Don't forget about your pets! If you are planning on heading to the beach over Christmas, make sure your pets are taken care of. Arrange for a pet-sitter if you must!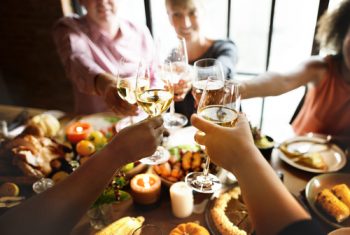 Do This In Mid November
Take a moment out of your day at least ten days before Thanksgiving and write down any important parties, events, or plans on your calendar. It may be difficult to plan THAT far ahead, especially as the month of December progresses so it's important to always stay on top of things. It's terribly embarrassing to be overbooked!
Speaking of, are YOU planning a holiday party? Be sure to send your invites (or the save the dates) out to your guests around this time. Make sure that you have ordered a turkey or ham, if needed, too!
Long before Black Friday hits, go over your holiday budget with a spouse or significant other. After your budget has been decided, go through and make a gift-list for all of those on your list. Be sure to stick to a budget and start shopping ASAP to take advantage of the great deals, this is truly the most important holiday planning guide tip! Now is also a good time to start planning out your holiday card list and writing a Christmas letter if desired!
Take some time to organize your gift wrap and put together a shopping list to replenish on supplies like tape, ribbon, and gift tags if need be.
Do This The Week Before Thanksgiving
If you're having guests over, prepare your house for the company in the week leading up to the holiday. Make sure your guest bedroom is clean, bedding has been changed, and towels are washed. I like to iron my Thanksgiving table linen sometime during the week of Thanksgiving, as well so I don't have to worry about it on the day of. Be sure to fully plan your menu and visit the grocery store at least four days before Thanksgiving, as well!
Do This The Day Before Thanksgiving
Did you forget something on your grocery list? Pick it up today and start prepping your meals! Chop any veggies the day before and prepare what food you can (I always prep my cranberry chutney the night before the big day!). I usually make my pies the day before, too!
Before I go to bed that night, I'll take some time to set the table. It's less of a headache if you get it done the night before and my family members think it's always so magical to see the table first thing in the morning!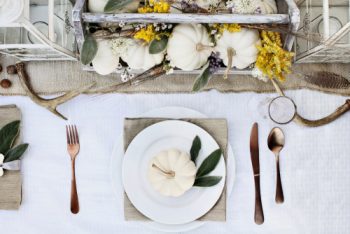 Do This Thanksgiving Day
All that's left is to finish prepping the meal and enjoying the fruits of your labor! Tomorrow is when the true holiday craziness will begin!
Do This The First Week Of December
If you asked me, I'd say that this is one of the best weeks of the entire year! It's so much fun to throw yourself into decorating for Christmas! Break out the Christmas tree, the ornaments, the stockings, and more, it's time to deck the halls with holiday decorations galore!
Pssst…now's also a good time to start addressing your holiday cards. It's best to get those in the mail as soon as you can!
Now is also a good time to replenish your liquor cabinets and order your turkey or ham needed for your Christmas parties.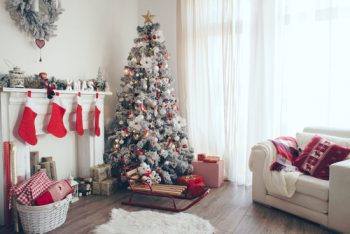 Do This in Mid December
Bake holiday cookies or make gingerbread houses with your kids. You'll have tasty cookies to bring around to the neighbors as a holiday gift and you'll absolutely treasure the kinds of memories made.
Since I mentioned neighbor gifts, start making them now to get them out in time for the big day!
I like to start wrapping my Christmas presents around this point of the month, as well. I like to keep my presents under the tree all month long so my kids are DYING to know what they got!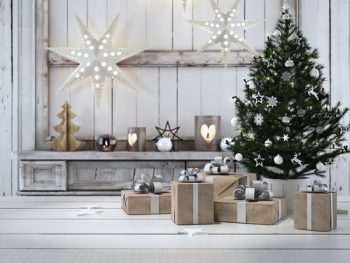 Do This A Week Before Christmas
Once again, if you have guests, take this time to get your house prepped for visitors. Don't forget to get your Christmas table linen ironed!
Now is also the latest you can get your holiday cards out to arrive before Christmas Eve.
Do This On December 23rd
Depending on the size of your Christmas meal, it might be a good idea to start the defrost process. Not only that, but I like to start prepping what side dishes I can today.
Finish up any wrapping that you've got to do..you'll appreciate the extra sleep you'll get in return tomorrow night!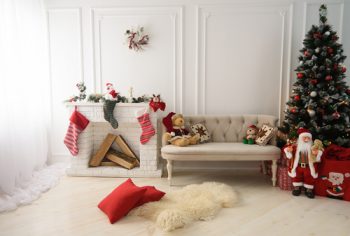 Do This Christmas Eve
Pick up any last minute presents, food, treats, or baking supplies. Stores won't be open on Christmas Day, so you have to get everything you need right now. Once you get home, start baking the dishes you can. Set your Christmas table for breakfast as well!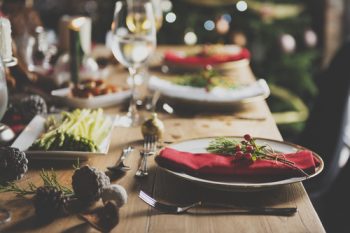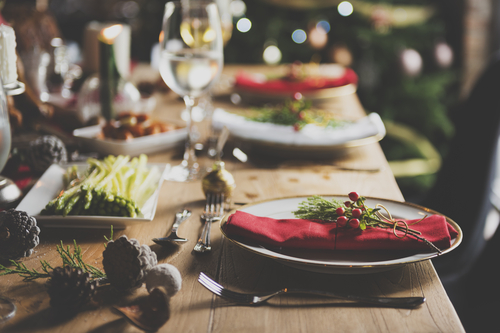 Do This Christmas Day
Have bags ready to collect discarded wrapping materials, making sure to recycle whatever you can! And just remember, once the meal is in the oven, it's perfectly acceptable to take a nap!
I hope this holiday planning guide helps you have a stress-free holiday season! For more tips, check out my post on how to get ahead this Christmas.