My kids go back to school next week, and as soon as they're off and on the school bus, I break out my fall decorating supplies! Summer is over once the kiddos are in school! I don't immediately put up my jack-o-lanterns and witches, but I can't resist an early fall porch with flowers and pumpkins! And I have some great ways to decorate your porch for fall!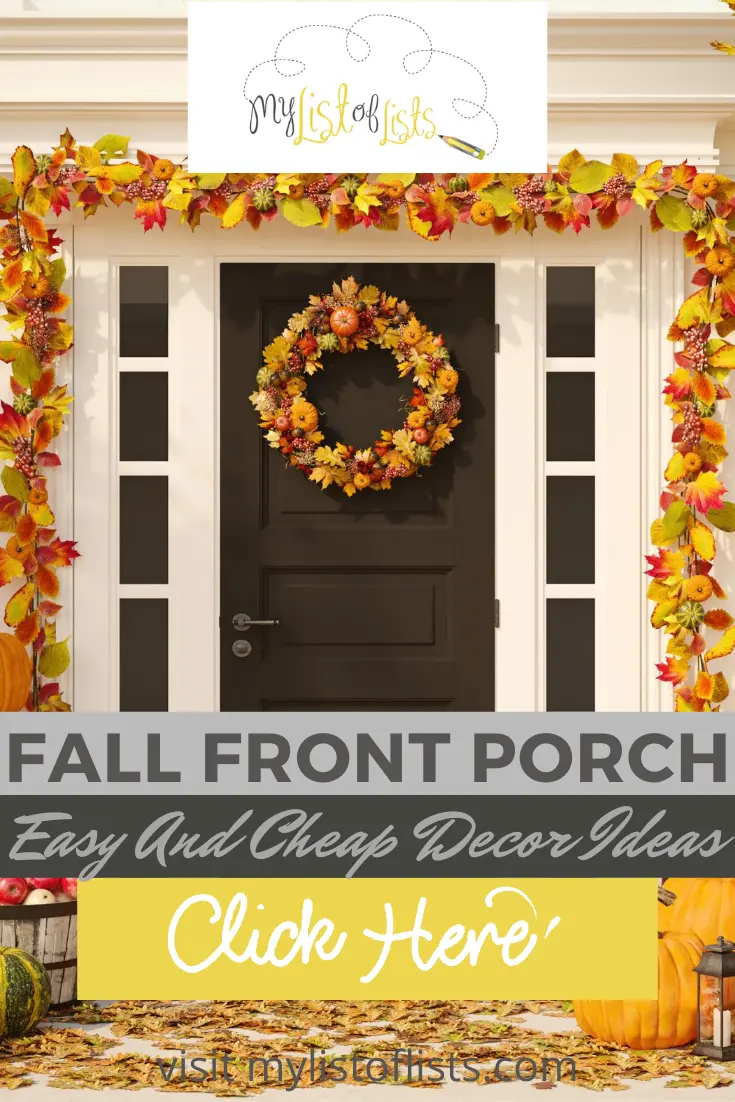 Great Ways To Decorate Your Porch For Fall
Jennifer Allwood has a great tutorial that shows avid DIYers how to paint a pallet, in an ombre style! This fall porch is complete with a garland and a festive wreath.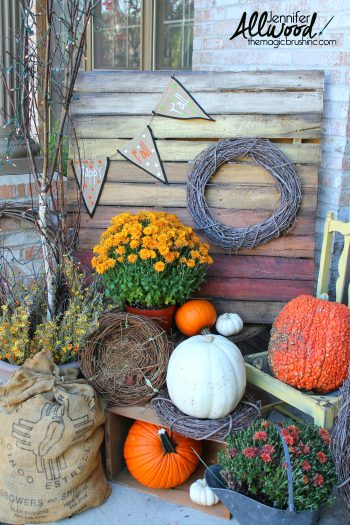 In another cute design from Jennifer Allwood, fans can show their loyalties while warming up a front porch for fall. Can you tell that she's a Royals fan?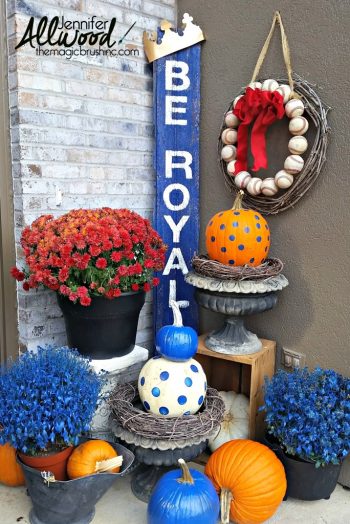 Jennifer Allwood (her blog is called Magic Brush Inc) gets another feature with another fun pallet project. Happy fall? Forget it! Celebrate what really matters; baseball!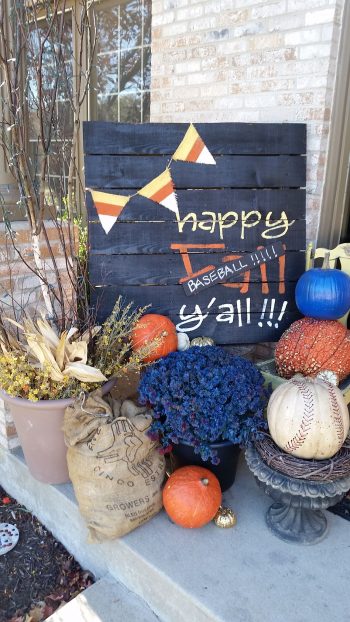 This fall front porch from HGTV is clothed in an unlikely color palette that is seriously gorgeous. Who would have thought that teal could look this good?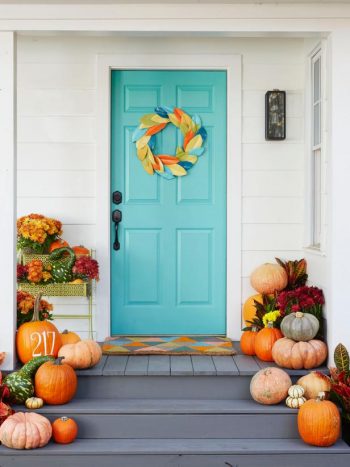 Greet your guests with a chalkboard outfitted in a custom message. This handwritten chalkboard from Love of Family & Home would certainly get a look (or two!) from your visitors!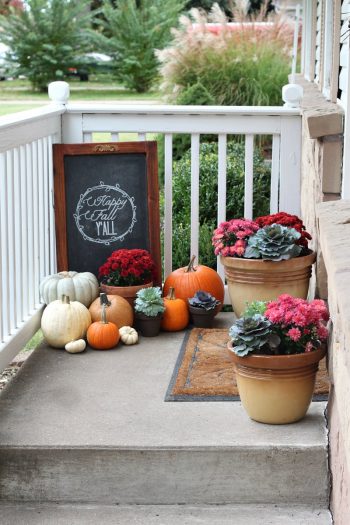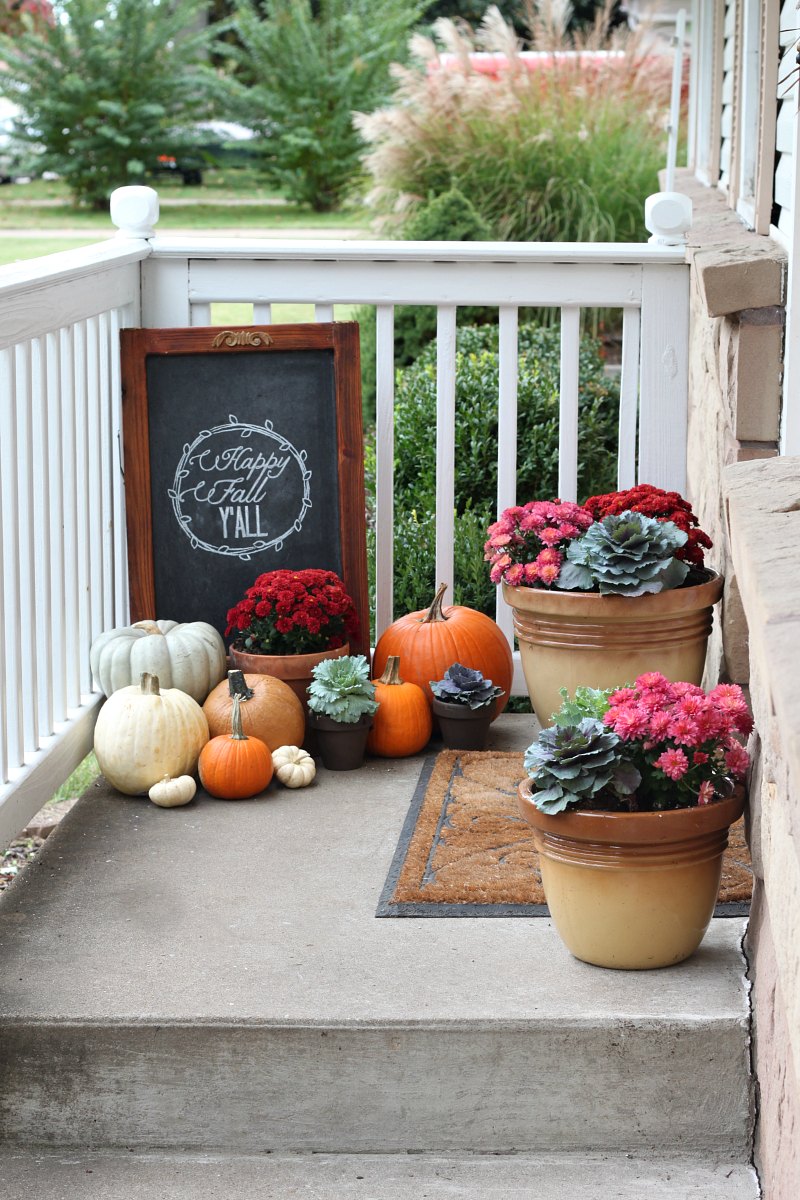 Serendipity Refined sewed these wool blankets and pillows by hand. I get warm just by looking at them!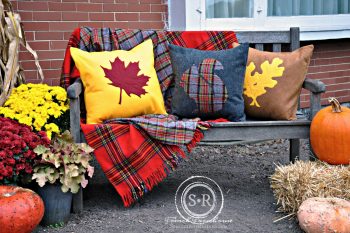 I love Halloween, but sometimes, the decorations can get to be a little gross and grotesque. If you are looking for a little bit of clean fun (or…decorating) this Halloween, head on over to Karen Lee!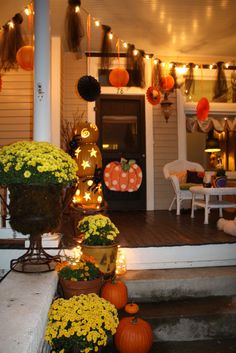 If you're eager for fall (like me) subtle porch decor like this can be great for transitioning! Bright flowers, and other potted plants look amazing when decorating in late August or early September. Find this and other ideas at The Home I Create.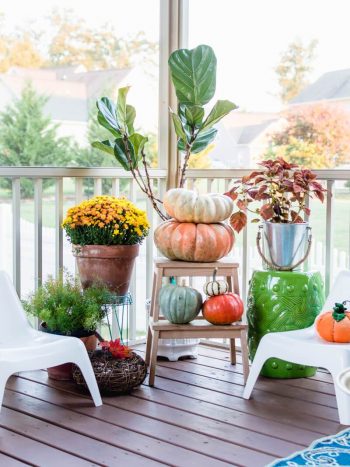 The Spruce has a terrific article that features 12 easy ways to decorate your porch. This idea (from Tatertots and Jello) combines different patterns seamlessly.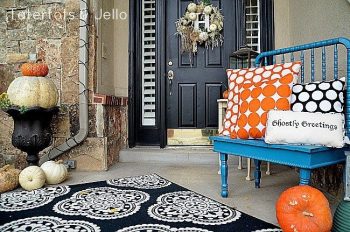 Welcome your guests with deep orange fall hues…and a gigantic welcome sign! The Woodgrain Cottage has the full tutorial for those interested. And can we just talk about the front door? It's to die for!