There are lots of things that go into an Easter party: food, decorations, games, party favors, etc. Instead of going crazy this year and trying to figure out your own ideas, try some of these great and creative Easter party designs!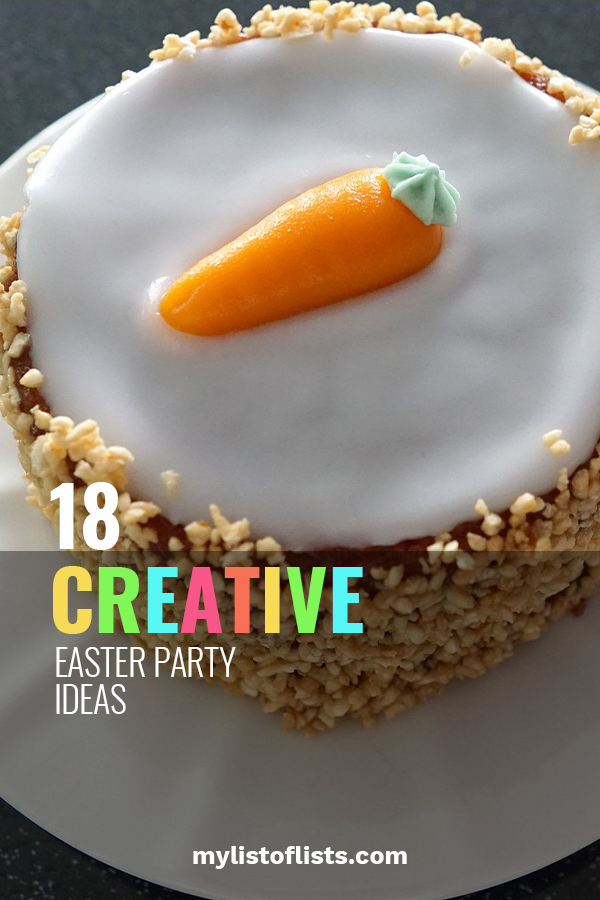 Invitations
Every party starts with the invitation, so make sure yours looks awesome. You don't need to break the bank, but having a creative and unique invitation will definitely start you off on the right foot.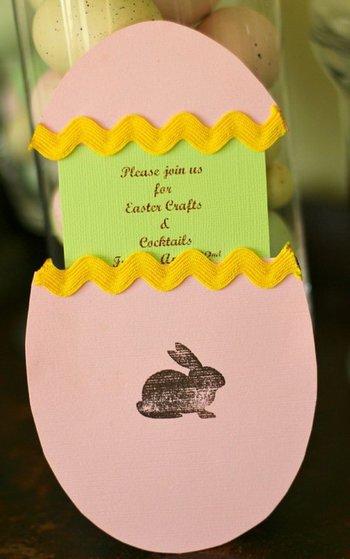 Porch Decorations
The first thing your guests will see when they come to your party is the front of your home, so make sure it's decorated! There are lots of ways to do this (from classy to just plain fun), so choose a style you like and run with it.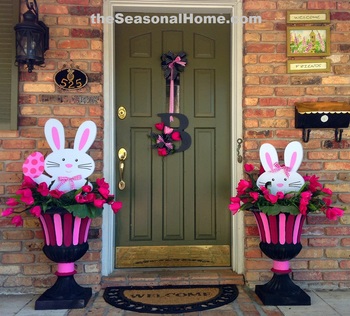 Bunny Wreath
This is so adorable! Not only is it a great shape, but the colors on it really represent Easter. You can make your own, or you can buy one online (I think making it would be pretty fun, though).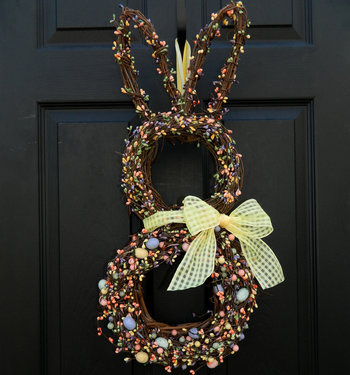 Door Decorations
A wreath isn't the only decoration that you can hang (or put around) your door. There are lots of other door decorations to try out. For example, you can turn your whole door into a giant Easter bunny!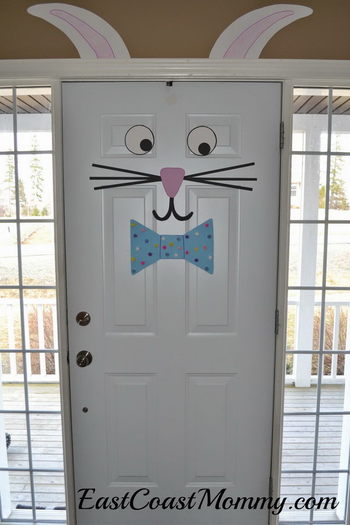 Chair Decorations
If you want to get really fancy this year, you can even decorate your chairs! There are tons of ways to do this, but fabric scraps on the back of the chair is always a classic. You can make slips that go over the back of chairs and look like bunnies, too!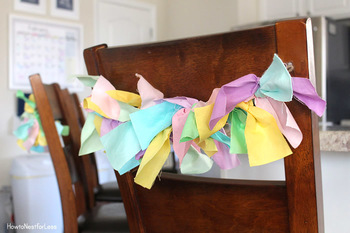 Centerpiece
Whether you just have one table or a dozen, centerpieces are always important. First off, you want to make sure the colors match the rest of your home and decorations, and then just choose material that you think work best.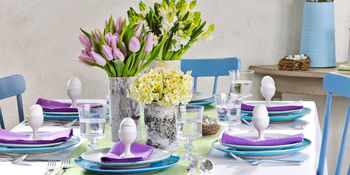 Place Settings
For things like formal dinners or lunches, place settings are pretty commonplace and expected. However, instead of just using normal and boring ones, try to liven things up with Easter-related place settings.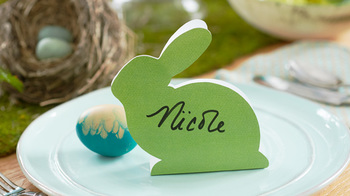 Colorful Deviled Eggs
What a fun and clever idea! Dying Easter eggs and eating deviled eggs are familiar Easter traditions for everyone. So why not combine the two! Make colorful eggs that you can turn into deviled eggs. Just make sure the dye is safe and won't make anyone sick if they ingest it.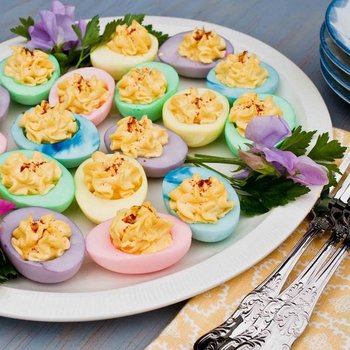 Paint Filled Eggs
This is such a fun and creative activity. Take eggshells that have their tops broken off and fill them with paint. Then, take turns with your family or friends (or get eggs and a canvas for each person) and throw the paint filled eggs against the canvas!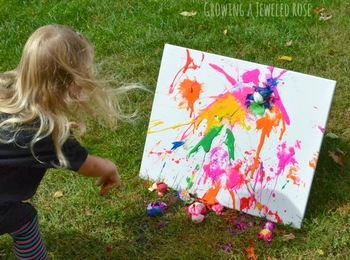 Egg Race
This is a traditional holiday game, and it's even more appropriate for Easter! Adults and kids alike can enjoy this game and feel free to even make a fun, little obstacle course for them to have to go through.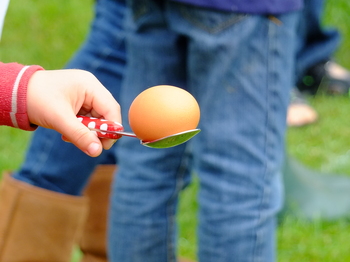 Egg Smashing
Made popular by Jimmy Fallon, this game is great if you don't mind a little mess. Pretty much, people take turns choosing from a collection of eggs and smashing them on their heads. However, some of the eggs are hardboiled and some are not, so only a few people will get egg yolks dripping down their heads!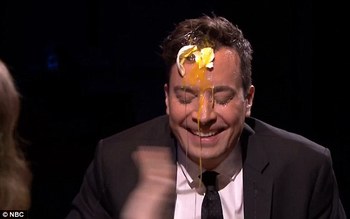 (Less Sticky) Egg Smashing
If you're not a fan of smashing a raw egg on your head or making a (sticky) mess, then try this instead. Fill eggshells with glitter, confetti, or something and then smash those on your heads (or your friends' heads). It made get stuff everywhere, but it will be prettier than sticky yolk!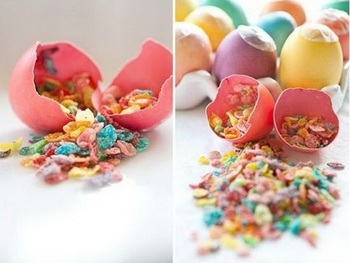 Party Favors
You can't have an Easter party without party favors, right? There are hundreds of party favors to make for your guests, so just find a design and style you like and go for it! You don't even have to give out candy; you could do soap or balloons!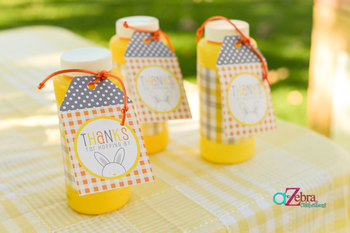 Bunny Fruit Platter
This idea is so cute! Have a healthy food option at your party by making this adorable bunny fruit platter. It's so delicious that it may not last long, though. But it's still worth making!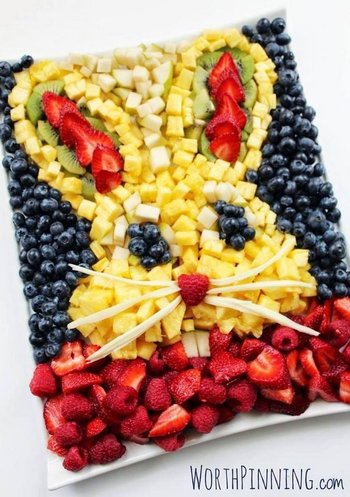 Easter Egg Yarn Garland
These require a little bit more work than other decoration ideas, but they're awesome and can really make your party look great. You could even do this as a craft project with your guests if you wanted to.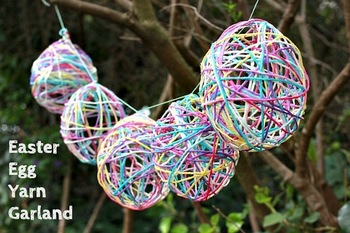 Bunny Bean Bag Toss
Making this is probably just as fun as playing with it! Not only is it a super cute decoration that you can have at your party, but it also doubles as a game for anyone to play! Make the bean bags look like carrots to get an even cuter game!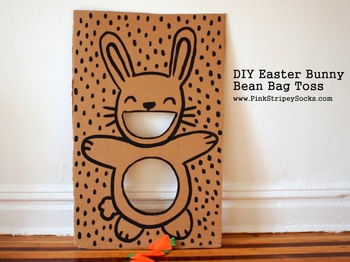 Polka Dot Cake
This cake looks delicious! And it's not only because of the polka dots. There are a few other variations of an Easter cake, but this one is the best one I saw online. It almost looks too good to eat.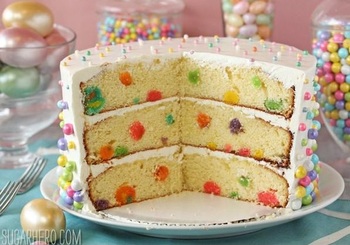 Crafts
Having a crafts section or table at your party is always a great idea, especially if it's a kids party. You can do anything from cute Easter animals to yarn-covered Easter eggs. Find some great ideas online and get the materials needed.