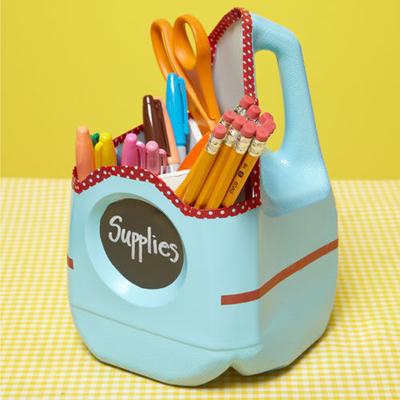 10 Ways to Upcycle Milk Jugs
Recycling is a big priority for me and my family, and one of the funnest ways for us to recycle is to upcycle! We love turning something old into something new. I've gathered some great ideas for upcycling the numerous milk jugs we go through every month. I hope you find an idea that works for you and your family. Good luck!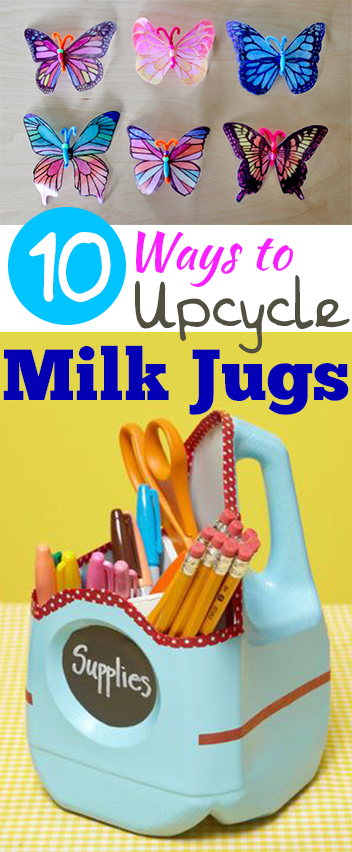 Milk jugs are the perfect size and shape for organizing things. Even the handle is perfect! You can simply cut off part of the top, paint the jug, line the edges with fabric, and then you have a perfect organizer for arts & crafts supplies! You can fill it with scissors, markers, pencils, anything! Thanks for the idea, Amy Bell!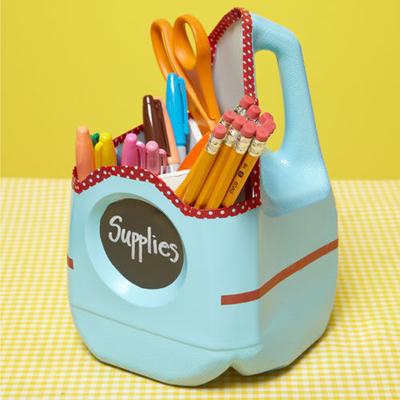 MudHorseArt on Etsy sells beautiful earring made out of–you guessed it–mild jugs! You can make jewelry with your used milk jugs as well! Simply cut the jug into flat pieces, and you've got a flexible material that durable and stylish. Be as creative as you want! You could make lots of different kinds of earrings, bracelets, rings, or even necklaces!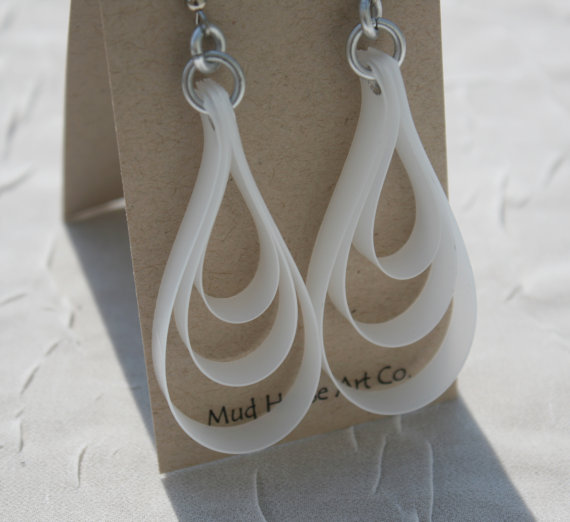 Alpha Mom has an ingenious tutorial for turning milk jugs into beautiful butterflies. With some markers, pipe cleaners, and scissors, you can make stunning butterflies that reflect light in interesting and lovely ways. Your kids are definitely going to want to be involved, so get ready for a fun & crafty afternoon!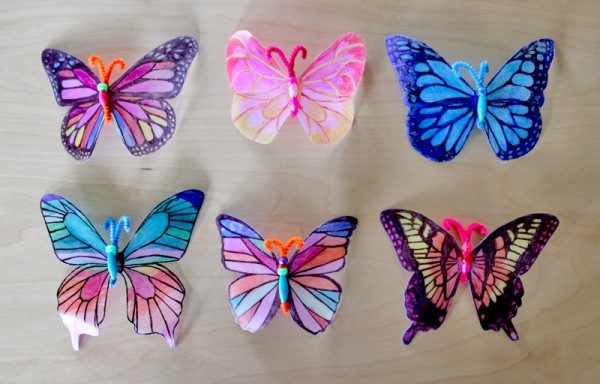 Candice from ReFab Diaries turned her family's milk jugs into a cute fairyland for her daughter! You'll want to cut out the doors and windows yourself, but then let your kids imagination take the lead. They'll think of great ways to decorate their little fairy houses, and they'll probably want to make an entire village! What a great rainy day and recycling friendly activity!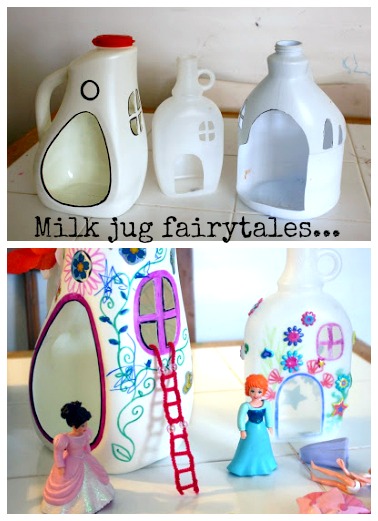 Upcycled milk jugs can be used for practical purposed as well. Home Ever After posted a tutorial for a milk jug grocery bag dispenser which is just ingenious. I'm always losing my grocery bags, but once I make this project, grocery bags will always be at hand. Not only are you recycling the milk jug, this project will also encourage you to reuse plastic bags! It's a win-win!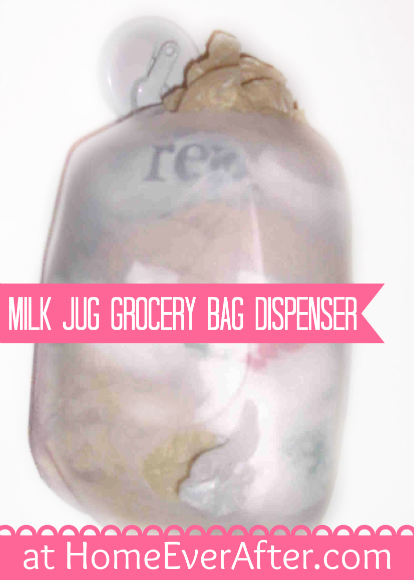 These darling Halloween ghost lanterns are so cute and so easy! Just draw some cute or creepy faces on milk jugs using a sharpie, cut a medium sized hole in the back of the jugs, then string lights through the jugs to brighten them up. I'm going to have to start saving up milk jugs so that I can line my entire walkway! Thanks for the tutorial, Eighteen25!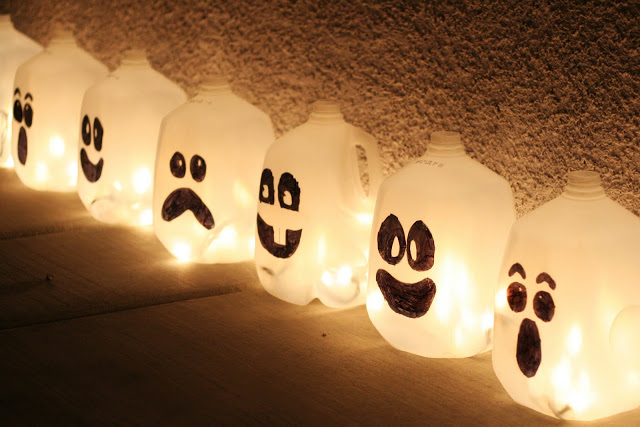 Diy&Crafts posted several ideas for making an entire igloo our of milk jugs! You'll need to save up quite a few, but what could be a better project! You're kids will love to have a reading space all to themselves. And they'll love it even more if they were able to make it themselves using recycled materials. The project may be a bit tricky, but it's totally worth it. Good luck!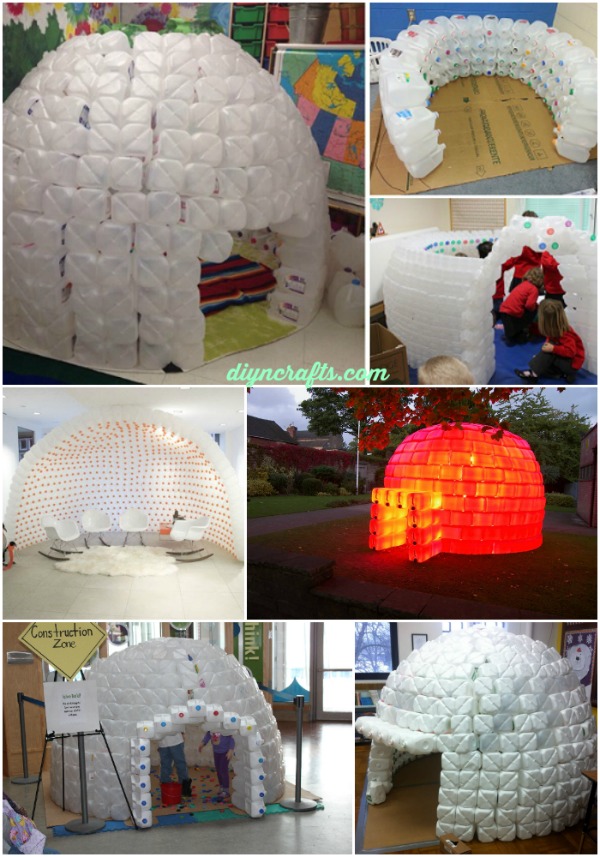 Similar to the Halloween ghost lanterns, these wintery snowman lanterns are easy, fast, and fun. Free-N-Fun Christmas posted the complete tutorial for these cute little guys, and I'm betting you'll want to make several for the holiday season. My favorite part is probably the pompom earmuffs! How cute! This craft allows for a lot of creativity, so have fun!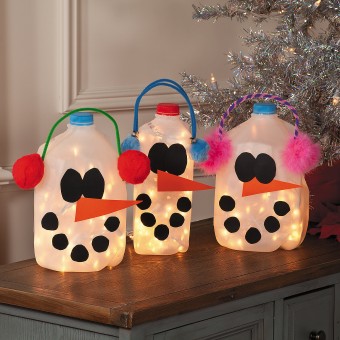 Turn your milk jugs into planters with this tutorial from Eyes on Nature. With just a few strategic cuts, these milk jugs become a tiny home for seedlings. The handle makes these planters easily hangable. This is a great way to grow herbs in the backyard. You can be recycling and growing healthy foods for your family at the same time!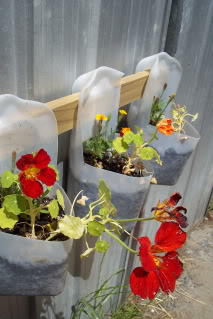 Pink Stripey Socks posted a tutorial for these tiny rings that your kids are sure to love. They are so easy and yet imaginative–what a great idea! And one milk jug could make so many rings! You may need to invite the whole neighborhood over. Have fun with this project! Let your creativity run wild!