Fall is finally here and I am ready to infuse the Autumn spirit into every area of my home. Did I say every? Because I absolutely mean EVERY area of my home. I'm planning on decorating my porch this weekend, and I think that every single one of these ideas is up to par with my decorating needs. Check out these front door decorations for fall. They are fantastic.
Front Door Decorations For Fall
While this may not work for those of us in the cooler areas of the country, adding Mums, Marigolds, and Kale plants to your front porch will add epic infusions of fall color. I'm in love with these container gardening ideas!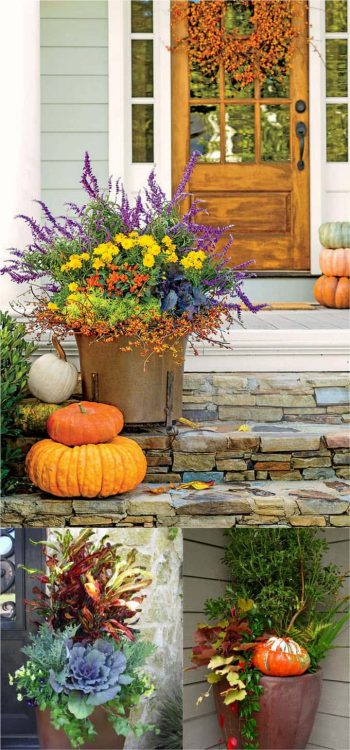 This is the same front entryway, but take a look at how dramatically different these fall decor schemes are! I think the top idea is my favorite, purely because I am a sucker for dried corn stalks in the Autumn months. The lush colors are awesome! From The House of Silver Lining.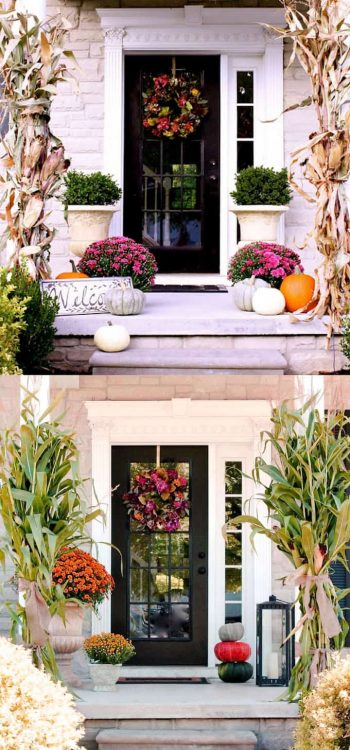 Are you a gardener with a plethora of pumpkins? And squash? And just about everything else? I've been there! Planning your garden can be super difficult. If you can't "regift" your plethoras of squash to your neighbors, use them to decorate your fall porch. This looks incredibly lush, and I am in love! From Pinterest.
From the Garden


Hydrangeas are one of my very favorite flowers, and I love when I can incorporate them into my Fall and Winter decor. Red, Orange, and white hydrangeas make a holiday statement in this DIY wreath from Pinterest.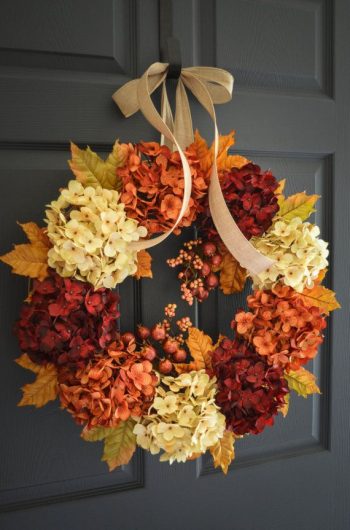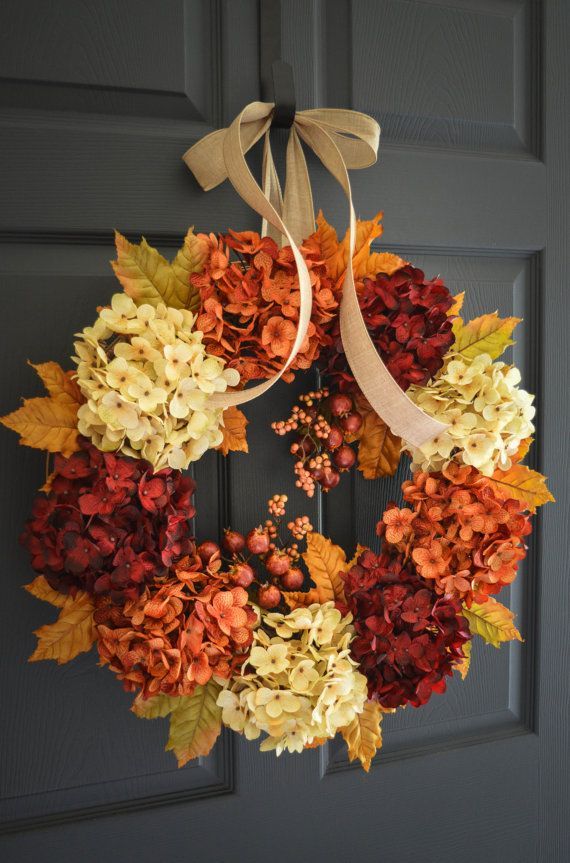 This front porch might be plain, but the corn stalks, a festive wreath, and a few mismatched pumpkins work hard to dress up this space! It's perfect for Fall!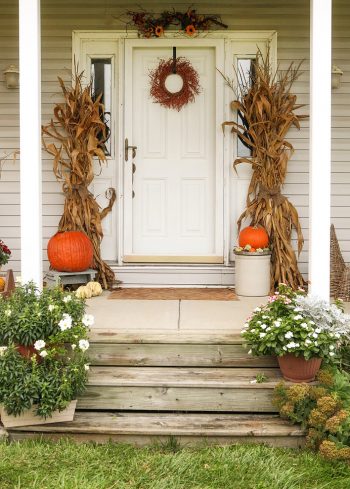 Who wouldn't love the vibrant colors of this fall wreath? Pomegranates, apples, pinecones, and other deeply colored pieces come together to create a stunning fall wreath. Use burlap ribbon to hang this from your front door.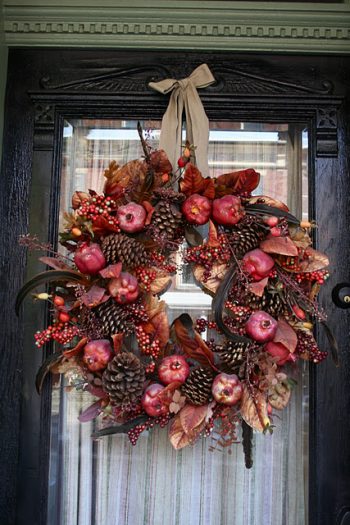 I love heading over to my local Farmers Market every Sunday to pick up my fruits and veggies. Just the other day, someone was selling Indian Corn, and I might have bought a ton! I had no idea what to do with my Indian Corn, but I think this DIY wreath is just the thing!
When I think of Fall, I think of lush red and orange colors. Hang them around your porch lights, and add a quick dash of color with a front porch wreath.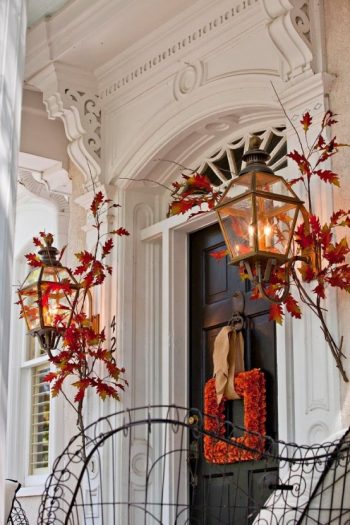 When decorating for Fall, it's important to work with what you've got! The deep purple of this front door and the green paneling compliment the fall foliage PERFECTLY. A little goes a long way on a front porch like this.
Thanks for stopping by. Hope you enjoyed these ideas for front door decorations for fall. If you don't see something you love, try these wreath ideas.