Take a look at these creative ideas to get your laundry room under control!

#1. Start by going through all the junk in your laundry room and get rid of everything you don't need or put it where it belongs. Then organize what you have with LABELED cubbies or bins. This awesome organizing tip is from HGTV.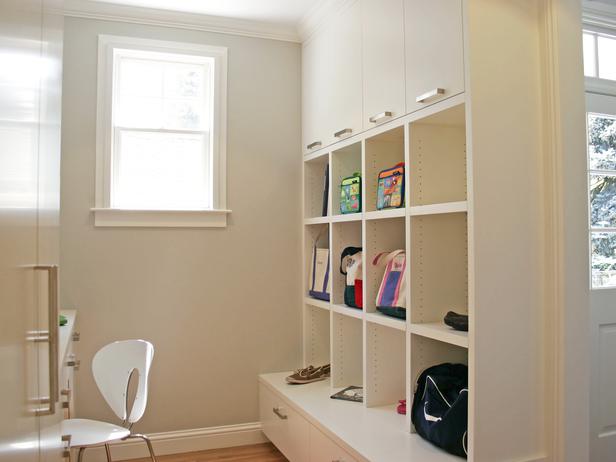 #2. Install a shelf above the washer and dryer to store supplies and a bar below to hang clothes that need to air dry. On a side note, I absolutely love the paint in this room. HGTV also shared this simple, but effective idea.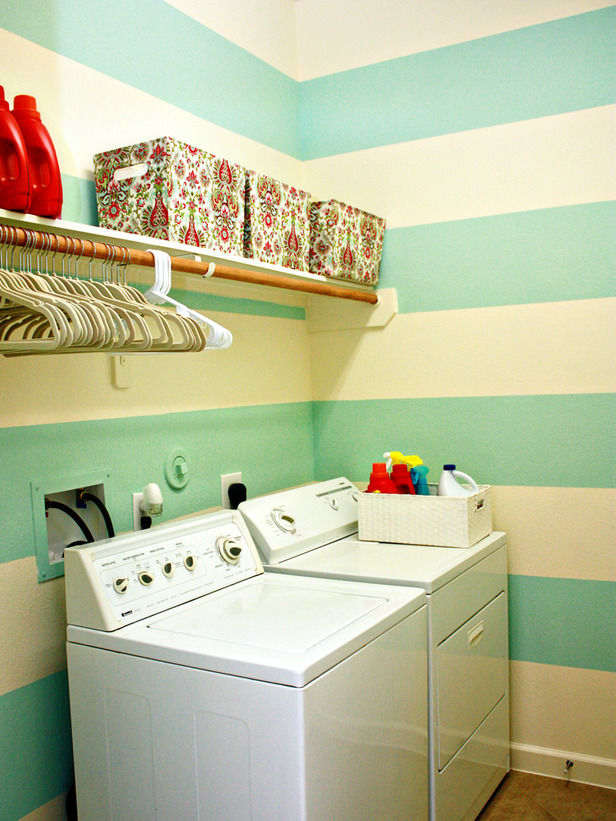 #3. Create a lost-and-found for single socks and items found in pockets. Go through it each week to keep it from overflowing and get rid of stuff that wasn't claimed by its owner. You can even use those old sock that don't find their match as dusting rags. I love the cute basket that makes the collect-all a cute addition to the room! Find this tip here.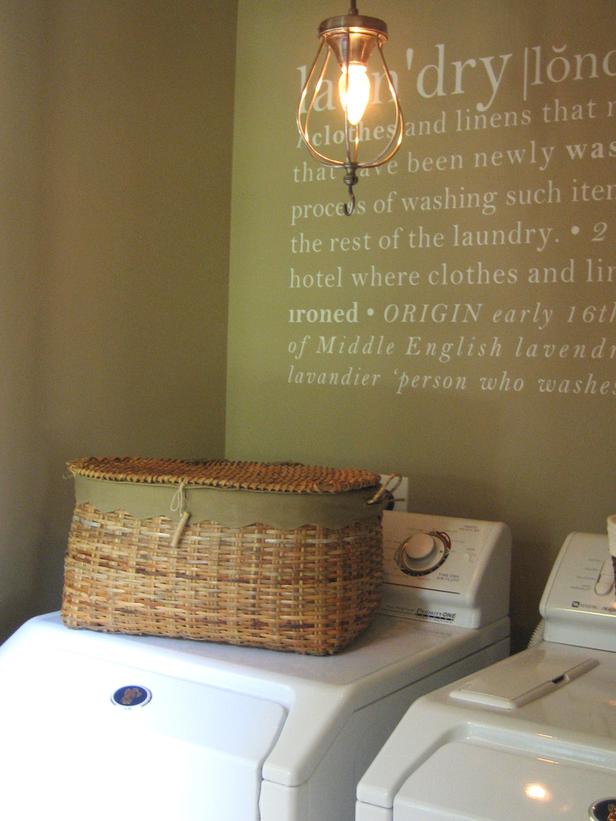 #4. Use a hanging door rack to store cleaning supplies to keep them off the counter-tops and floor! Another great idea!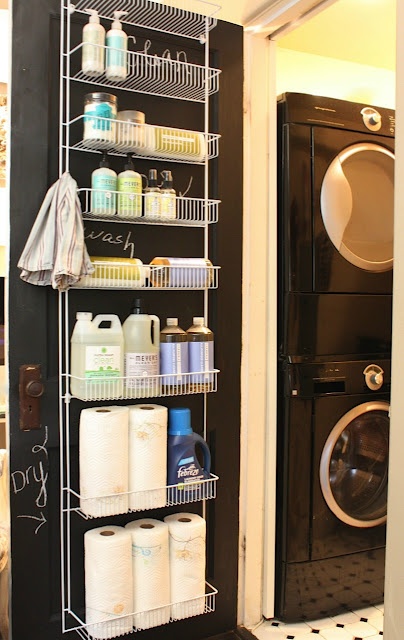 #5. Use a quilted ironing mat instead of a bulky, get-in-the-way ironing board! Drape it right over your washer or dryer. This will save so much space! I found this on Pinterest, but couldn't find the original source!
#6. Make a laundry basket dresser! This brilliant idea was on Decorating Files, and they definitely had the right idea! You could use some for clean laundry, and some for dirty. It will help keep your clothes separated without those never-ending piles on the floor!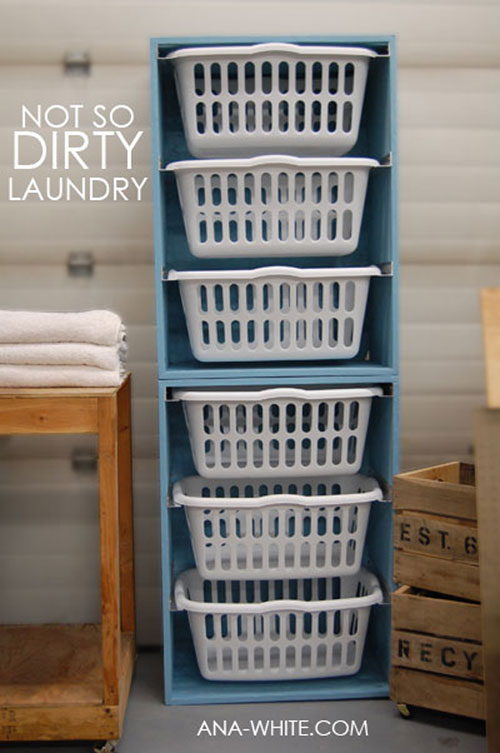 #7. Paint an old ladder, hang it from the ceiling, and make it a cute and convenient drying rack for your clothes! Found this great idea here.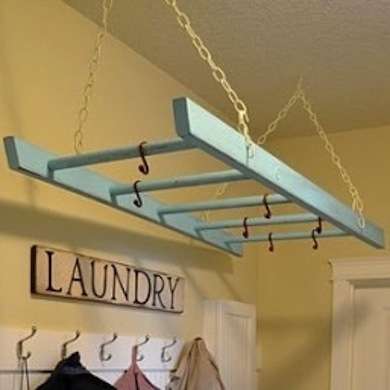 #8. Put your detergent and fabric softener in these cute drink dispensers. How much cuter will this look in your laundry room than a big bulky plastic container?! Decorating Files had yet another great idea!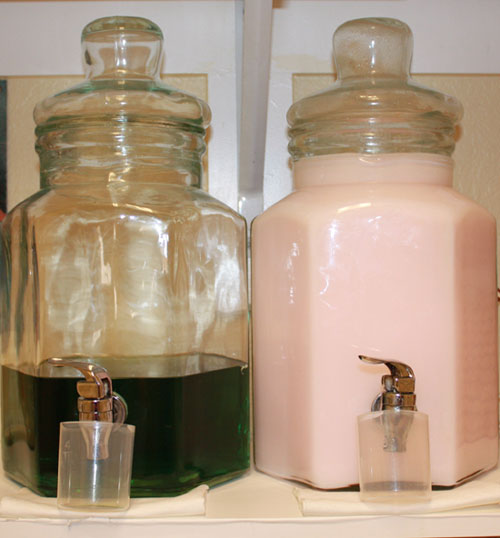 #9. Get an old mason jar and create this cute pocket collector to hang on the wall in your laundry room. It will prevent all those random knickknacks that you find from falling behind the washer and dryer. Have this cute sign will also be a good reminder to check pockets before things get washed that weren't meant to! Thanks to My love for Words for sharing this cute idea with us!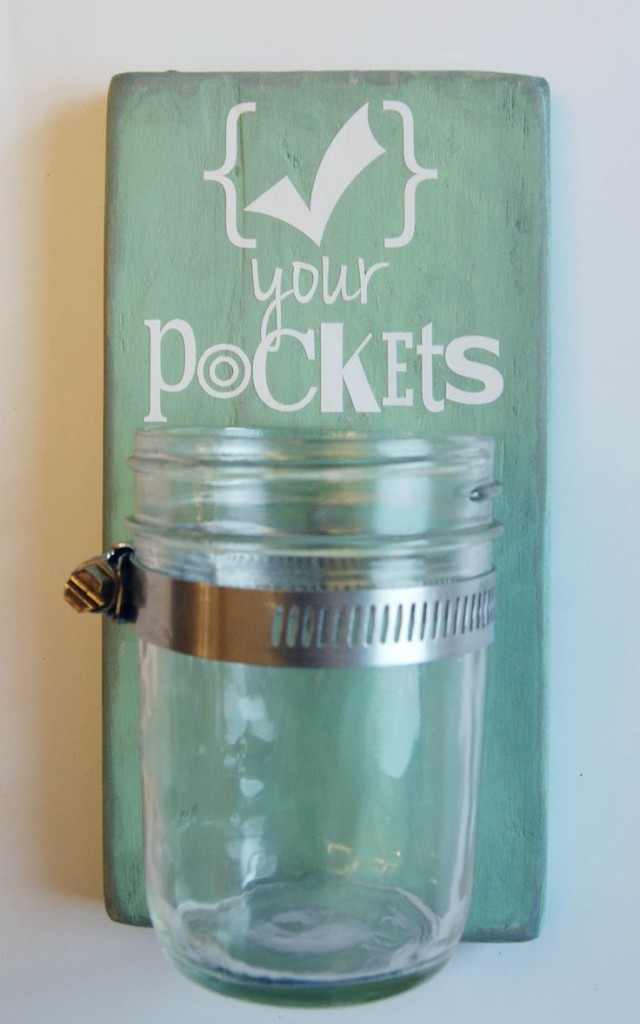 #10. Turn an old trash can into a lint collecting bin! hang it on the wall for a convenient spot, so you don't end up leaving lint piles on top of the dryer like I do! I love the "lint" decal, and the painted lid…small details that make this a cute addition to your laundry room! I found this idea on Buzzfeed!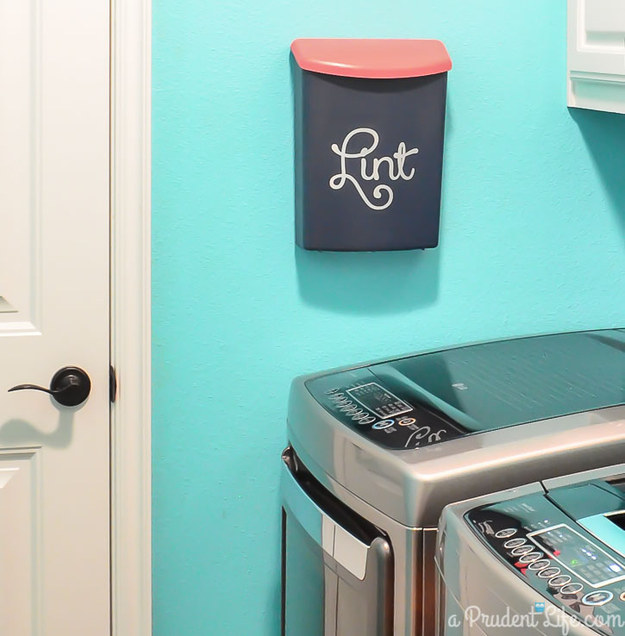 There is hope for your laundry room after all! Happy organizing!