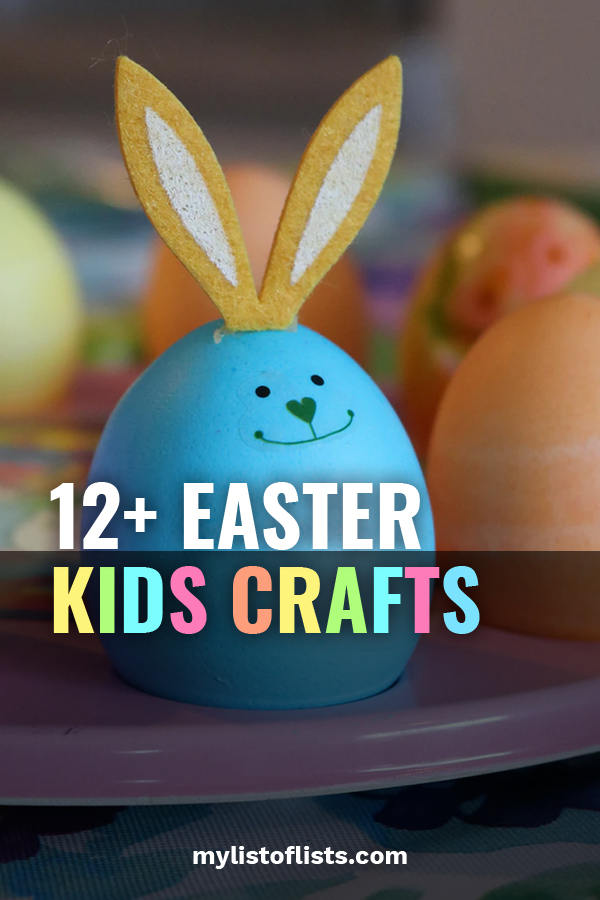 Easter is April 1st, and if your kids are anything like mine, they are so ready for the Easter bunny to come hoppin' by! Welcome spring (and the Easter bunny) with these fun Easter kids crafts.
My kids turned lollipops into ghosts this Halloween, and now they're turning them into bunnies! You can find everything you need at Michaels!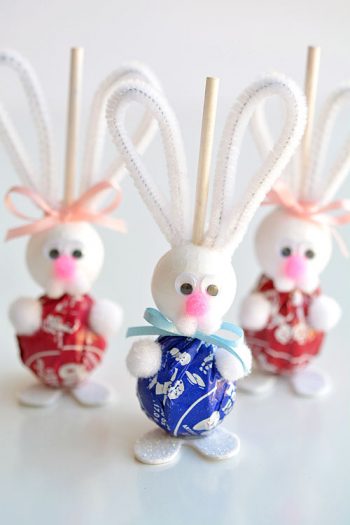 Make your own "paper roll" Easter chicks and use them as an egg holder for your finished dyed eggs. If you have yellow card stock, you don't need much else for this craft!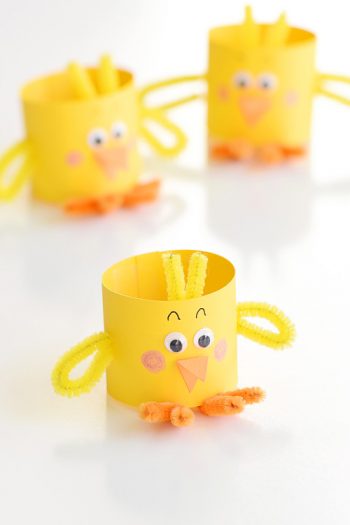 These gorgeous little flowers were made out of unused cupcake liners. Craft glue (or tape), a fun jewel accessory, and green construction paper look great when fashioned into a spring flower. Hang these in a kitchen window when your kids crafts are complete!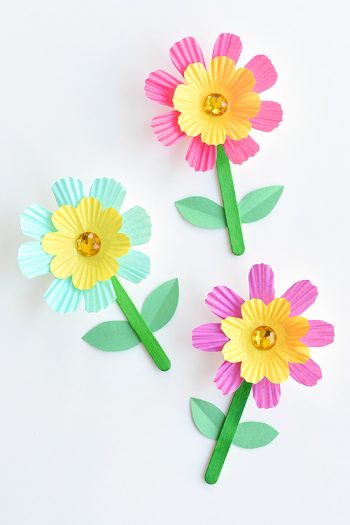 Real flowers only last for a moment before wilting or drying up! With these Easter egg flowers will last all season long! Because eggs usually come with two pre-drilled holes, all you need to do is slide the green pipe cleaners through. Fill with treats for fun Easter surprise!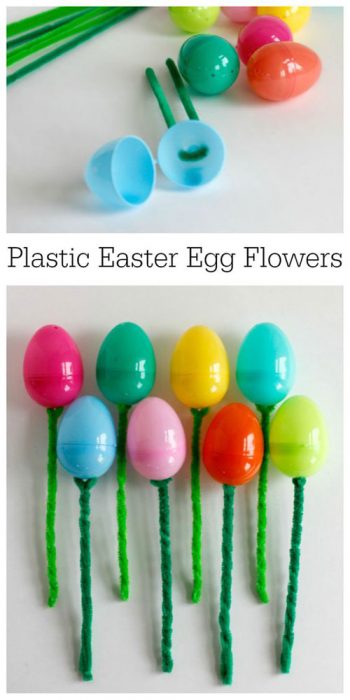 These Easter bunny animals and carrots are easy to make when you bend and maneuver your pipe cleaners! Because pipe cleaners CAN be sharp, this craft project may require a bit of parental supervision.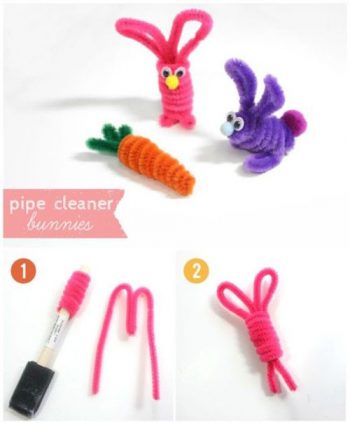 Don't throw out those plastic spoons! With a permanent marker, and some patterned scrapbook paper, you can turn an old spoon into a bunny wearing it's nicest Easter clothing! Or, if your bunny is a little more shy, have them hide in the grass!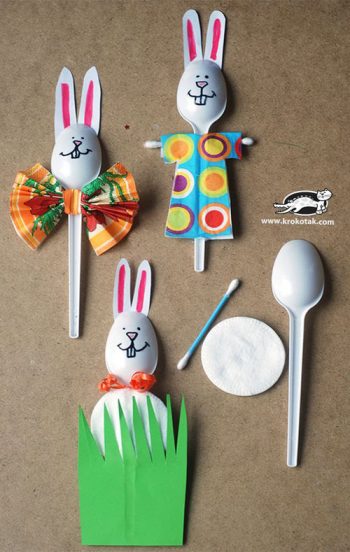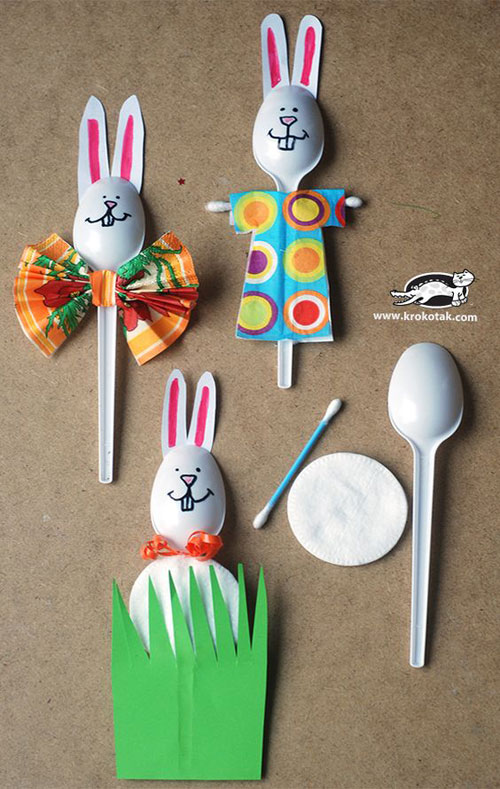 Hang these in your window for a cool holiday themed sun catcher craft! You can use the template from this blogger to help you with the shape! Use tissue paper and Mod Podge to create the "stained glass" look.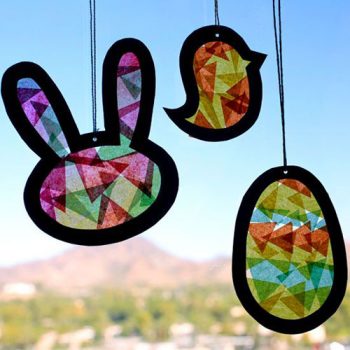 Have you heard of all those cool things you can make with Easter egg cartons (if not, this article will give you a pretty good idea). Use an empty Easter egg carton and some yellow paint to get the look you desire. Fill with Robin's eggs or Cadbury eggs for a tasty snack for party guests.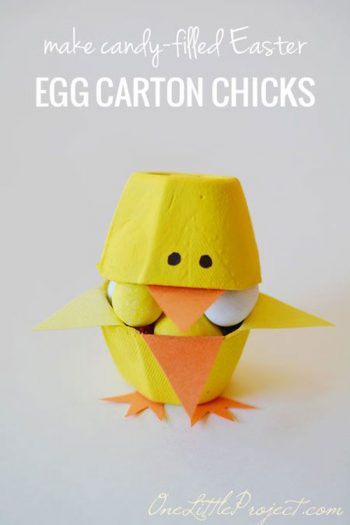 Teach your kids an easy origami craft with an Easter bunny book mark. The project requires little folding, but these will definitely save your book pages from looking "dog-eared!"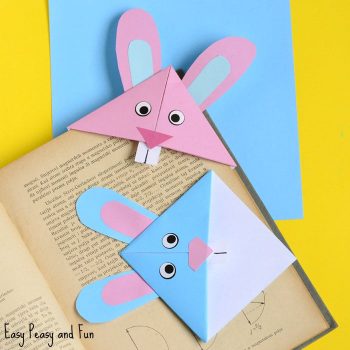 Who could resist these baby sheep? The bone system of the "sheep" is a plastic spoon, and paper strips are wrapped around the spoon. You'll need black construction paper for the tail, and the head of the sheep!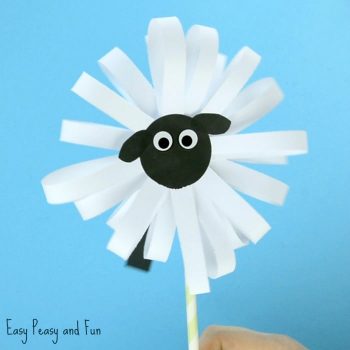 Put these on your shopping list if you feel like trying this craft with your kids:
-Easter grass (for the tops of the carrots)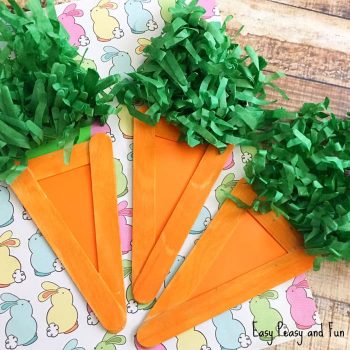 Shawn the sheep would be impressed by this portrayal of him! Use a paper plate, cotton balls, and black craft paper to make this unforgettable portrait.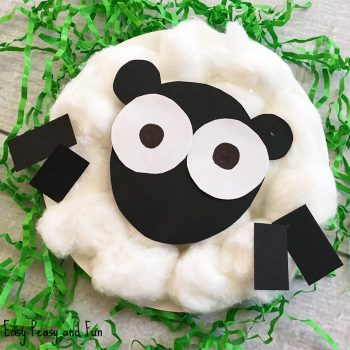 Feeling inspired by these kids crafts? Here are the tutorials for each of my featured Easter kids crafts:
Lollipop Bunnies from One Little Project
Paper Roll Easter Bunnies from One Little Project
Cupcake Liner Flowers from One Little Project
Easter Egg Bouquet from Make and Takes 
Pipe Cleaner Bunnies and Carrots from DIY Fun Tips
Plastic Spoon Bunnies from Krokotak
Easter Sun Catcher from Everyday Dishes
Easter Egg Carton from One Little Project
Easter Bunny Bookmarks from Easy Peasy Fun
Paper Sheep Craft from Easy Peasy Fun
Carrot Craft from Easy Peasy Fun
Paper Plate Sheep from Easy Peasy Fun