Getting my kids to do their chores is like pulling teeth! It's nearly impossible. As I've been trying to motivate my kids to help around the house, I've found some really amazing chore charts to keep chores organized. Some of these you can buy, others are easy DIYs. I hope you find a chart system that works for your family and motivates your goods! Good luck!

Abbie's House on Etsy sells that most adorable chore charts that are super easy for kids to use. The magnets have picture on them which symbolizes the different chores kids are responsible for. When they've completed the chore, they get the satisfaction of moving their magnet to the "done" side!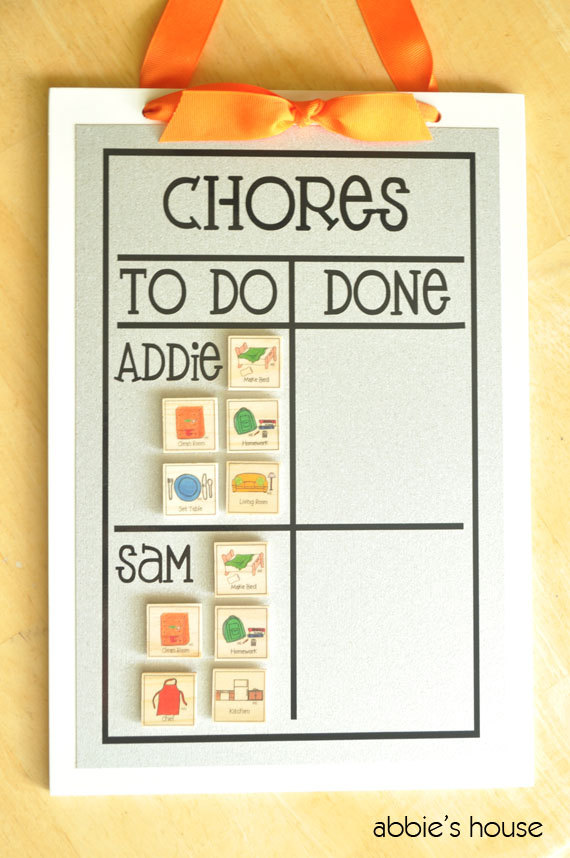 Happily Unprocessed posted an idea for a chore chart that may finally motivate your kids to get moving! Clipping cash and directions for a chore together will help your kids remember the financial rewards for their help! This may get expensive, but if your house is really dirty, this system may be worth it.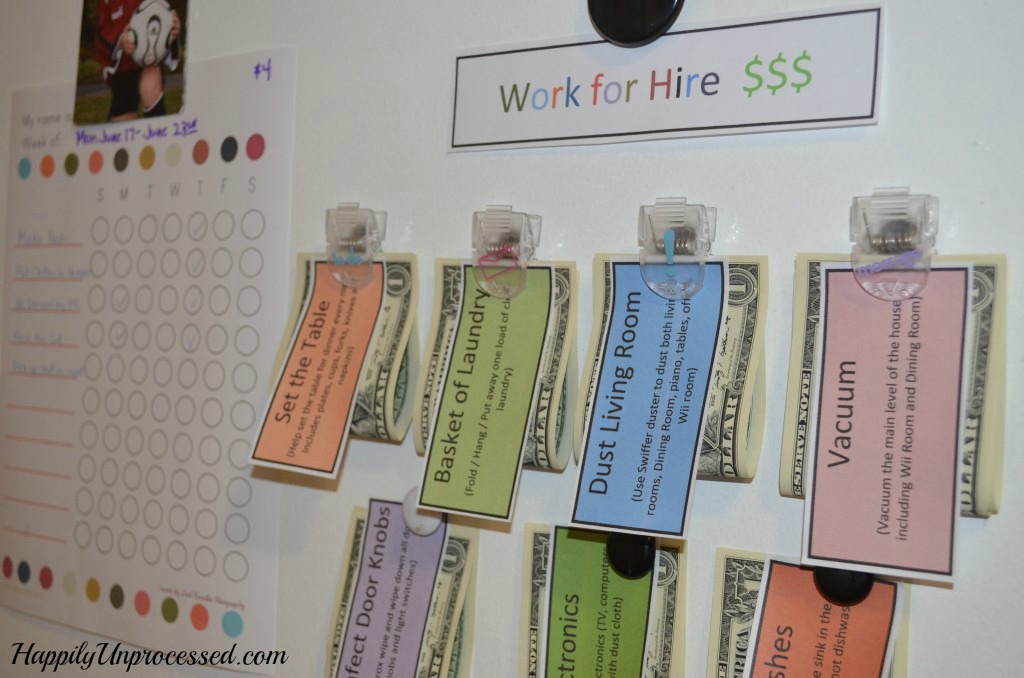 Homemade by Carmona suggests using clipboard to organize chore charts for each of your kids. You can hang the charts in a convenient location and attach a fresh chore chart every week. Carmona used stickers to help kids feel accomplished. I really like this idea!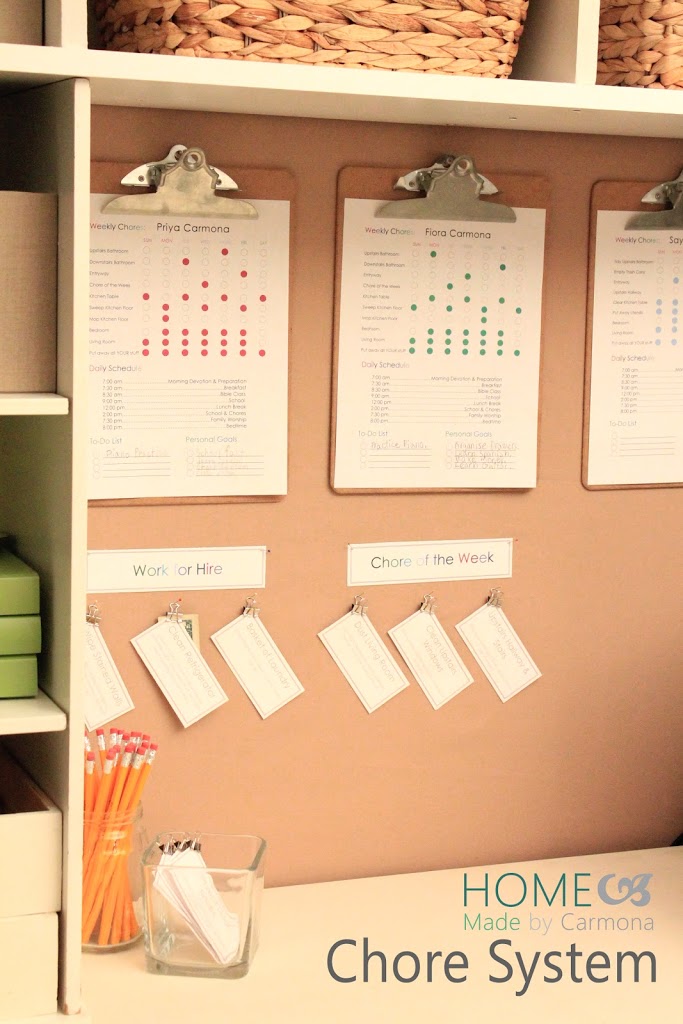 Lemon Squeezy Home posted a tutorial for this darling chore chart idea. The charts are magnetic boards covered in decorative paper and put in lovely frames. Magnets are labeled with different chores and columns on the charts keep things organized. I love how pretty & simple this system is!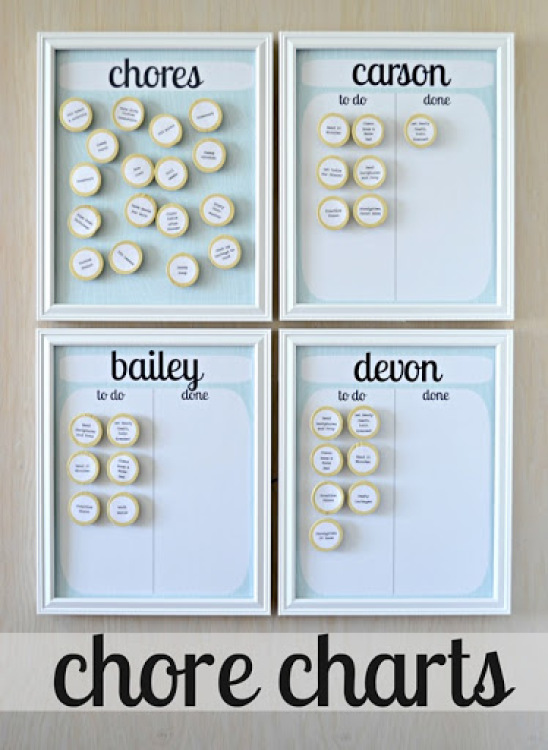 Whatever Dee Dee Wants found a really creative way to organize chores–in a jar! This system works really well with small children who will enjoy pulling a popsicle stick out of a jar. When they've completed the chore, they can turn the stick upside down so that the color isn't showing anymore. How cute!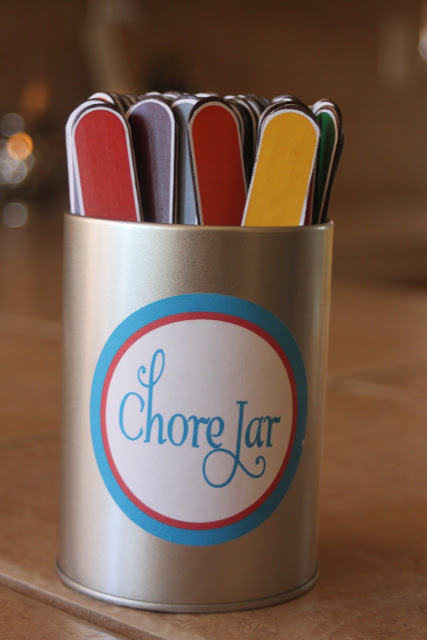 Thirty Handmade Days posted several printables to help you get your household chore responsibilities organized. Your kids can have their very own punchcards and when their chore is done to your satisfaction, you can simply hole-punch it! A fully punched card should get a reward!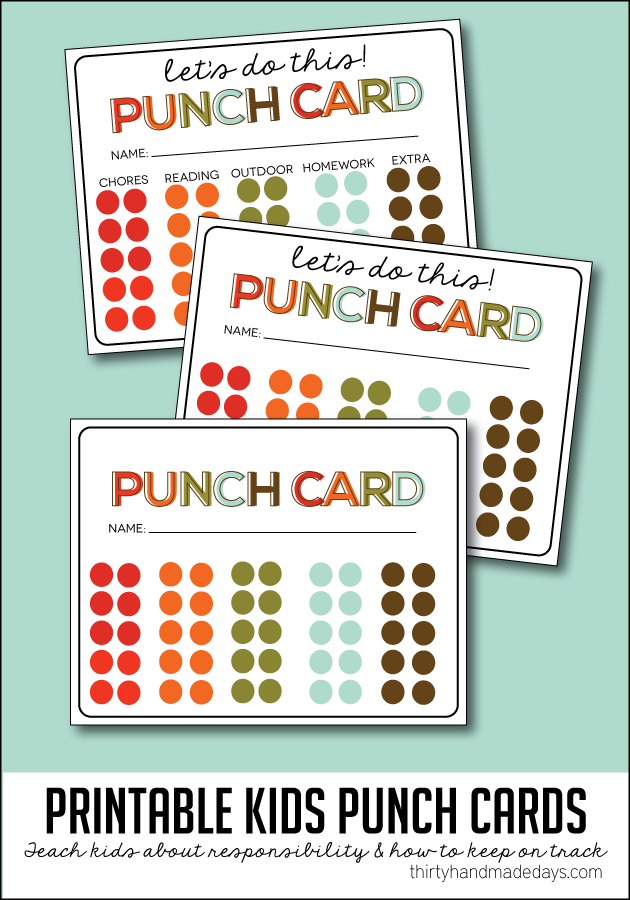 Crafaholics Anonymous created a tutorial for crafting a magnetic chore chart out of a cookie sheet! This would be so simple to customize to fit your home! You just paint the cookie sheet, add some stick-on letters to spell your kids names, make some magnetic chore labels, and there you go! I wish getting my house clean was that easy!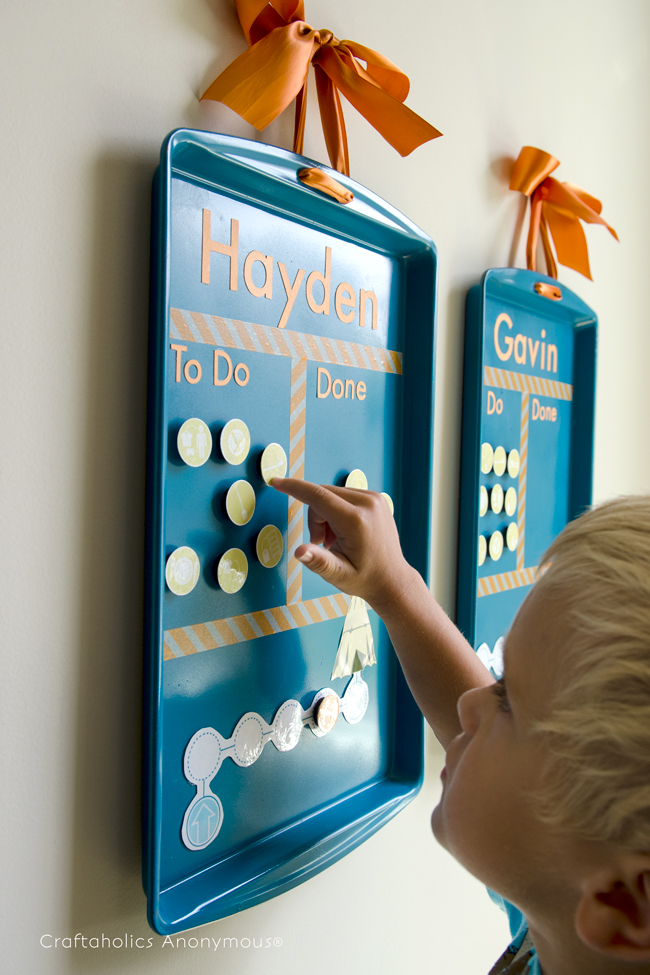 Tatertots & Jello suggests using printed post-it notes to keep your house shipshape. These are easily printed so your kids can cross things off as they go and then you can add new ones! I love the way this example is color coordinated for each kid–they'll never get confused!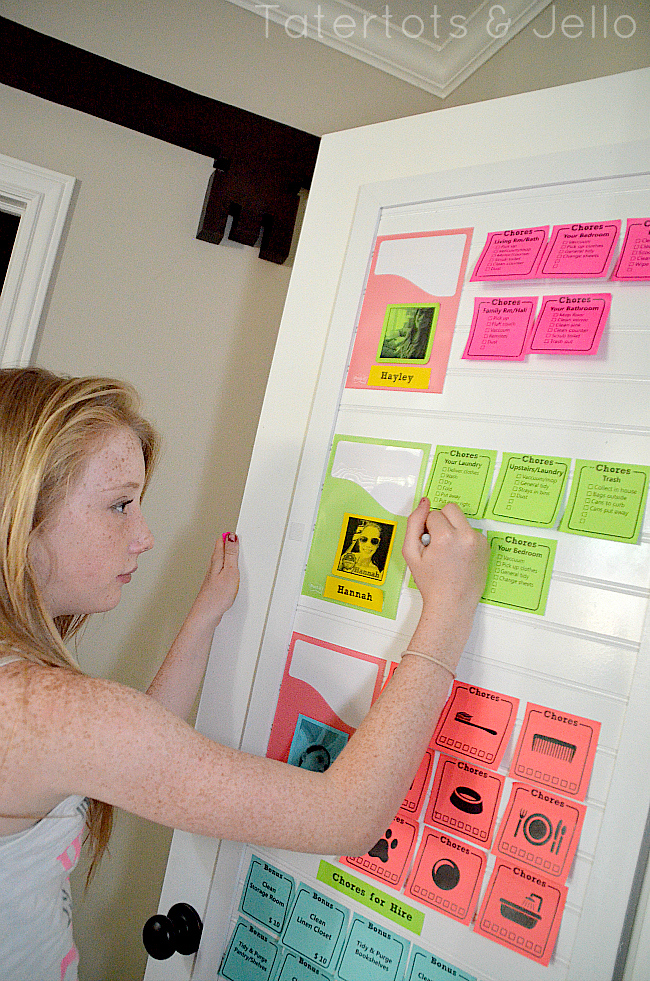 By Dawn Nicole posted a tutorial for a chore chart station! This DIY project is super cute and includes everything you need to make sure your kids know what their chores are, can report what they've done, and of course be rewarded in the end. Tickets are an easy way for kids to learn how to save as well!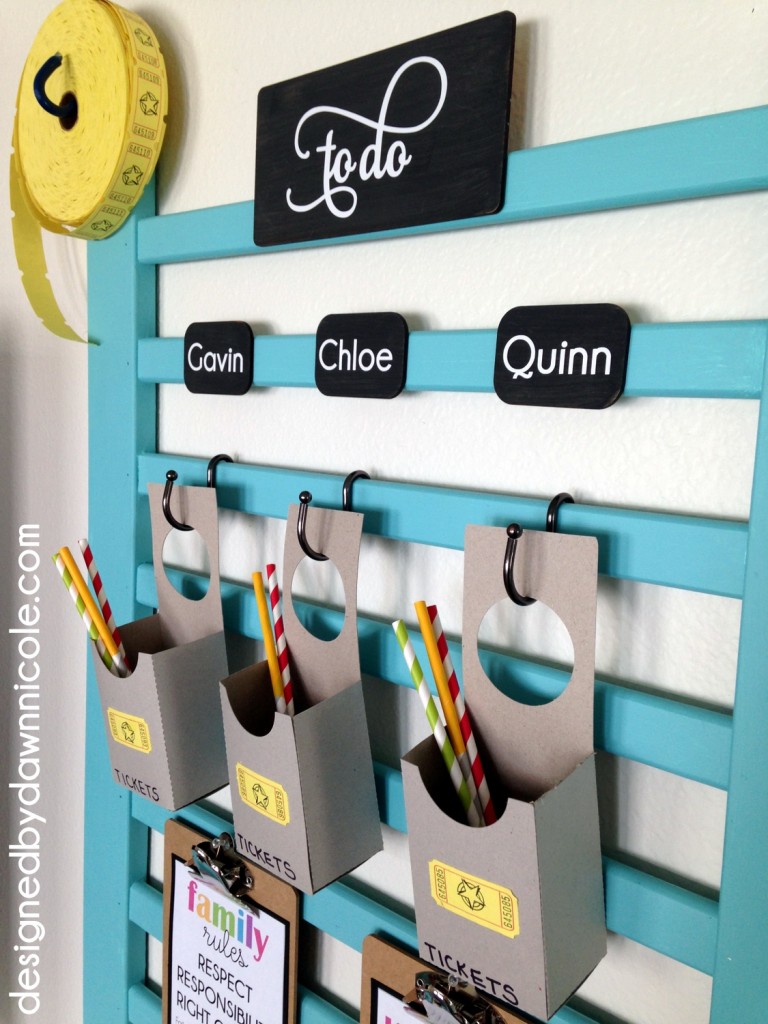 Bagby Bunch posted a tutorial for make a chore chart system on a cork board. This system is so easy to implement and adjust as needed. Using tags (which you can find at any office supply store) and pushpins, you'll have a super organized chore chart that will make the whole family happy!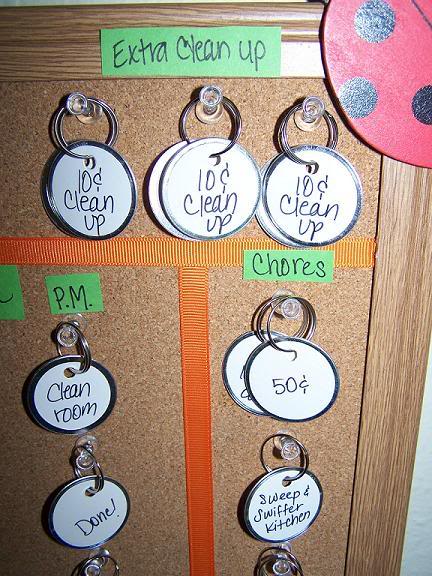 The Winthrop Chronicles posted a tutorial for a darling chore chart system made out of up-cycled wood planks. With a little paint and some cute hardware, the wood was given new life! I especially love the mason jars–when kids finish a chore, they can put a stone in their jar. When the jar is full–they get a treat!