We owe so much to teachers, and little, thoughtful gifts are one of the best ways to express our gratitude for them. I've collected some of my favorite teacher gifts that I'm sure they will love. None of these teacher gifts are expensive or difficult, and all of them are thoughtful and cute. Have fun showing your gratitude to your favorite teacher!

Desiree from The 36th Avenue put together this cute apple jar filled with candy. And the best part is that you can make this with stuff you have around the house! You simply need to paint a mason jar, fill it with candy, and add a cute lid with leaves and a "stem." What a clever way to turn the traditional apple into something sweet!
Get mason jars for super cheap here! 

Doreen from Hymns & Verses posted a tutorial for this adorable paper apple made out of book pages. This project brings together two things teachers love–what could be better! You may want to make a couple of these so that your teacher can cluster them together in the classroom. How cute!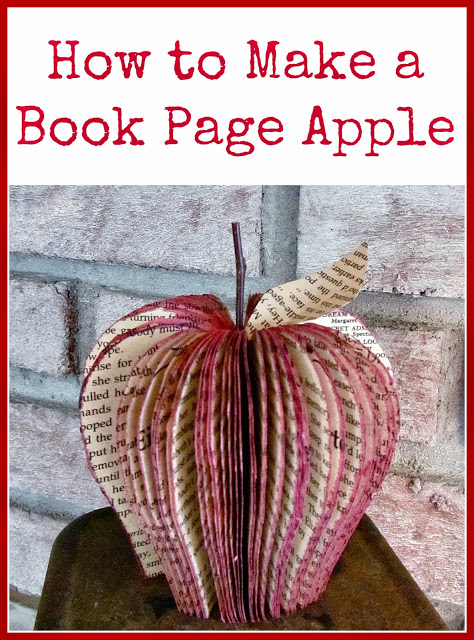 Gabrielle from Design Mom posted an awesome printable that turns store-bought soap into darling–yet practical–teacher gifts. Your teacher will love how cute the soap container is, and also love how thoughtful the gift is. Your teacher will definitely feel appreciated.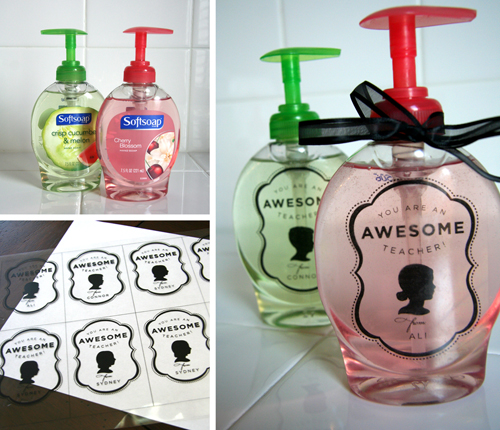 Mandy Douglass posted a great tutorial for a portrait bouquet that would be perfect as a present for your child's teacher. You'll need to gather pictures of the class, paste them onto paper flowers, and then put the whole thing together in a vase. You could even ask each child to decorate their own flower for an eclectic and thoughtful bouquet.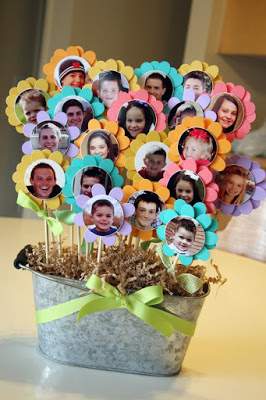 Megan from Balancing Home posted an awesome idea for teacher gifts that only require paper, ink, and tiny fingers! Draw a tree on the paper with a sharpie, then have each student ink their finger and press it onto the tree. Make sure you have each student sign their little leaf! It will be a keepsake their teacher will treasure.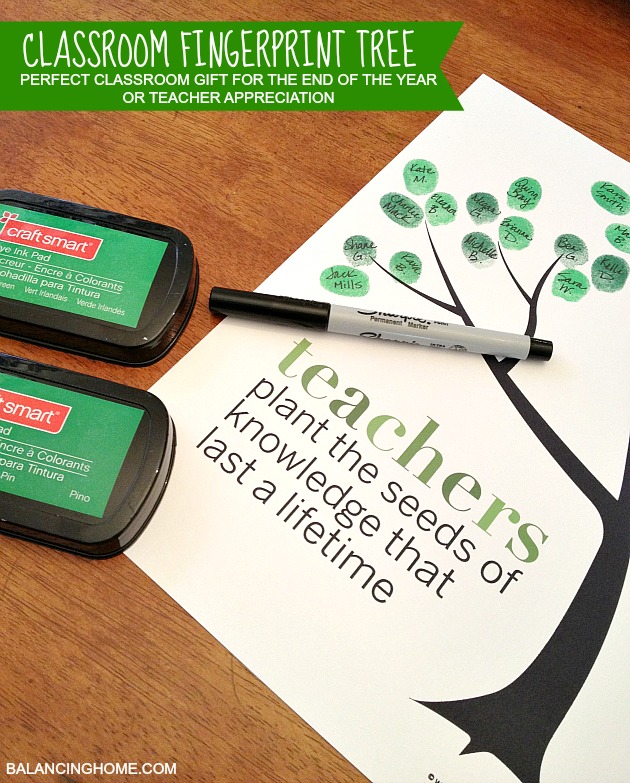 The Guyer Family Blog posted the cutest tutorial for a potted plant that is teacher-themed. Plants are great gift ideas and in this cute pot they're irresistible! Use chalkboard paint for the base so that you can write a cute note in chalk. Then paint the rim like a measuring tape. So adorable!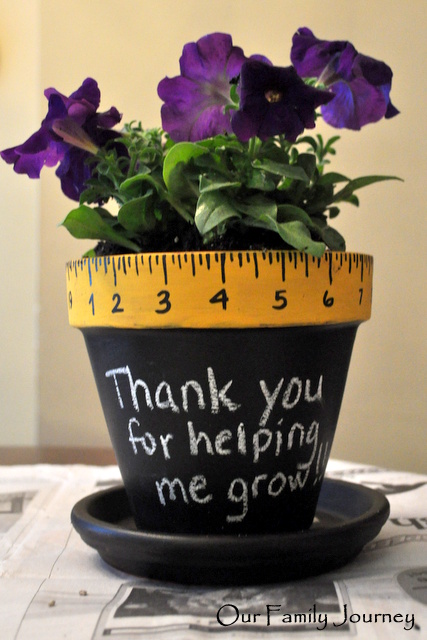 Mary from Giving Up on Perfect shares awesome ideas for creating a teacher survival kit. She suggests including classroom necessities like lotion, stickers, tissues, gum, a toothbrush, and anything else a teacher might need. This thoughtful gift will show how much you appreciate your teacher.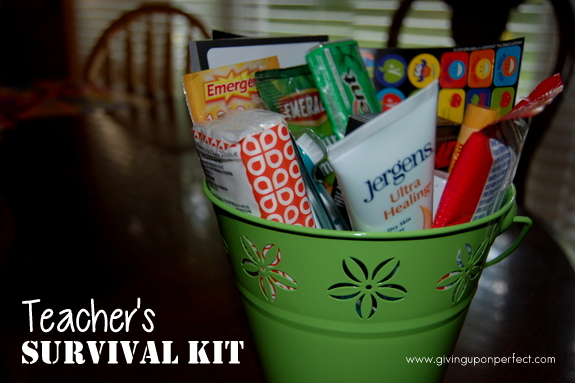 Megan from Balancing Home shares the printable iron-on for this tote. Customizing a tote is such an easy and useful gift idea. Teachers need totes for everything–and the recipient of this darling tote will be one lucky teacher. Not only will it be useful, the tote will be a reminder of how important teachers are.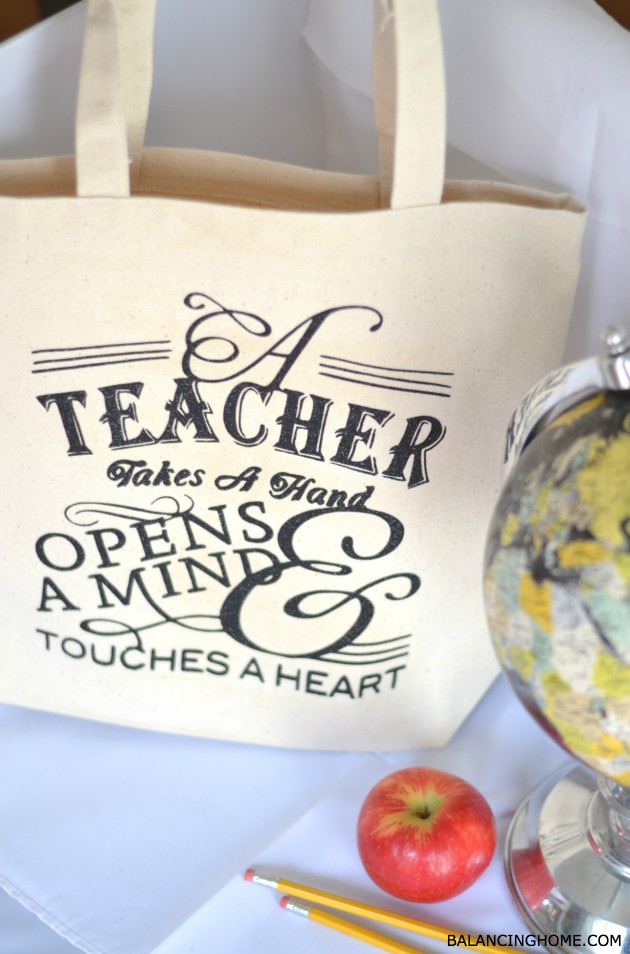 Allison from Scoop of Reality suggests filling a cup with some nifty school supplies for your favorite teacher. This is an easy gift that will be so handy for a teacher! How many times do you wish you could just find that pen? Now your kid's teacher will know exactly where to find pens and have a variety to choose from!
Pssssst…did you know you can find tumblrs like this at The Dollar Tree?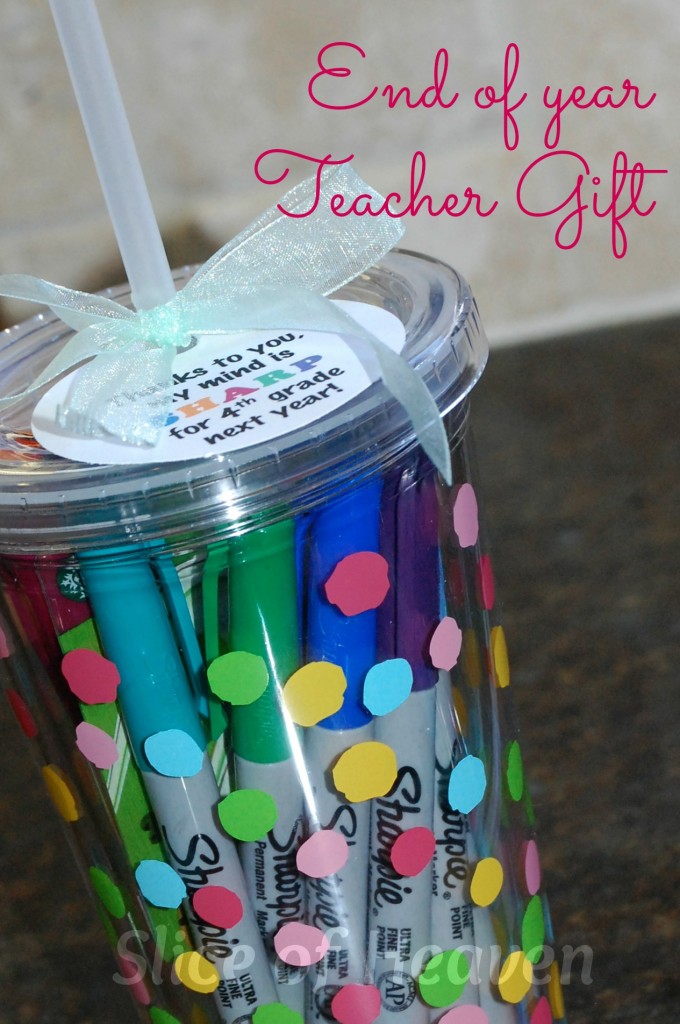 To cerebrate and thank the awesome teachers in your life, give them some cute vintage soda pops in a soda caddy with this darling note! Make sure you have your child sign the note so that their teachers know just how appreciated they are. Thanks to Tammy Mitchell for the darling idea!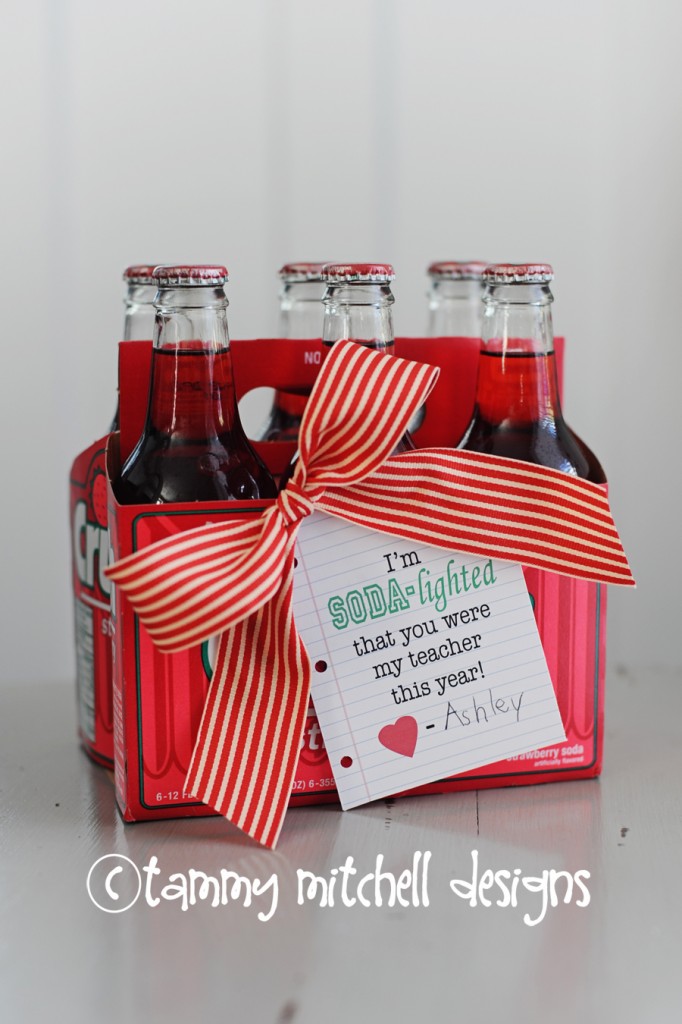 Melissa from Everyday Savvy put together a cute gift for the teacher who loves tea. Gather some delicious tea packets and package them together for a sweet and clever present. Your kids' teachers will appreciate the opportunity to drink some soothing tea, and they'll know how much they're appreciated.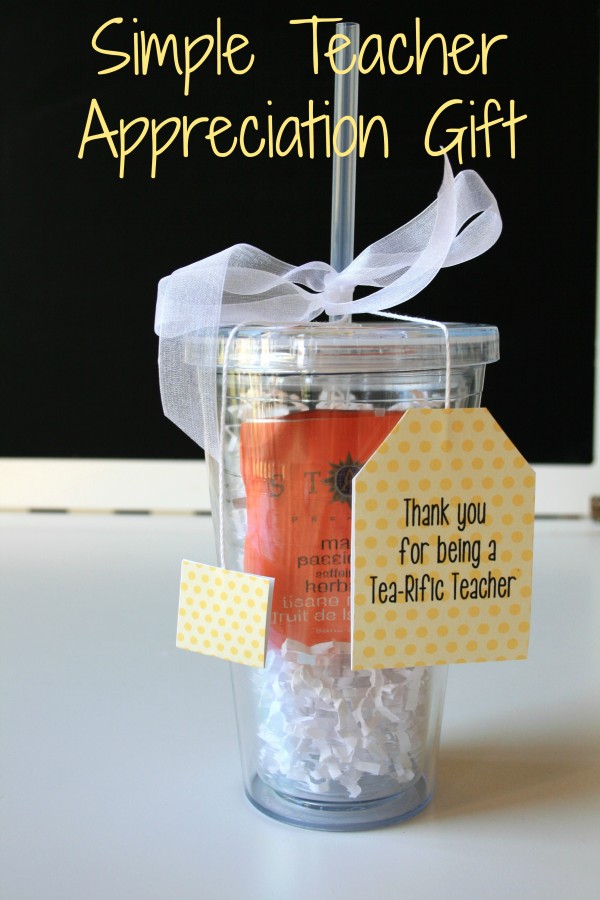 Potted plants are great teacher gifts and these pots are the cutest! Hello Bee posted the tutorial for these darling succulents. Simply paint the bottom of a couple terra cotta pots (I'm loving the neon colors here), plant some fun succulents, and add a little flag thanking your teacher.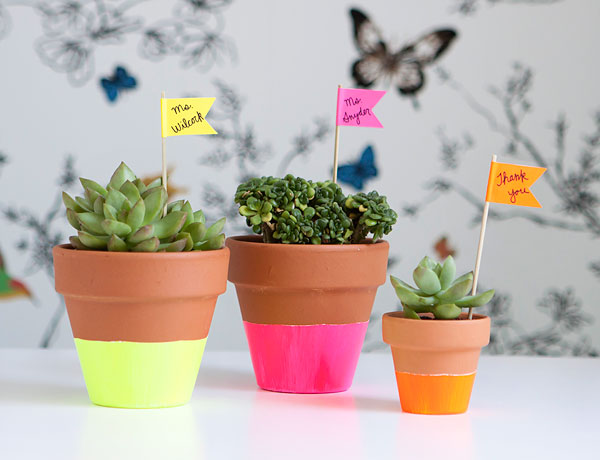 Vanessa from Our Thrifty Ideas put together this idea for giving hand sanitizer to a teacher. A very practical gift becomes cute & clever with these darling tags. Put a bunch of these sanitizer gifts together and you can thank all the teachers in your life!
The Workman Family Blog made this cute project to show appreciation to their teacher. Cut out the shape of your teacher's initial into a set of new crayons. Glue the crayons to a piece of paper and write a nice note beneath, if you like. Once this project is framed, you've got a personalized present for a teacher!