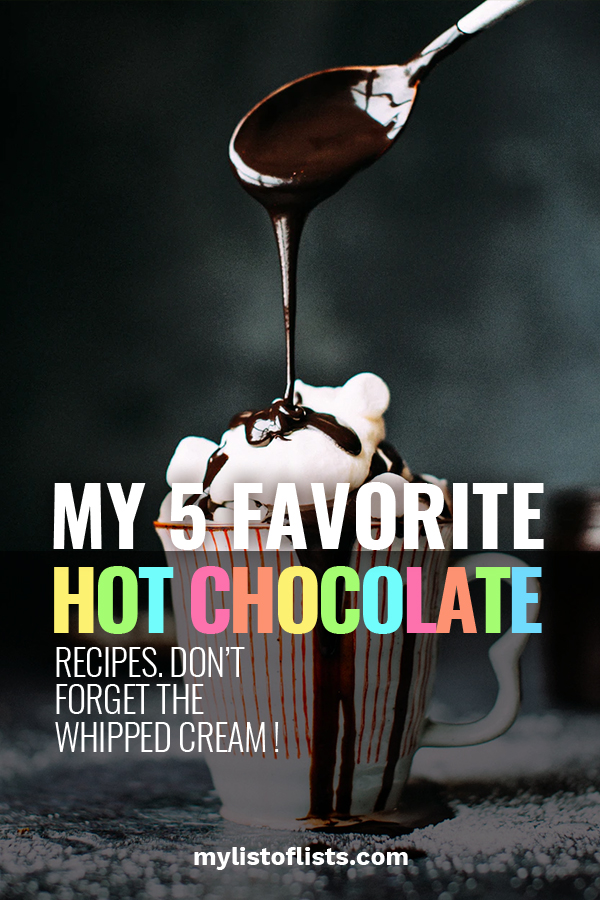 As I am writing this, there is an impressive snowstorm bearing down on us. You can't see more than a few feet in front of you, and the road conditions are absolutely terrible! We are having a bonafide snow day, and I've been waiting all year for this moment because I love the snow! And if there's one thing you do on a snow day, it's curl up with a blanket, a movie, and a huge cup of hot cocoa. Hot chocolate is the quintessential winter drink and I'm always looking for reasons to indulge. The next time you, like me, are snowed in, try one of these scrumptious hot chocolate recipes. They'll warm you up inside and out!
Best Hot Chocolate Recipe – Delish
2 Cups Whole Milk
1/2 cup Granulated Sugar
2 tablespoons cocoa powder
1 cup chocolate chips
1 tsp. vanilla extract
Whipped cream (for serving)
Chocolate shavings (for serving)
Bring milk to a simmer in a small saucepan over medium heat. Whisk in sugar and cocoa powder and mix until there are no lumps. Mix in chocolate chips and vanilla, stirring until the chocolate is fully melted. When fully melted, pour into mugs and garnish with chocolate shavings and whipped cream. Yum!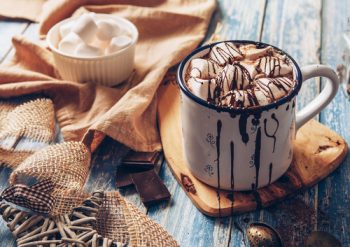 Thick Italian Hot Chocolate – An Italian In My Kitchen
-3.5 ounces of dark chocolate (chopped)
-2 tablespoons sugar
-2 1/2 tablespoons cocoa
-1/4 cup of Milk
-1 teaspoon corn starch
Whisk milk and cornstarch together, setting aside when combined. In a separate bowl, sift the cocoa and sugar together. Heat 3/4 cups of milk and 1 tablespoon together in a small saucepan, whisking the milk and cornstarch in as the liquid heats. Pour in a cup and serve! I love this hot chocolate recipe.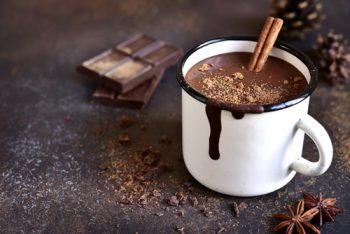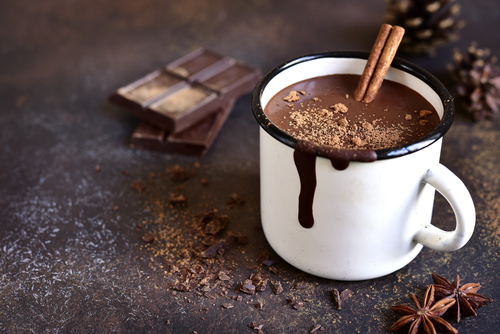 Slow Cooker Candy Cane – Real Housemoms
-8 cups whole milk
-8 oz. Ghiradelli white chocolate bars
-1/2 cup crushed candy canes
-1/2 teaspoon vanilla
-whipped cream and crushed candy cane (for garnish)
Add the milk, white chocolate, vanilla, and crushed candy canes to a crockpot and set on high for an hour and a half. After cooking, pour into mugs and serve with whipped cream and crushed candy canes.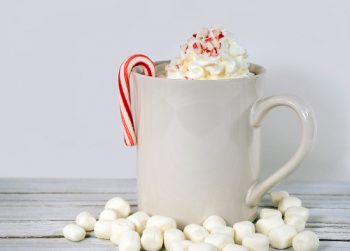 Nutella Hot Chocolate – DelightfulEMade
-4 cups milk
-1 cup chocolate chips
-1/3 cup of sugar
-1/2 teaspoon vanilla
-1/4 cup of Nutella hazelnut spread
Combine the milk, chocolate chips, Nutella, and salt together in a small saucepan and whisk together over medium heat for 5-7 minutes. Once the liquid has simmered, remove it from the heat and mix in the vanilla. Ladle into mugs just as soon as the vanilla has been mixed in.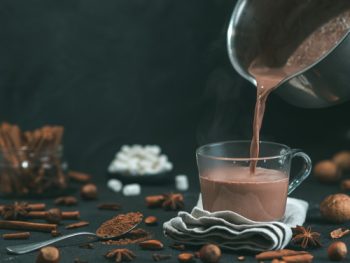 Boozy Maple Bourbon Hot Chocolate – Hey Lets Make Stuff
-1.5 cups milk
-2 ounces of grated dark chocolate
-2 ounces of bourbon
-1 ounce maple syrup
-half ounce of orange liquor
-whipped cream and chocolate shavings for garnish
Mix together the milk and chocolate in a small saucepan until the chocolate melts. Once melted, add the remained of the ingredients and let simmer for 5 minutes. Serve hot when ready.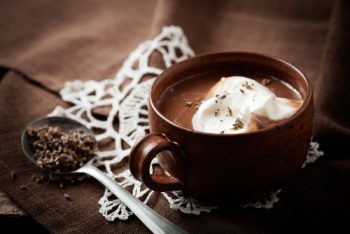 Red Wine Hot Chocolate – Wholefully
-2/3 cup semisweet chocolate chips
-2/3 cup dry red wine
-1/2 cup milk
-1/2 cup half and half
-2 tablespoons sugar
-1/2 teaspoon vanilla
Combine the chocolate chips, half and half, vanilla, wine, milk, and sugar together over medium heat, stirring constantly until the chocolate is melted. Once melted, stir in vanilla and pour into mugs.