The kids have gone back to school and Halloween will be here before we know it! Like most families that celebrate the season, we welcome Halloween in by carving pumpkins as a family! I make it a point to include even our youngest members, who color their pumpkin faces instead of carving them. We know all too well how hard It can be to think of creative pumpkin carving ideas year after year. Below you'll find a few simple pumpkin carving ideas that my family has tried over the years and they've all been an absolute blast!
A Few Items To Have for the Best Carved Pumpkins:
A heavy duty spoon (because the one included in the kit is awful)
Wax or Newspaper (for easy cleanup)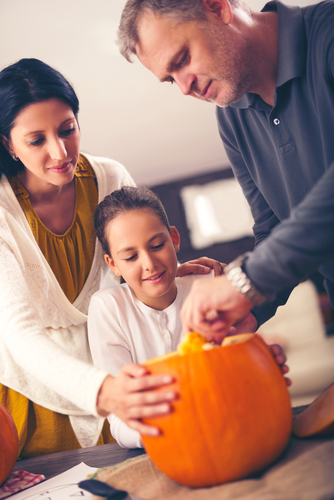 A Classic Jack-o-Lantern
Classic Jack-o-Lanterns are always exciting when your family members put individual touches on their faces! As you can see below, there are endless expressions to give your pumpkin; you just need a sharpie and a little imagination!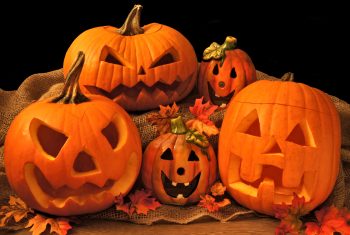 A Not-So Classic Jack-o-Lantern
If a classic pumpkin carving idea doesn't quite tickle your fancy, try your hand at this version instead! Use your sculpting tool (included in the pumpkin carving kit linked to above) to scrape away the skin to give your pumpkin this cool effect. Have one of your kiddos help you carve him a tiny pumpkin (or even an orange would work!) to munch on and use a template to trace the eyes.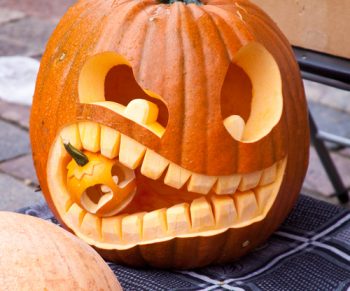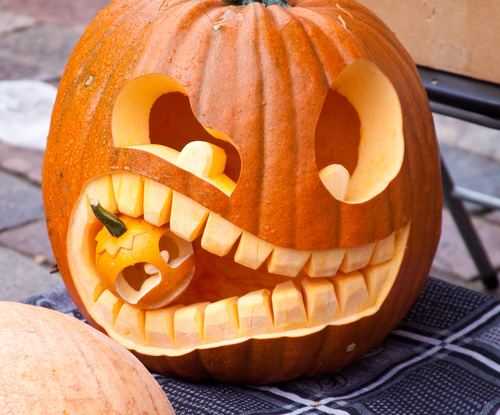 A Patterned Lantern
Perfect for the art lover of your family, a patterned lantern is a time-consuming process that is so worth it in the end! Though you can go with any design you would like, I recommend stenciling it out on wax paper prior to making the permanent mark on your pumpkin. It's easier to erase on wax paper! Here's a cool stencil for free.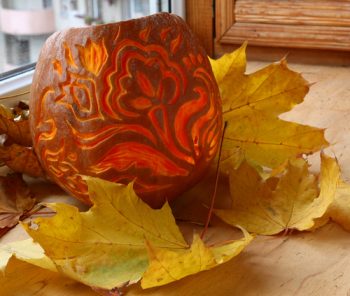 A Festive Message
Have your kiddos show off their handwriting skills with a festive message carved into a pumpkin! Again, it's best to trace this out on scratch paper first to easily erase any mistakes, should they come up. Remind your kids that handwriting quirks only give the pumpkin character and it'll add to the spooky appeal!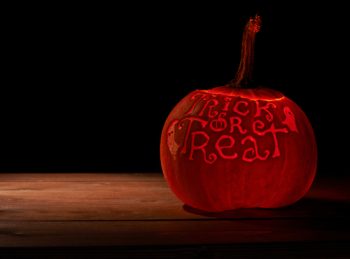 A Spooky Creature
Some ideas include a black cat, a skeleton doing a jig, a sinister bat, or a spooky spider dangling from his web. Your kids could even think of their own scary creature to feature. After all, on Halloween, there's no limit to what could be lurking outside…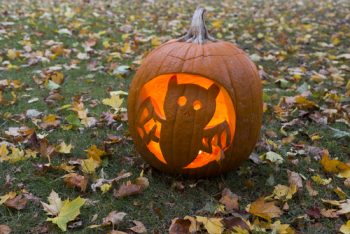 Simple, Drilled Holes
For an easy pumpkin carving idea that even the youngest members of the family can get involved in, break out the drill! Clean out the inside of the pumpkin as you normally would, and then use the drill to create evenly-spaced holes across the pumpkin. Empty the shavings as you go, and fill with a candle. This pumpkin looks the absolute coolest all lit up!