Thanksgiving is one of the biggest holidays of the year, and most everyone has a ton of family traditions associated with it down to the dishes. This year try to switch it up by adding some place cards into the mix; here are 25 of our favorites.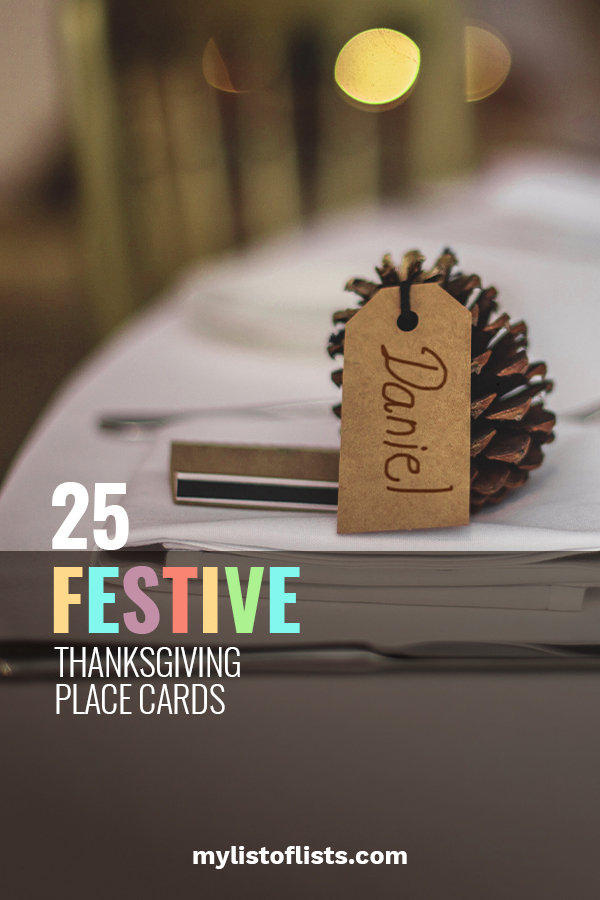 This first idea comes from A Little Claireification. She gives us this free printable place card that can be used in a variety of different ways. She put them with pinecones, and I think it looks adorable.
Sweet Pea Bunny has the most adorable idea for pumpkin placeholders you can use this holiday season. With some stamps and scrapbooking punches you can make these for yourself!
Best Friends for Frosting gives us some really adorable ideas for Thanksgiving place holders. This one from them only requires a mini pumpkin, some paint, beading wire, and whatever paper you want to get the desired effect.
Intimate Weddings gives us a template that you can download of these fall leaf designs. They can be used for a placeholder, or a pretty garland to run down the center of the table.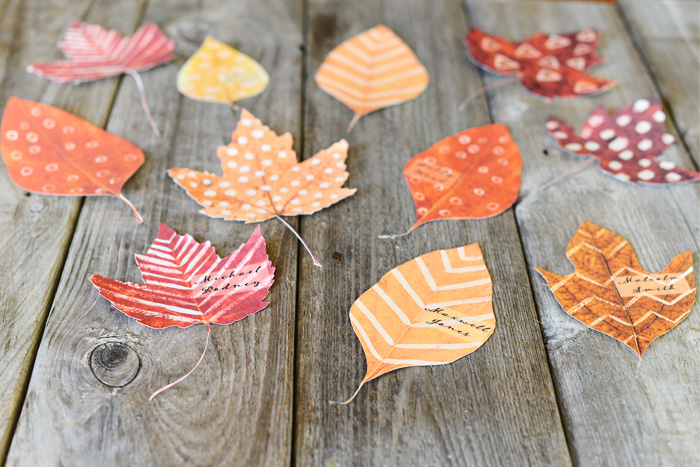 Fiskars showed us the cutest idea for tiny turkey placeholders made with old book paper and scrapbook paper. Just curl the pages, cut out a turkey shape and glue it all together!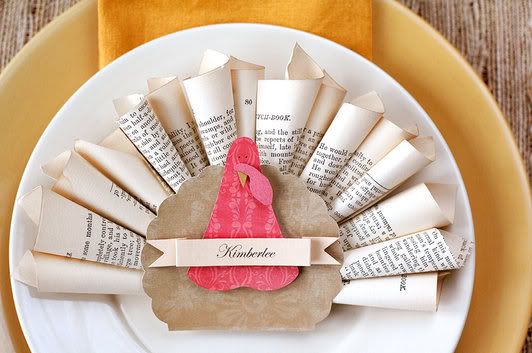 Martha Stewart has the most awesome tutorial for "Pom-Pom Toms" that you can use as placeholders. They're really cute and don't take too much to make. Just a hot glue gun and some pom-poms!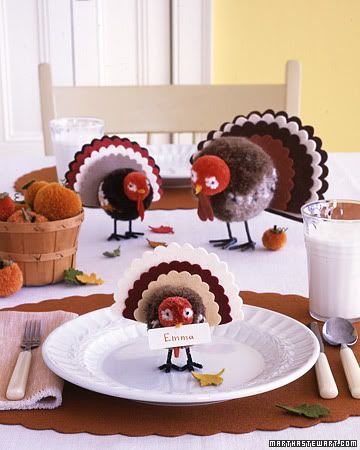 By Stephanie Lynn showed us this cute idea for a turkey placeholder made with nuts! Just glue together a couple of nuts, glue some leaves on the back, and add some paper cut outs for feet, beak and eyes and you're good to go!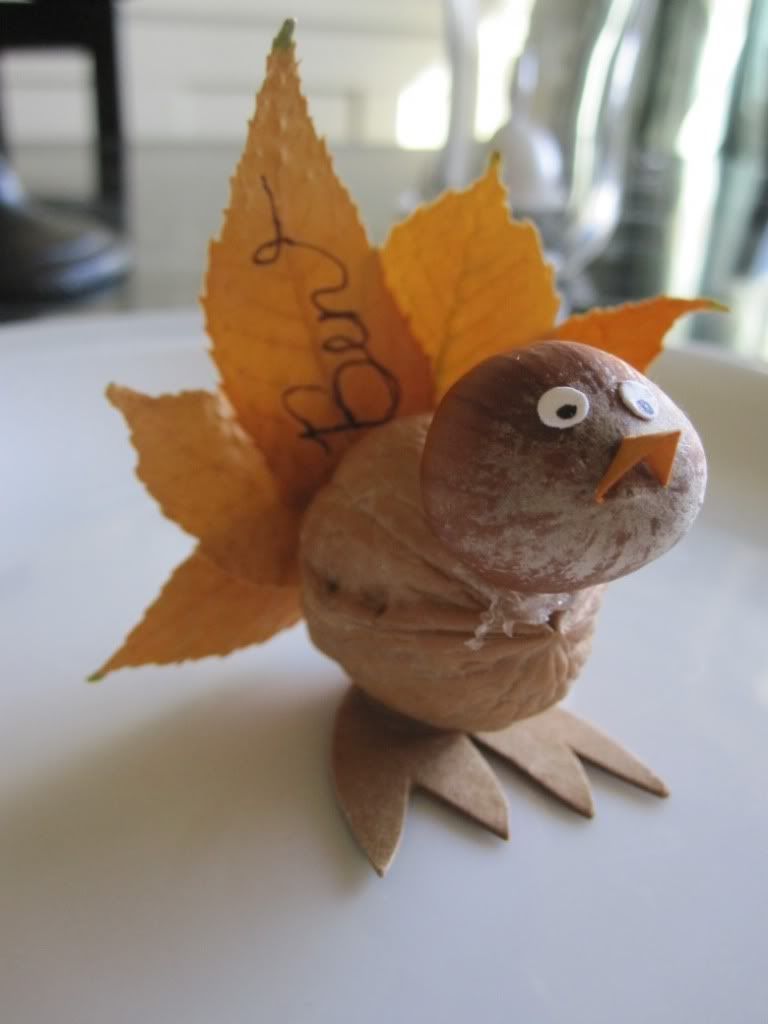 Do you like the look of squash, but not the taste? Use it as a place holder! By Stephanie Lynn showed us this idea and I think it's great. Add a napkin behind it and some clove eyes and you have a super festive place holder!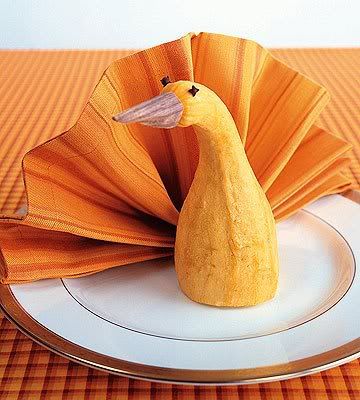 Another really cute idea By Stephanie Lynn had for us was a Paper bag turkey drumstick. All it takes is a brown paper bag, and some white paper. Fill it with some paper towels or something, then glue it to a strip of white paper to make the cutest little drumstick place holder.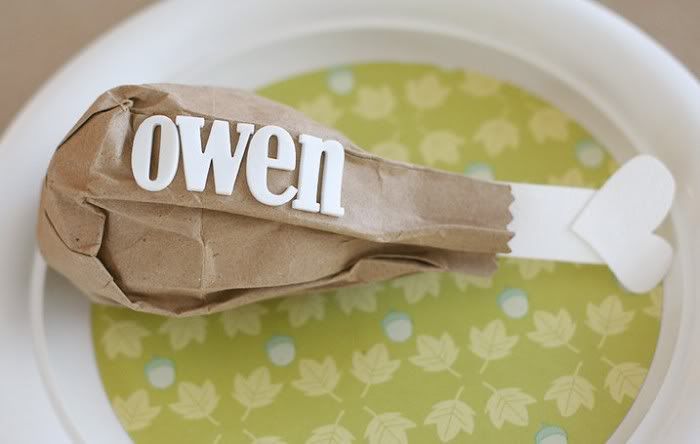 Krafting Kreations has a great tutorial on how to make these adorable apples or pumpkins out of paper. It looks harder that it actually is, and the effect is adorable.
 Martha Stewart has the most awesome tutorial for turkey placeholders. It has a template you can download here, then you grab some yarn and cardstock and you're set!
By Stephanie Lynn also showed us this idea for paper wheat bundle place holders. If you layer a few different colors of paper, fringe the edges, and add a card at the top you can have a great simple placeholder that looks super cute!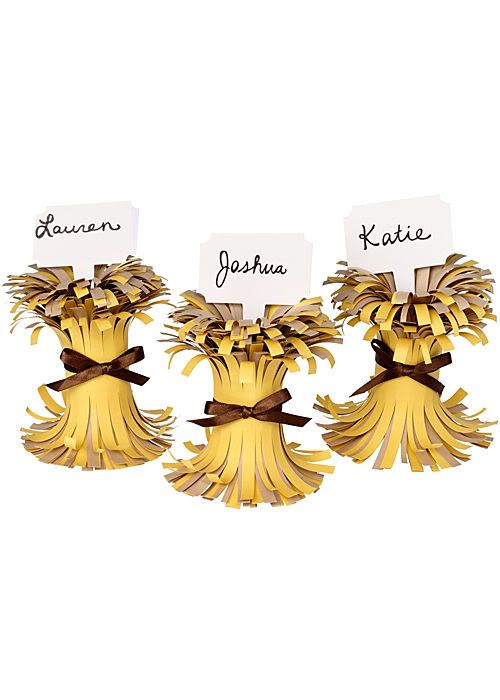 Ashley Morgan Photo made one that is pretty self explanatory. All it is is a pinecone with feathers, bead eyes, and felt.
This next one from Parents is as easy as the last one, but it involves corks! Just add some feathers and felt with bead eyes to those corks and you're in business!
This one comes from Canadian Living and when they describe it as whimsical they aren't lying! The form for this comes from a small yogurt cup covered in brown paper. After that all you do is glue some colorful feathers to the back and add bead eyes and felt to make the beak. It's pretty simple, and oh so cute.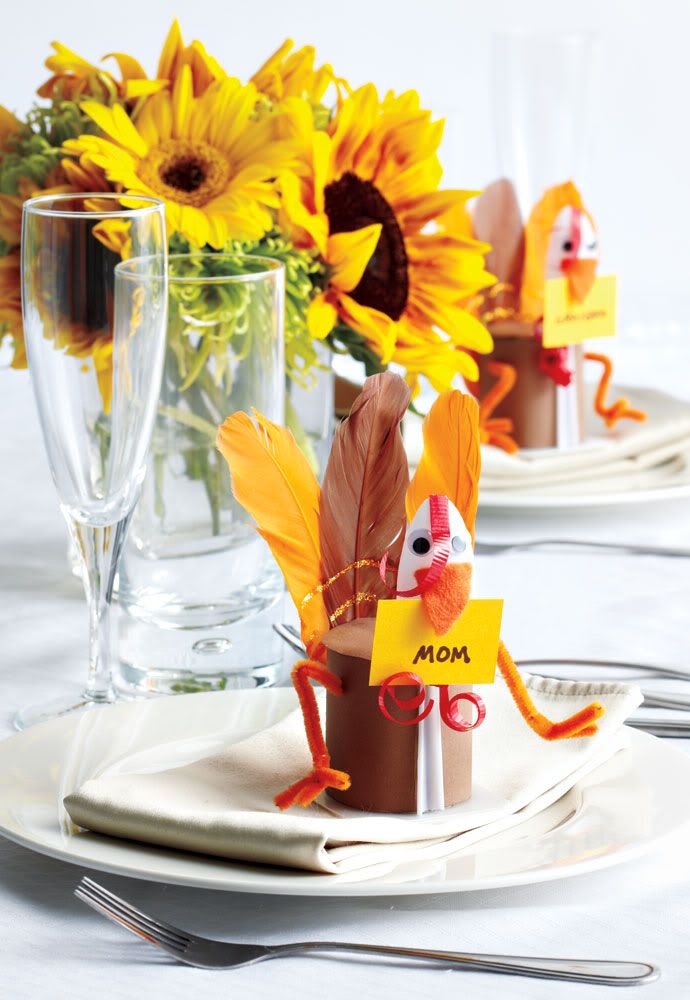 Another awesome Idea from Martha Stewart involves Thanksgiving trivia! There is a template for this one as well, you can find that here. 
Holiday Crafts and Creations showed us this idea for a place card that can double as a party favor. In my opinion, anything that can serve double duty is 100% worth it. This is made with a clear plastic pastry bag, wooden circles, yellow, red, and brown M&M's, and Raffia. Once you know what it's made of it's pretty easy to make yourself which is always awesome.
Better Homes and Gardens combined cookies and thanksgiving in the cutest way possible. You can bake gingerbread in the shape of a hand, and add a triangle to the back for stabilization to make the cutest cookie turkey placeholder. You can decorate it however you want to make a delicious addition to the table.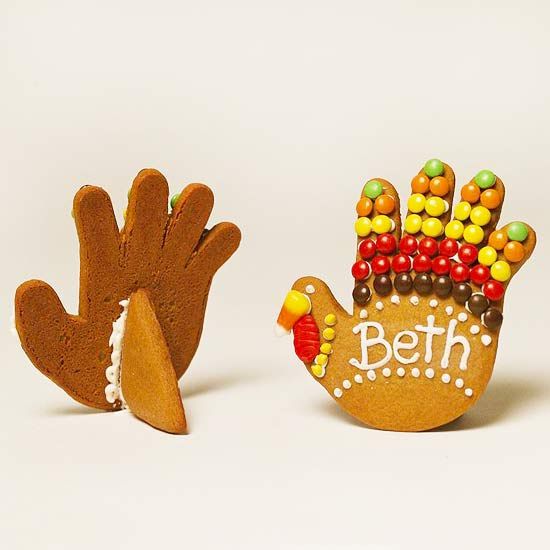 Better Homes and Gardens also had this stinking adorable idea for place holders made in copper pipe fittings. Fill the bottom of the pipe with floral foam, then fill the top with various wild grasses or flowers, and stick a name card within that for a gorgeous modern yet rustic feel.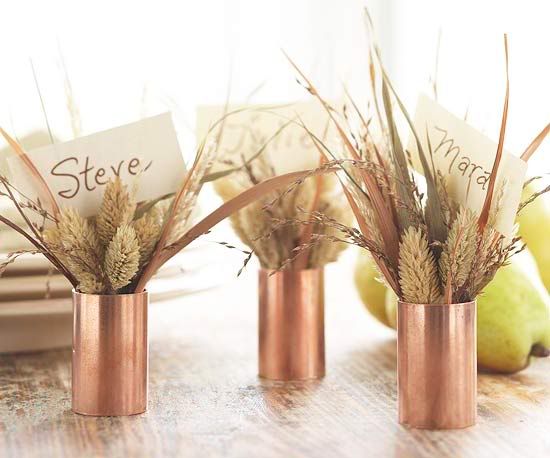 This next idea is probably my favorite one on this whole list. Who says place cards don't have to be functional as well as decorative? Emmaline Bride shows us how a personal loaf of bread can be a really cute place holder. They use a small loaf of artisan bread, and was sure to have plenty of oil and butter on the table to go along with it.
Silver Box Creative showed us some super cute autumn leaf placecards that they used for a wedding and we think they're just adorable. These would be so easy to do if you have a Cricut or if you download a template.
Martha Stewart is the queen of adorable templates and this one is no exception. These are really simple, but so cute. Find the template here
Everyday Occasions showed us how you can get those trendy painted pumpkins for your very own at your table. She wrapped the stems in painters tape, spray painted them, then removed the tape and cut the stems with floral shears. Insert a name card into the slot and you have a super cute, trendy place card holder!
Paper Dolls of Saratoga has a few really good ideas for placeholders, but our favorite was the one that can double as a bookmark. It's really easy to do with some scrapbook paper and modge podge and will definitely be something your guests can keep for a long while.
This last one is adorable and really simple. All it requires is some cardstock and a burlap button. It can be adorable in any fall setting and will look amazing!