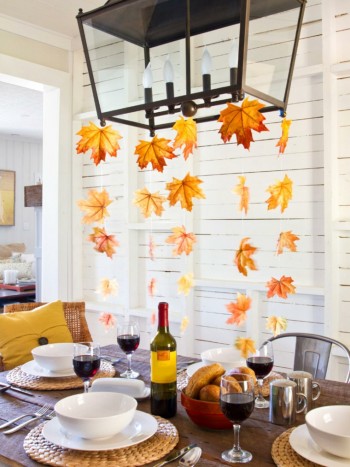 Make this gorgeous leaf mobile that you can hang over your table to add more color to your Thanksgiving feast!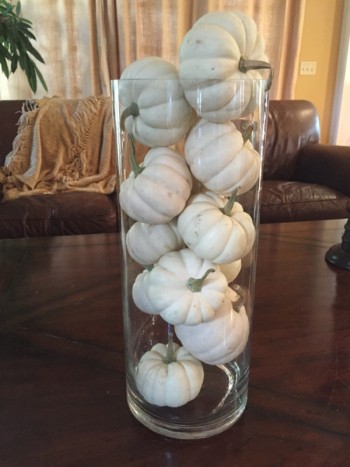 Put mini pumpkins in a clear vase or container and use them as decorations around the home. These even work really well for part of a centerpiece.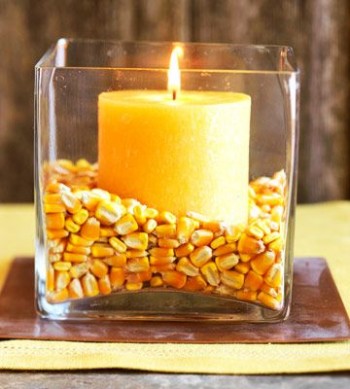 Get clear containers and fill them with popcorn kernels. You can even add a candle to the container to make it look so much better.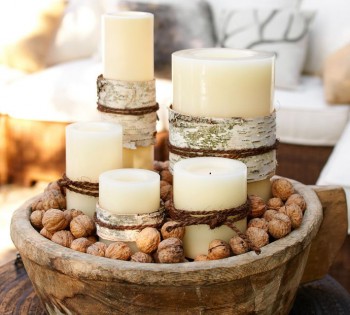 Speaking of candles, add some texture and Thanksgiving style by wrapping them! You can use birch wood, a leaf, or some other type of Thanksgiving-esque material.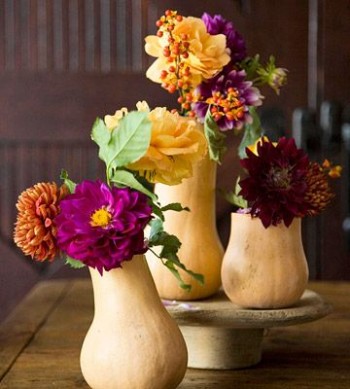 Turn gourds into fantastic vases for your home! Just hollow them out and stick your favorite fall foliage in them.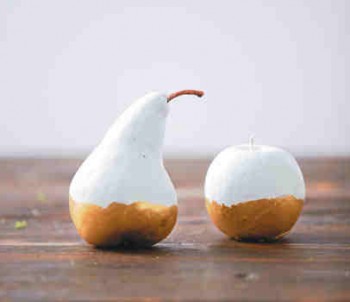 Add some color to fruit by painting them. Choose Thanksgiving colors like browns, oranges, gold, and some whites.
Take your table runner to the next level by painting it and decorating it for Thanksgiving. You can add leaf imprints, polka dots, or whatever other design you want.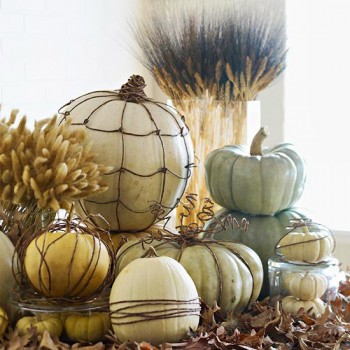 You can't go wrong with pumpkin decorations around the home for Thanksgiving. You can paint them, add them to previous decorations, or add some vines and other accent pieces.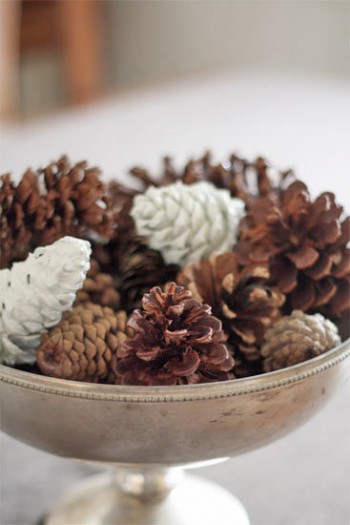 Pinecones are another piece of nature that is great for Thanksgiving decorations. Use them as name places or add them to containers for décor.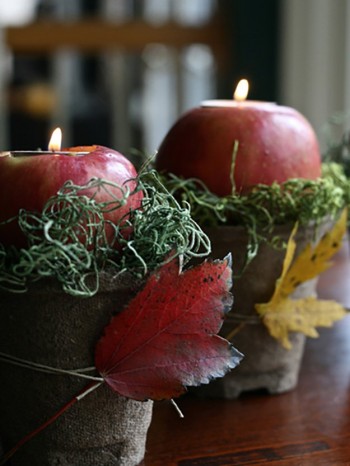 I love this idea! Turn apples into votives without much work at all! Just carve out a little place for the candle and you're good!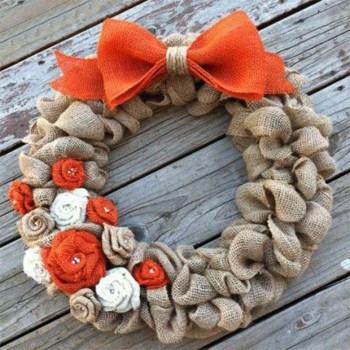 Make your very own burlap wreath that you can hang on your door or anywhere else around the house. There are lots of designs and styles, so find one you like and go for it!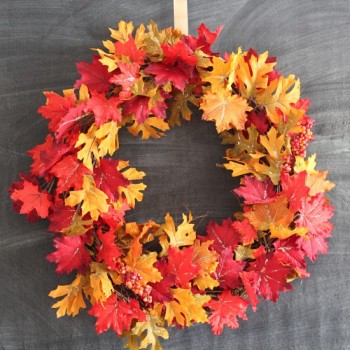 You can also make a gorgeous leaf wreath made up of all the colors of fall. Just get some artificial fall leaves from the store, or you could use real leaves if you're feely especially crafty.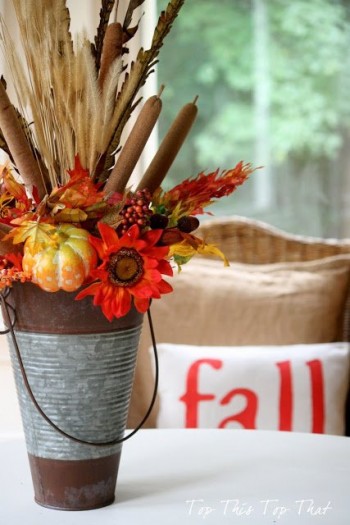 Incorporate tin containers to your Thanksgiving decorations this year for a nice homey and rustic look. Use them for the centerpiece or just end table decorations. Whatever works best.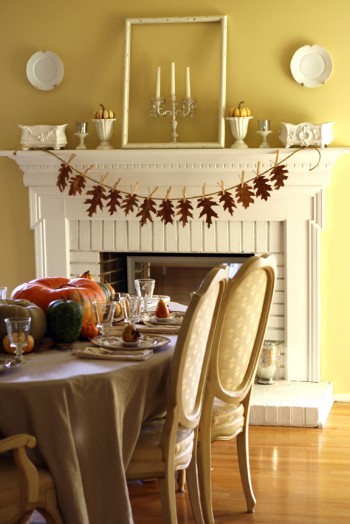 Make or buy a leaf garland that you can hang up pretty much anywhere you want! You can do it above your front door, on the mantle, or somewhere else.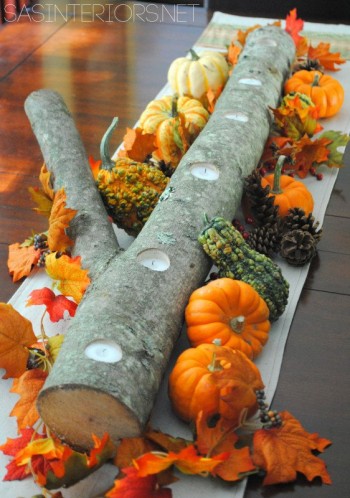 Turn a log into a gorgeous centerpiece for your Thanksgiving dinner! You can even cut little notches into it for places to stick candles!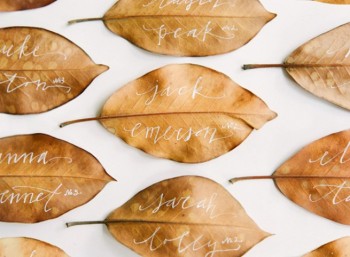 Use fall leaves to make fun and creative name cards for your guests for Thanksgiving dinner! Just get a leaf and write your guest's name on each one.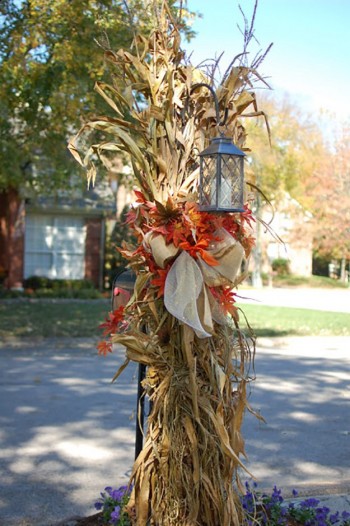 Use corn stalks on your porch, in your yard, or even in your home for a warm Thanksgiving decoration. Wrap them around poles or have them stand alone; whatever you want.
These are so cute! Make little wine cork turkeys for name cards! It doesn't take much work or material to make and they're just so cool!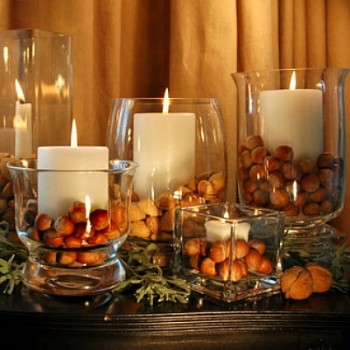 Put some classic fall nuts into containers and place them around your home. You can combine them with candles to make a nice Thanksgiving feel for your home.