Decorating with chalkboard is all of the rage on Pinterest! And it makes perfect sense; chalkboard is super easy to incorporate into any area of your home decor, AND it's super easy to change up according to the season. Here are 12 of my favorite chalkboard projects!
Shanty 2 Chic is full of home decor ideas that look fabulous, and they're often repurposed from existing furniture! Any homeowner needs a "catch all" complete with mini shelving, a place to write notes, and a place to put all of your keys. The best part? This doesn't have to be hung in the kitchen! Hang it in the office or even in your entry way!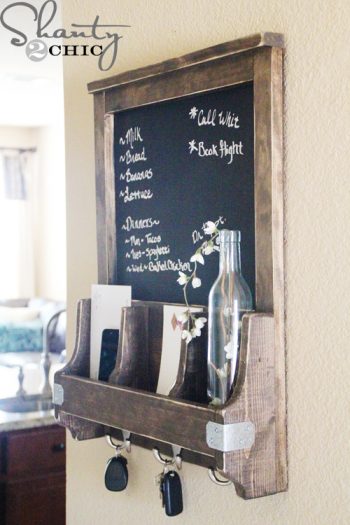 Do chalkboards make you feel like you're a bit of a schoolgirl? This framed chalkboard looks incredibly chic when framed. The folks over at Craftberry Bush used an old photo frame to create this, but a vintage window frame works just as well!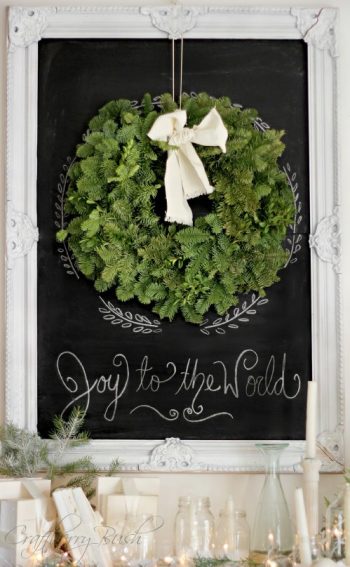 Chalkboard paint is incredible because you can use it to cover ANY surface. Even curved ones! Chalkboard paint is seriously such a savior when it comes to labeling cans, jars, and other items in your pantry. You can erase your writing, and write something new each time. You won't have to worry about purchasing new containers, or relabeling when it comes time to restock your pantry. Find my favorite chalkboard labels here.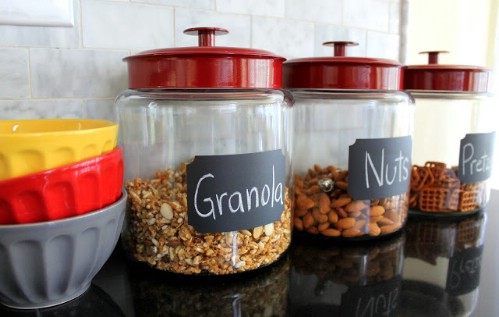 Decorate your favorite mug with a quick dip in a bucket of chalk paint! This project can get to be a bit tricky, because you have to "bake" your mug before you can use it, and this tutorial from Wit and Whistle will definitely help you!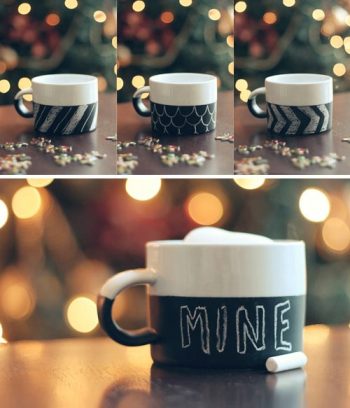 Did you know that you can paint Washi tape with a quick coat of chalkboard paint? I didn't either! For an easy craft project, run a quick line of paint on a strip of Washi tape. You can use the tape pieces as gift tags and more! The credit for this totally genius project goes to Inspirationave.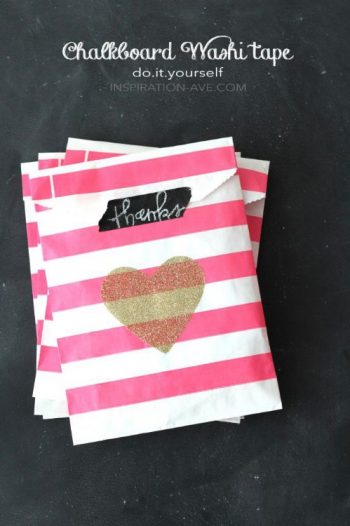 Is your office filing cabinet in serious need of an upgrade? I thought so! Fortunately, filing cabinets are relatively easy to repaint, and this makes them the perfect item to cover in chalkboard paint! You can easily erase your writing off the drawers if you ever need to repurpose this cabinet into another area of the home. See how they did it at Moxandfodder!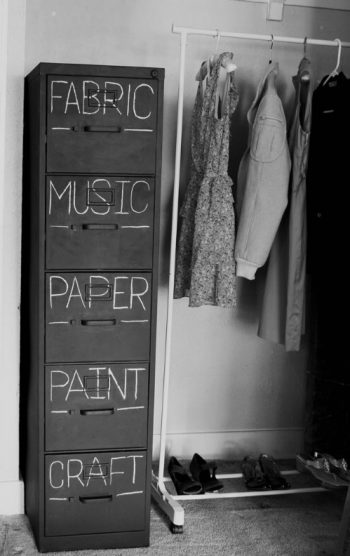 A framed chalkboard is the best way to remember what you need to buy at the grocery store. And it's great for meal planning! Your kids will never bug you about dinner again (well..in an ideal world) when they have easy access to the family menu throughout the week. Idea from Everydayhomeblog.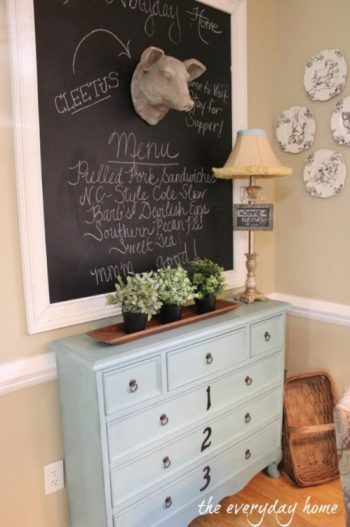 Is any home really complete without a calendar hanging in the kitchen or the entryway? I definitely don't think so! Instead of a typical paper calendar, you can save trees and paint a gigantic one on your wall! Find the DIY tutorial online at Our Fifth House where she shows you how to work with those awkwardly sized walls throughout your house. She makes them look completely fabulous!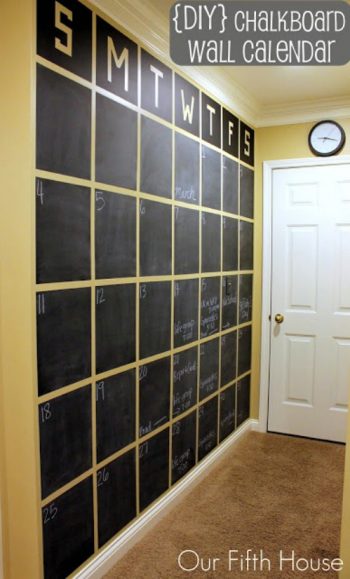 Remember a few slides ago when I mentioned using a vintage window frame to highlight a chalkboard? The Shabby Chic Cottage figured out a way to do that very project, seamlessly! Even homes with more of a rustic theme deserve to have a little chalkboard accent. It looks gorgeous when framed by something as romantic-looking as this!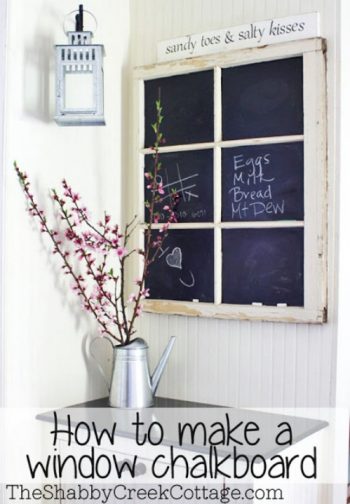 Who would have thought that chalkboard paint would make an excellent substitute for wallpaper? I am in love! Instead of applying wallpaper, paint your walls with chalkboard paint and draw your patterns directly onto the paint. It makes it so much easier when deciding to redecorate because you can just draw a new pattern onto the wall! Looking for inspiration? Visit Design Sponge to see how she drew on her chalkboard walls!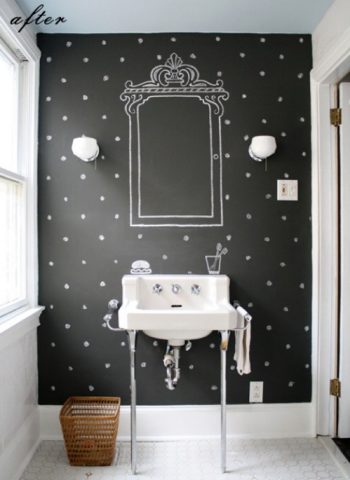 Similar to the previous idea: cover a wall in your office (or study) with a coat of chalkboard paint. Use this space to practice math equations or have your kids practice their handwriting on these walls! If math really isn't your style (it's definitely not mine!) use the wall to brainstorm!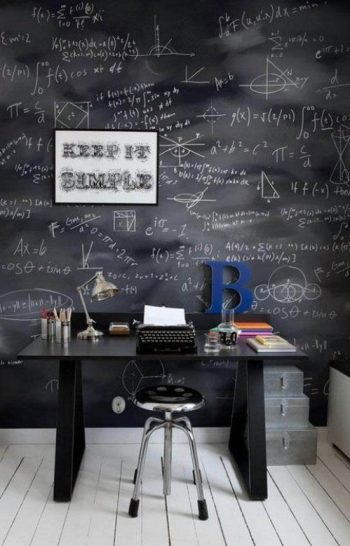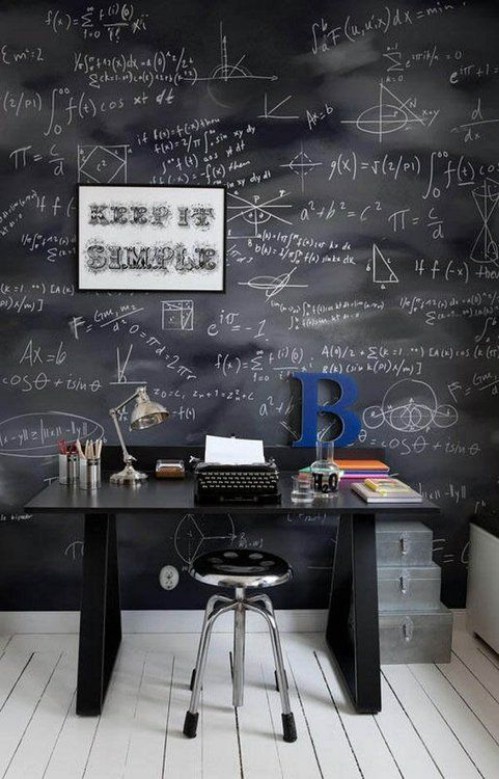 Finally, Kristen Duke Photography shows her readers how she incorporated a chalkboard wall into her child's playroom. It's the perfect place for your kiddos to channel their inner Picasso!