I've got so many cupcake liners stuffed in my kitchen drawers. But after searching the web, I've realized there's a lot more to be done with these cupcake liners than simply fill them with cake! I've collected some of the cutest crafts that can be made with this common baking item, so craft away! These ideas are so cute, you won't even miss the cake!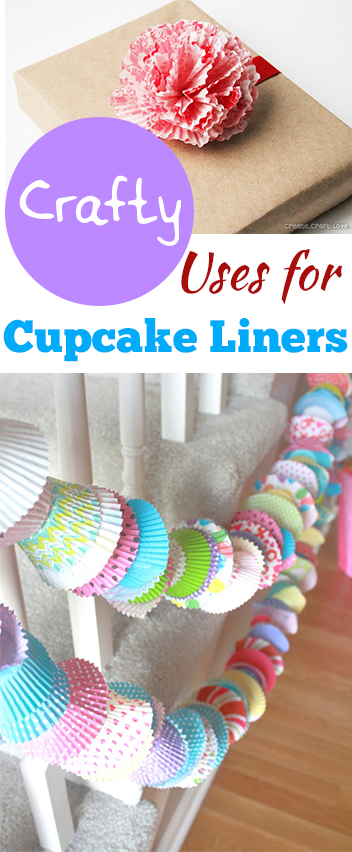 You can use cupcake liners to make beautiful fluffy flowers! Jill at Create.Craft.Love created a tutorial to walk you through the process. Cupcake liners are the perfect shape and size for lovely flowers, so you barely have to do anything. These flowers can be customized for any holiday or occasion, and they look great on all kinds of packaging.
Kara's Party Ideas shares the tutorial for this beautiful centerpiece. Using a foam ball as the core, you simply attach lots and lots of cupcake liners. The effect is stunning, and the fluffy floral ball can be used for a variety of decorating purposes: hang it from the ceiling, cluster a couple on a table, or place the ball on a candlestick like this example. So easy, yet so beautiful!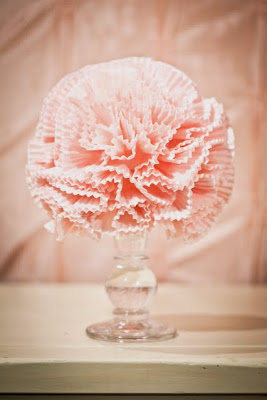 EllaJaneCrafts on Etsy sells darling garlands made out of cupcake liners. If you're feeling crafty, you could try making one similar. Find a nice mix of different liner patterns, or make a solid colored garland. You can hang these from the stairs, over a window, or in your entry way. They're so cute and help create a fun atmosphere for any gathering.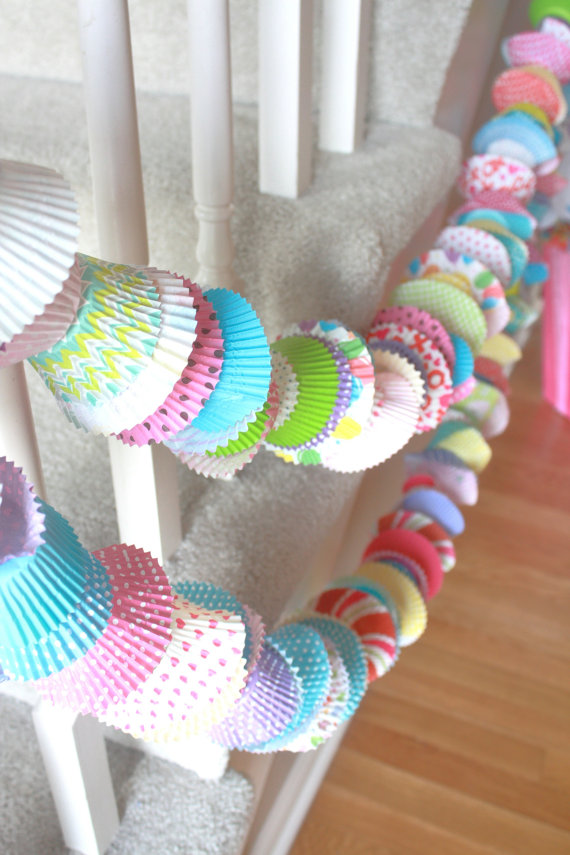 Desiree from The 36th Avenue shares a complete step-by-step tutorial for crafting this beautiful cupcake liner wreath. I love the pattern she chose, but you could do a solid wreath or a festive wreath to match any holiday. Adding a bow and some ribbons adds a bit of cuteness and whimsy. I'd like to make several and hang them in a cluster.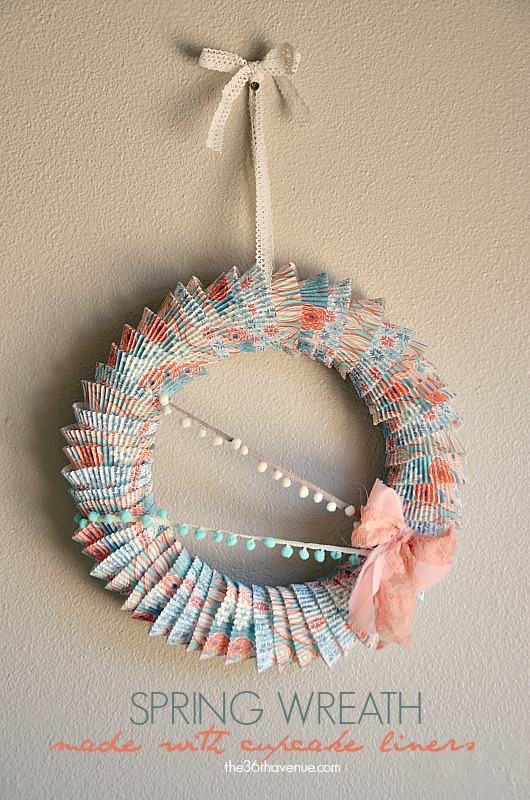 Oh Happy Day posted an awesome tutorial for turning your boring light strand into a vine of flowers–and all you need is cupcake liners! Make sure you have green liners for the leaves and pick any colors you like for the flowers. Also be sure that you don't use metallic liners–that could be a disaster. Good luck with this adorable and easy project!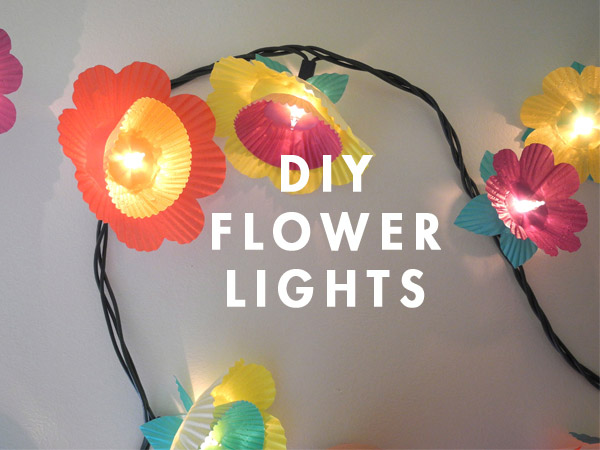 So Festive posted a tutorial for cute valentines made with cupcake liners and reused baby food containers. Once you've cleaned out the containers, you can place your favorite Valentine's Day candy inside. Then you can use cute Valentine's day cupcake liners to cover the top. Secure the top with a ribbon and they're ready to hand out!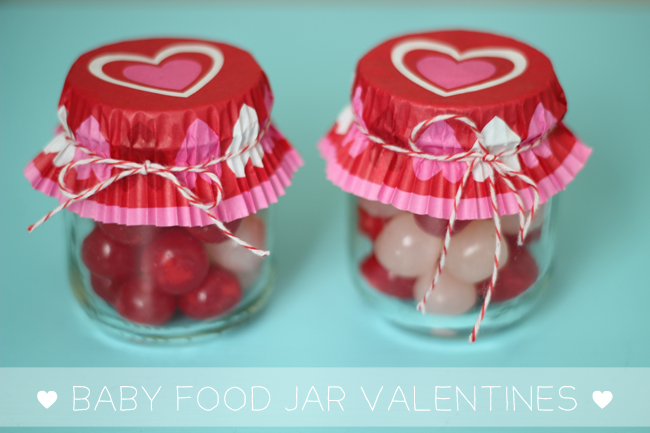 This garland is perfect for a shower, birthday party, or summertime gathering. You simply cut paper into the shape of daisies, glue a yellow cupcake liner on the top, and then hang several from a ribbon. This garland is so cute and so easy! It's sure to brighten any space. Thanks Carolina from 30 Minute Crafts for the darling idea!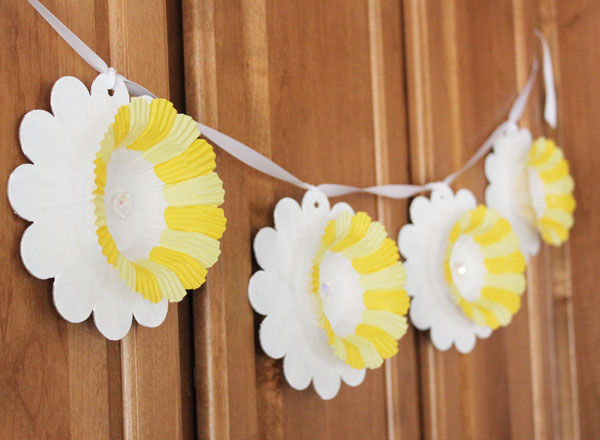 Muffin Tin Mom posted a tutorial for super cute card decorated with a  cupcake liner. She turned the liner into a heart with a few simple folds and cuts and then glued it onto a simple card. This idea is so easy and simple! I'll have to make a bunch of these and show my kids how as well!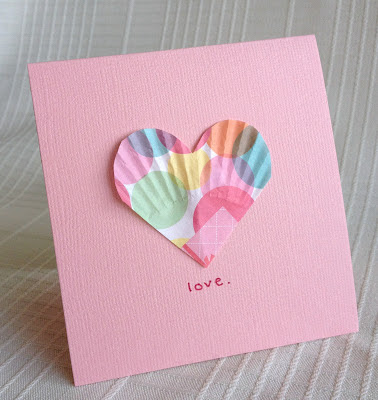 Fiskars.com shared an awesome tutorial for making elaborate cupcake liner flower corsages! These corsages look ornate, but they really aren't that hard. And the results will stay fresh much longer than a real flower. These are a great craft for kids, especially for Mother's Day. What a lovely way to show appreciation for the women in your life!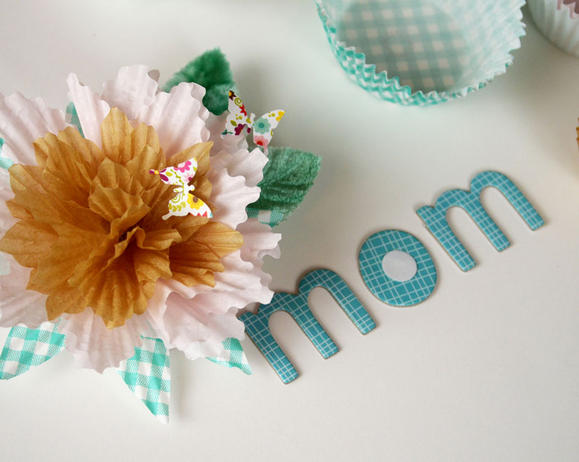 Parents.com posted a tutorial for these cute and quirky owls. I love the way they displayed the owls on a branch for a table centerpiece. It's a darling way to celebrate autumn. You could also modify this craft to fit with other season! Use pastel colored liners and you've got cute Easter birds! White liners could be angels for Christmas! The possibilities are endless.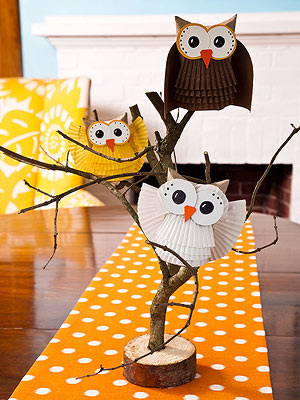 Michelle from Crafty Morning posted a tutorial for making cute little cupcake liner butterflies. This is a craft your kids will love. You just need some clothespins and cupcake liners and you're set to go! If you're feeling really adventurous, grab some glitter to make these cuties sparkle!