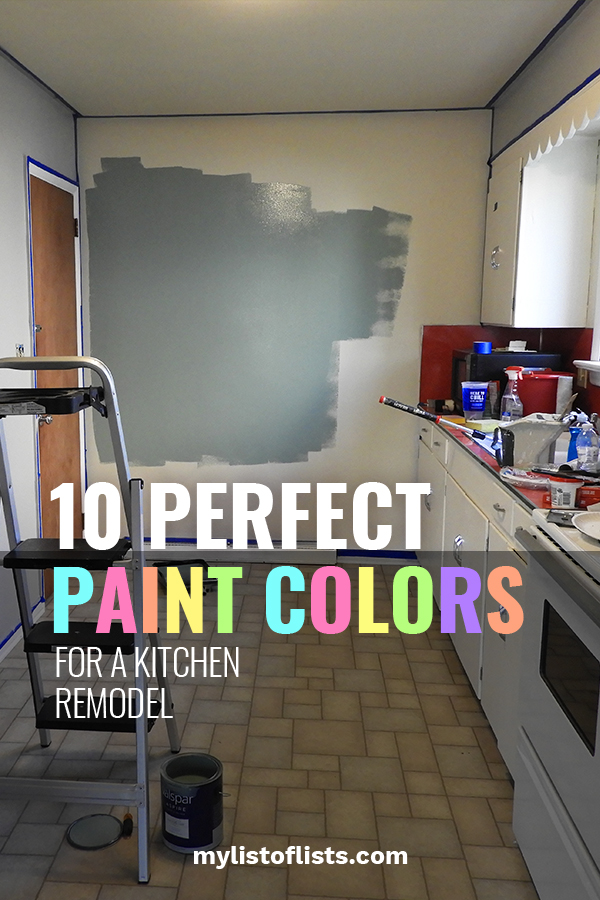 The kitchen is one of the most active rooms in my home. My kids hang out and do their homework around the breakfast nook every day after school. If you spend as much time in your kitchen as I do, it might be time for a new paint color. Here are a 10 of the colors making a HUGE statement this year.
I've had my kitchen painted this exact shade of blue for years, and I love how relaxed it made me feel. White cabinets keep things light, airy, and totally classy. Using earth tones in your kitchen is never a bad idea.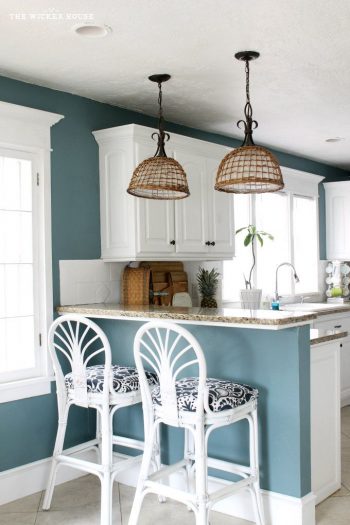 These kitchen cabinets are painted a gorgeous shade of Marine Blue. Things tend to get hot in the kitchen, and dark blue cabinetry will keep your space feeling naturally "cool."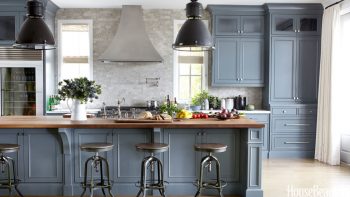 Create a natural flow of your home by incorporating green in where you can. Green sits in the middle of the color spectrum and looks cheerful in the kitchen. The shade featured here is DKC-63 from Donald Koffman.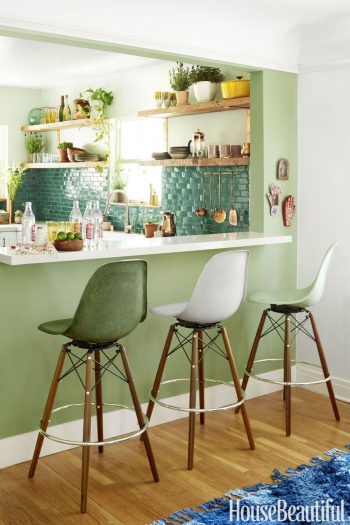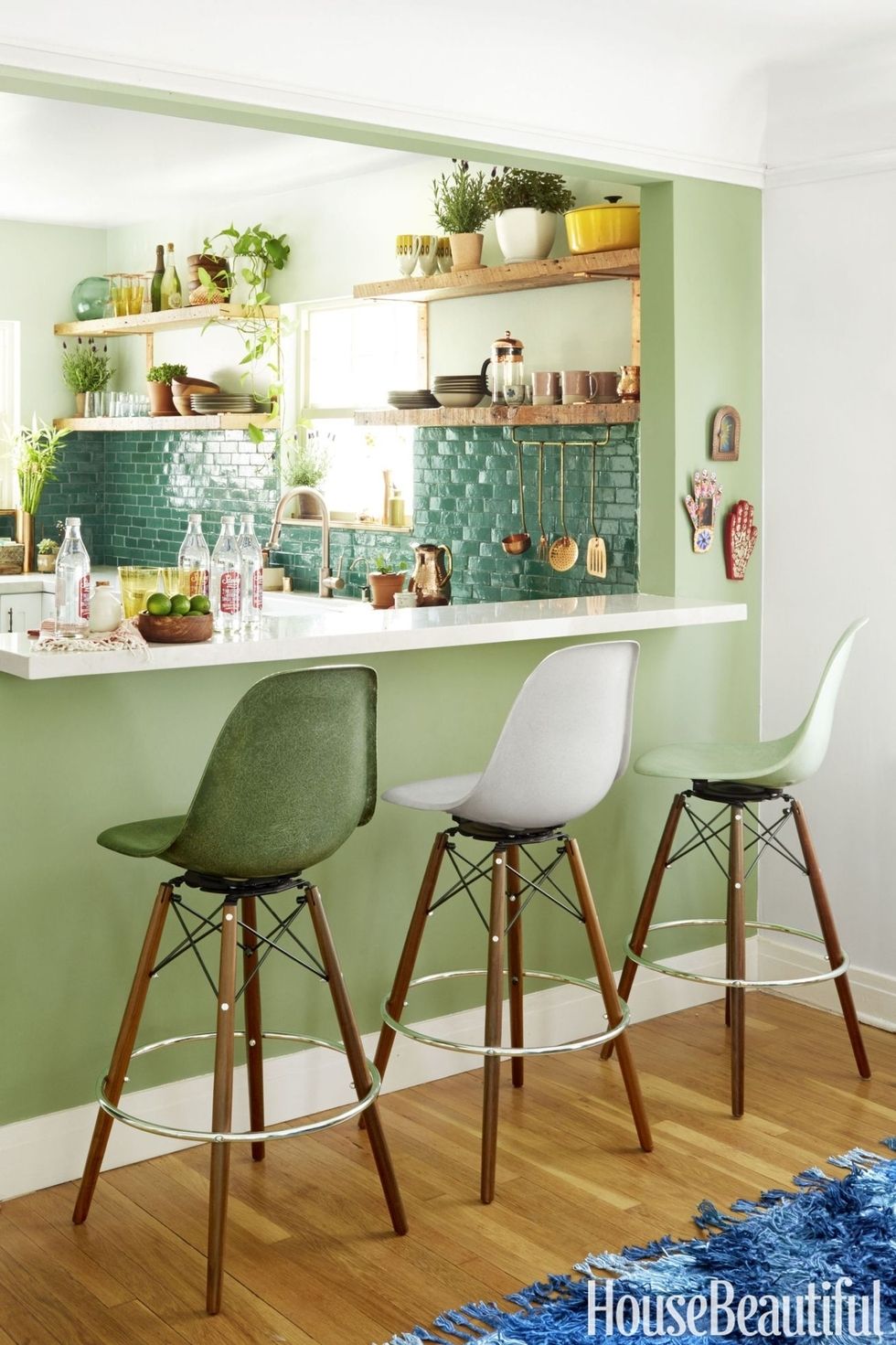 This shade of tidewater will have homeowners feeling relaxed, at peace, and like they live right by the sea! This shade is one of my favorite because it combines both blue and green hues.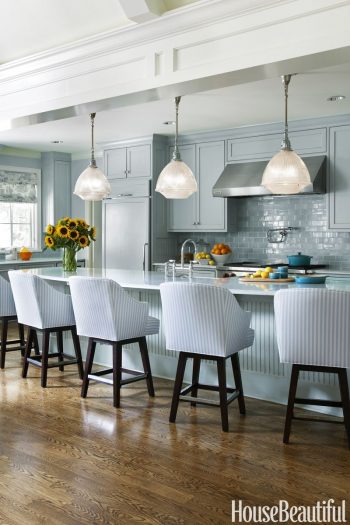 Keep things simple and classic with paper white trim around the framing of your kitchen. A bowl of lemons complete the vibes in this fresh kitchen.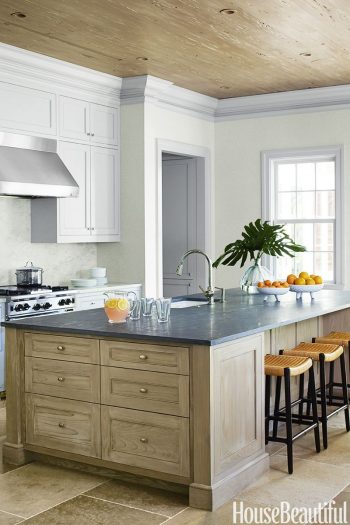 If the cabinets were all white, they could look kind of dull and boring, but if you paint the inner cabinet, it creates the illusion of more storage space and add tons of personality. The paint used is South Beach from Benjamin Moore, but I think a navy blue or grey shade could look just as good.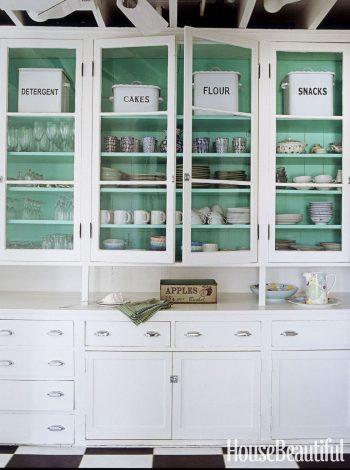 Bring the drama home with you…or at least to the kitchen! All black kitchen cabinetry creates instant, unforgettable drama. Don't the kitchen fixtures look amazing against an all black backdrop?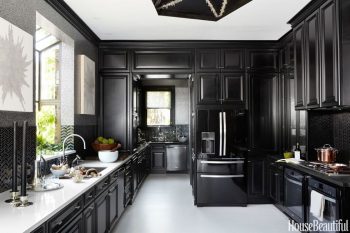 Update a boring kitchen with one shade of grey throughout. Paint cabinets all a creamy shade of grey (this one is Premium Hazy Skies from Benjamin Moore) and brighten things up with gold fixtures and white trim.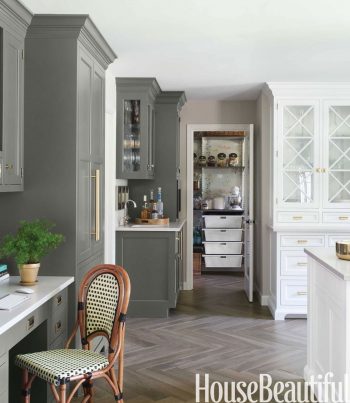 If I could design myself a dream kitchen, it would definitely look exactly like the one below! Soft blue cabinetry and exposed beams make the space look like it was doused with love by a Sugar Plum Fairy. Keep things modern with a marble countertop.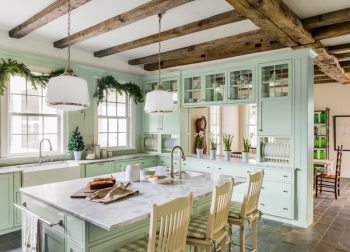 Exposed beams make another appearance in this dramatic and unique kitchen. The focal point of this kitchen is the light blue ceiling. It makes it look like the room goes on and on. Shades of blue like these create the illusion of never ending space!