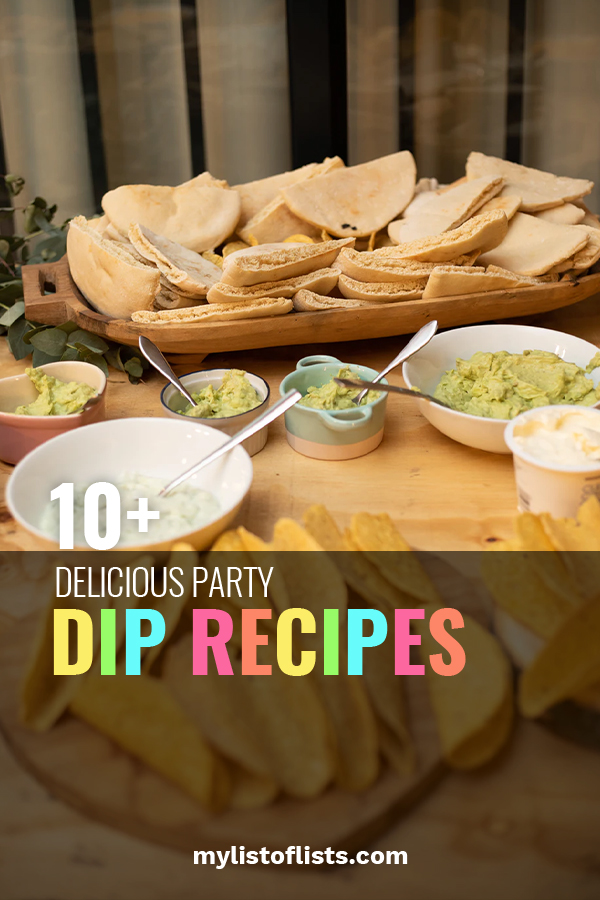 You can't throw a party without a few delicious party dip recipes! I mean, isn't the food why people actually GO to these events? I'm only kidding, but food is an important part of any function or event! Make one of these party dip recipes for a crowd of hungry guests! Scroll to the end of the article for the full list of recipes!
Pimento Cheese
Pimento cheese is a terrific spreadable dip that goes great on any kind of crackers or bread! Combine onion, pimento, cheese, and mayo together in a Kitchen-Aid mixer for the best tasting dip..ever!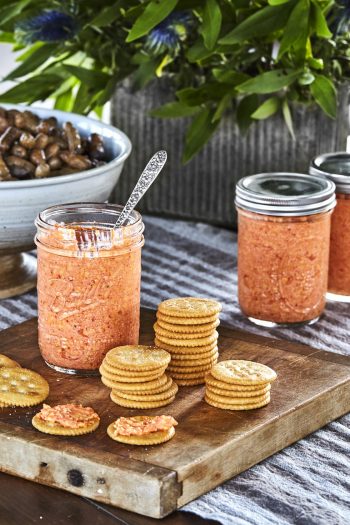 5-Million Dollar Dip
My mouth is watering just by looking at this scrumptious dip. Crunchy onions, creamy cheese, and deliciously greasy bacon mix together for the best flavor combinations out there.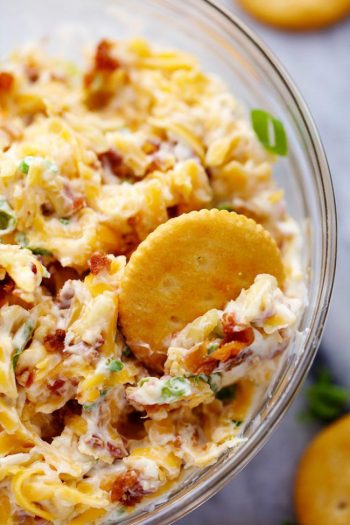 Dill Scallion Dip
Because scallions and a little bit of lemon zest is always a good idea in my book, I plan on making this for my next summer barbecue!
Carmelized Bacon and Grueye
Because there hasn't been a single instance on planet Earth where bacon hasn't been a good addition to some recipe! Make yours in this cast iron pan for even more flavor.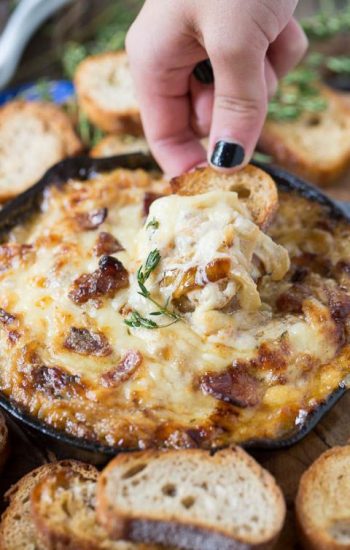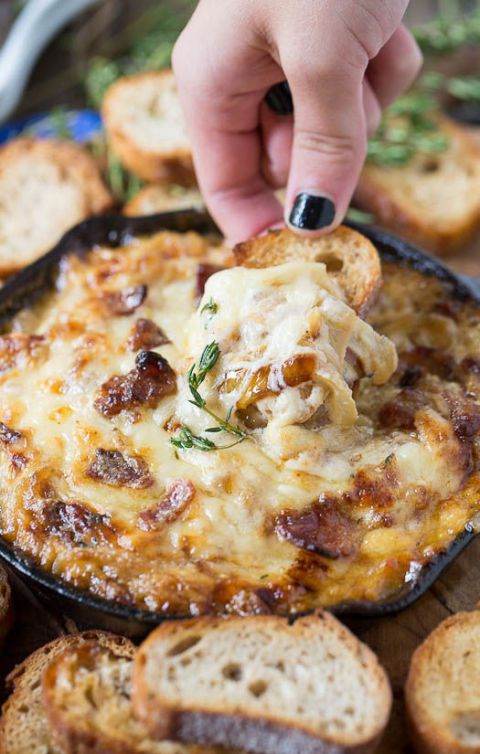 Peanut Butter Cup Cheesecake Dip
I'm a firm believer in providing guests with both a dessert dip AND a regular dip of some sort! It's important to the palette that you mix it up a bit, right? Cream cheese, brown sugar, and some peanut butter cups are what make this dip completely magical.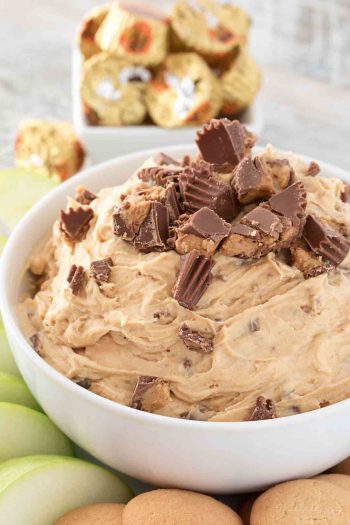 Cheesy Bacon Spinach Dip
We all need something that balances out all of that cheese and bacon. Spinach is a vegetable…I guess that counts!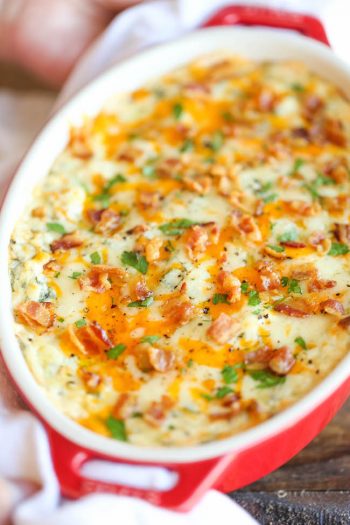 Slow Cooker Spinach Artichoke Dip
For the after work Girls' Night or Bunko party, throw this recipe in your slow cooker and head out the door! I like this slow cooker from Amazon!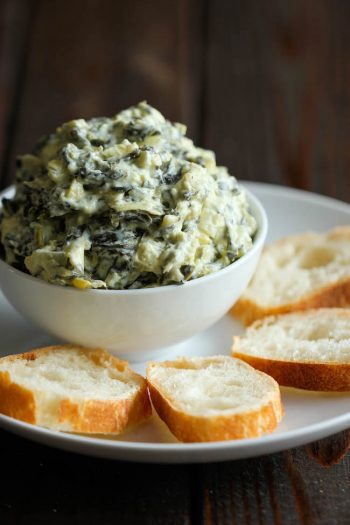 Monster Cookie Dough Dip
You had me at monster. Peanut butter, oatmeal, M&Ms and chocolate chips create a party in your mouth, and guests coming back again and again. If you ask me, the more M&Ms the better!
Peanut Butter Brownie Batter Dip
Come on…you know everyone probably likes the dough better, anyway! Or, at least you know that you do. 😉 Serve with a salty treat like Pretzel Thins!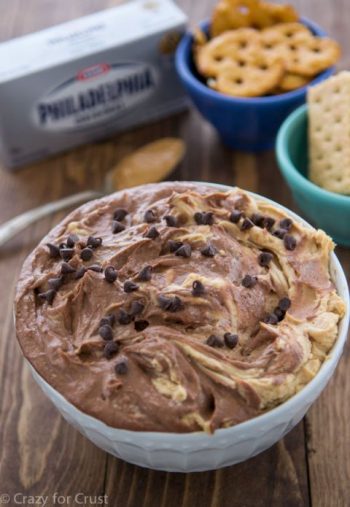 Bacon Corn Dip
This blogger says you won't even need chips when eating this. Heck, I say forget the spoon even! This looks DELICIOUS! Combine bacon, corn, onion, bell pepper, cream cheese, and pepper together for a tasty and healthy party dip recipe.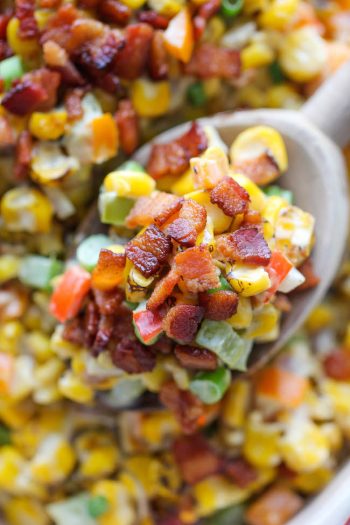 Stop looking for delicious party dip recipes, and use these party recipes instead! They're easy to make, and REALLY delicious.
Pimento Cheese from Country Living
5 Million Dollar Dip from The Recipe Critic
Scallion Dip from Country Living
Carmelized Bacon Grueye Dip from Spicy Southern Kitchen
Peanut Butter Cheesecake Dip from The Chunky Chef
Cheesy Bacon Spinach Dip from Damn Delicious
Slow Cooker Spinach Artichoke Dip from Damn Delicious
Monster Cookie Dough Dip from Something Swanky
Peanut Butter Brownie Dip from Crazy for Crust
Bacon Corn Dip from Damn Delicious
And check out Cut Side Down for lots more ideas!